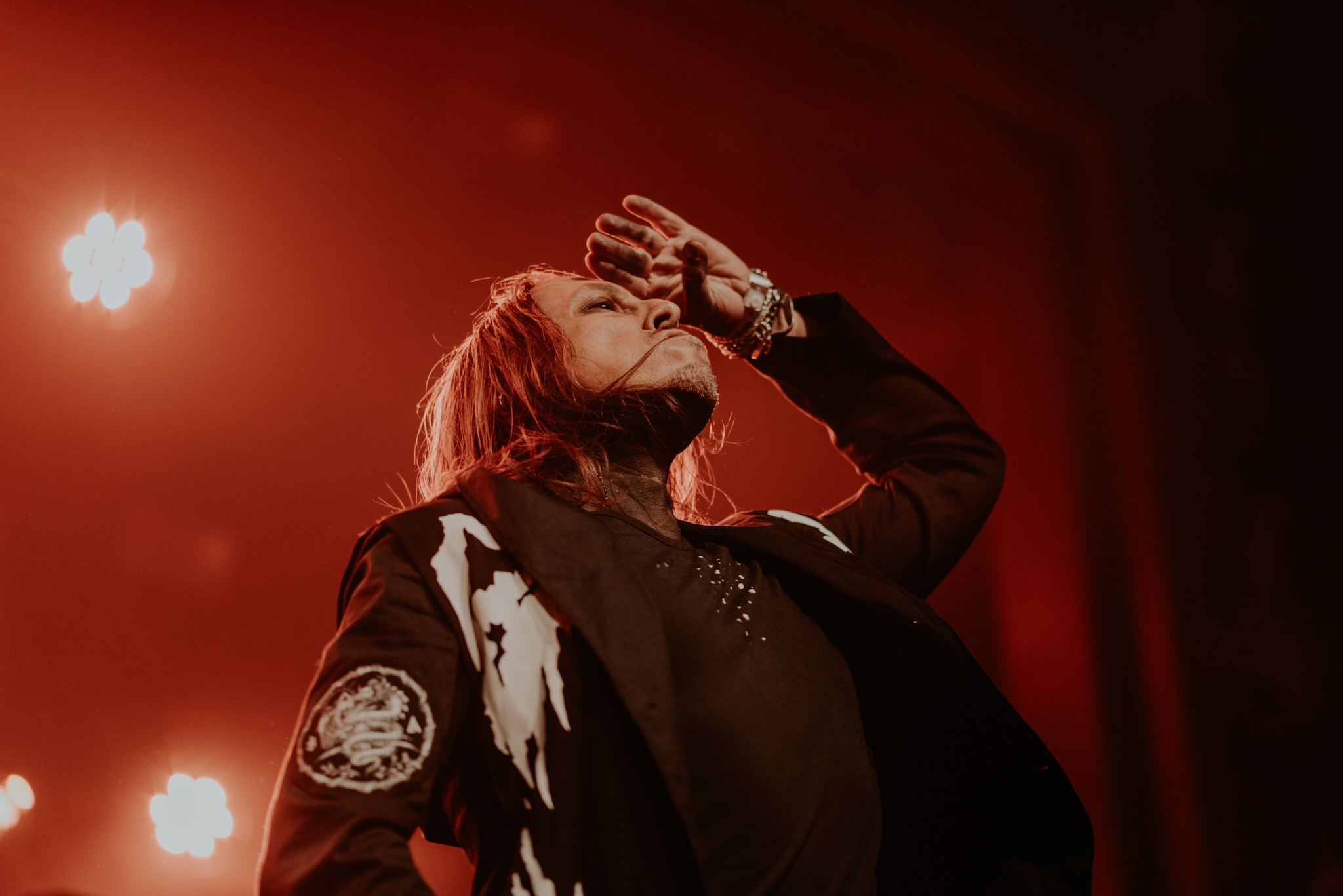 I sat down with Andrea Ferro of Italian metal icons Lacuna Coil at Webster Hall in NYC – their first night on the Disease of the Anima Tour that they're co-headlining with All That Remains. Check out our chat below about Lacuna Coil's upcoming album Black Anima and life on tour.
S&S: Black Anima is coming out October 11, and you passed the 20th anniversary of the first album. What's the most important thing you've kept with you from the beginning?
Andrea: Last year, when we celebrated the 20 years of the band, what we realized by working on the book and the DVD of the London show we did – going back to the old songs, going back to the memories and the interviews for the book – was the fact that besides traveling the world and selling records, meeting fans will really stand out in these 20 years as the legacy within the band and the people. The fans – I think that's what's going to stay forever.
Beyond the fact that we've been a successful band – whatever, that's great – but that's something that's already gone. I mean, it comes every day and it's OK, but it's not going to stay for me. What is going to stay is the fans. What they got from our music, what we got from them in exchange; the energy, the friendship.
Like once, we had a baby girl come to us saying, "I was born because of you," because basically their parents met at our show, and they got together, married, and had the baby. So, she was thanking us for being born, which is only somewhat exaggerated. Still, it's that kind of thing that is going to stay more than everything else. Obviously, the music as well. But the most important thing is this legacy and exchange of energy I think. That's going to stay forever and generations as well maybe.
S&S: What is the biggest thing that's changed?
Andrea: I think as we've grown up, we got more mature, hopefully. We learned a lot about what it means to be in a band, and what it means to be away from your family for a long time. So, there's a lot more than just playing that you learn. But overall, I think what we really learn is the fact that music is so important in our life, and maybe being together with family and friends is the most important thing we have. It's what kept us going during the times when we were first becoming really famous, and then at times, we'd been going down a little bit, when we come back as well, you know. So, we learn that it's a cycle. It's a process that that tells you a lot about yourself as well about life. It's more than just music.
S&S: Do you draw a lot of inspiration from like that cyclical nature of life?
Andrea: Yes, because we like to talk about stuff we personally failed at or experienced even if the lyrics are more open and everybody can give a little bit of interpretation. We use elements to make it more interesting or darker or more specific but, in general, we think that we need to talk about something that we know. We tried a million times to write a nice story before, or try to talk about the youth of today, but we're not the youth of today. We were the youth of today. So, It would be stupid for us to talk about something we know we don't know anymore. We need to be able to communicate beyond the age thing. That's where we start every time.
Like this time, we're going into the Black Anima, which is a concept we created by mixing. We were talking and brainstorming what should be the overall theme of the record. We thought that the fact that we lost some very dear people and the way we dealt with it is something that we learned about. A passage in life, you know – a moment of passage. The way we reacted to these losses was way different than we ever expected it to be. These people became part of us, and we still feel their energy if they're not physically with us. That was one starting point from the Black Anima concept.
Then, I was also reading a book called The Physics of Angels which is about a priest and a scientist that were analyzing angels through our history and religion…From a faith point of view, from the science, the energy and ghosts, the spirits. They did all the aspects of it. That interested me and then connecting it to our personal experience created an overall tone of what we could talk about. I did this more esoteric side of the lyrics which is meant in a magical, spiritual way, not in an evil way.
S&S: What are your favorite pastimes on tour?
Andrea: We try to go see something important that we haven't gotten to see before. Otherwise, we just go to a mall. If there's nothing else, we go to a mall and check out some new stuff. Go shop comic books. I like to read graphic novels and big stories. Stuff that inspires you and keeps you busy, but sometimes, even light stuff like just going shopping and whatever.
S&S: Do you guys have pets back at home?
Andrea: I used to have two cats – a black and a ginger. The black guy died because of brain cancer. He was nine, so he not with us anymore. That was really strong also – even if he's just an animal, he's a big companion. I don't consider them kids because I think the son is a different thing, but still, they are friends. You know your friends that you have in your life, and you know you're going to have them for a limited amount of time because obviously they don't live as long, but they are very important. You know they are deeper. The ginger cat is always on me, licking me or between me and my wife. Marco has four cats, and Diego has one cat and two dogs because his mom has a dog beauty center.
We also donate money to some cat centers. When there's a chance, we buy some extra food for the cats. We love animals, and although I'm still not vegan, I'm trying to not eat as much meat as when I was younger. Yeah, it's hard for me being Italian – the food is very important. It's hard to stop completely, but I try to stick to chicken and fish. Maybe one day, I'll make to be vegetarian. I'm already eating a lot healthier and better than I used to.
S&S: What's been your all-time favorite venue to play at?
Andrea: One really cool venue was Red Rocks Amphitheater. We played there on Ozzfest in 2006, and it was a stunning place – one of the most scenic views you can have. Some theatres like the Olympia Theatre in Paris -that's really cool too. It's historical. The Astoria in London – that's also a classic venue. One year, we played in Brooklyn, and we played the L'Amour. It was one of the early 80s metal scene places like where Metallica started to play and Type O Negative. That's classic. We played there with Type O Negative before they closed down. So, that was a special place.
S&S: So, I heard in previous interviews you guys would like to do a soundtrack someday. If there is a movie or video game out there that you would want to rewrite the soundtrack for, what would it be?
Andrea: I mean I think it's already done, but probably the Joker. The new Joker that is coming out would be very interesting. It has to be something a little bit darker. But any kind of movie would be fine you know, just to do it. We love soundtracks. So, that's Marco taking a lot of inspiration from the visuals when he writes the music. It is something that really belongs to our background.
S&S: And then as a band, I know you guys also listen to a lot of Alice in Chains on tour. Is there a song of theirs that you would cover?
Andrea: That'd be great, but I don't think we dare. We wouldn't dare. Actually, we considered some covers during the songwriting for Black Anima. There was a good grungy song, but it wasn't from Alice. It was a Nirvana song, "Heart Shaped Box." There was also other stuff like The Cure and Duran Duran a lot of 80s. We had already a lot of good material from our own stuff, so we decided to postpone it. We have it there. Maybe one day we'll do it. Like a Lana Del Rey song. A lot of different ideas. But we'll see – maybe we'll use it.
S&S: Are there any weird items on your tour rider?
Andrea: Not weird, but we have no cucumbers. We like pickles but not cucumber. I mean especially in northern Europe, they put them everywhere in sandwiches. No cilantro for Mexican. No Italian food also because we don't like it outside of Italy.
S&S: Any rituals that you guys do before you go on stage that really bring you together?
Andrea
: We take an hour before we get dressed and put on makeup. We do our own makeup, and we just gather together and scream something right before we go on stage. And sometimes you do a little shot. But that's it.