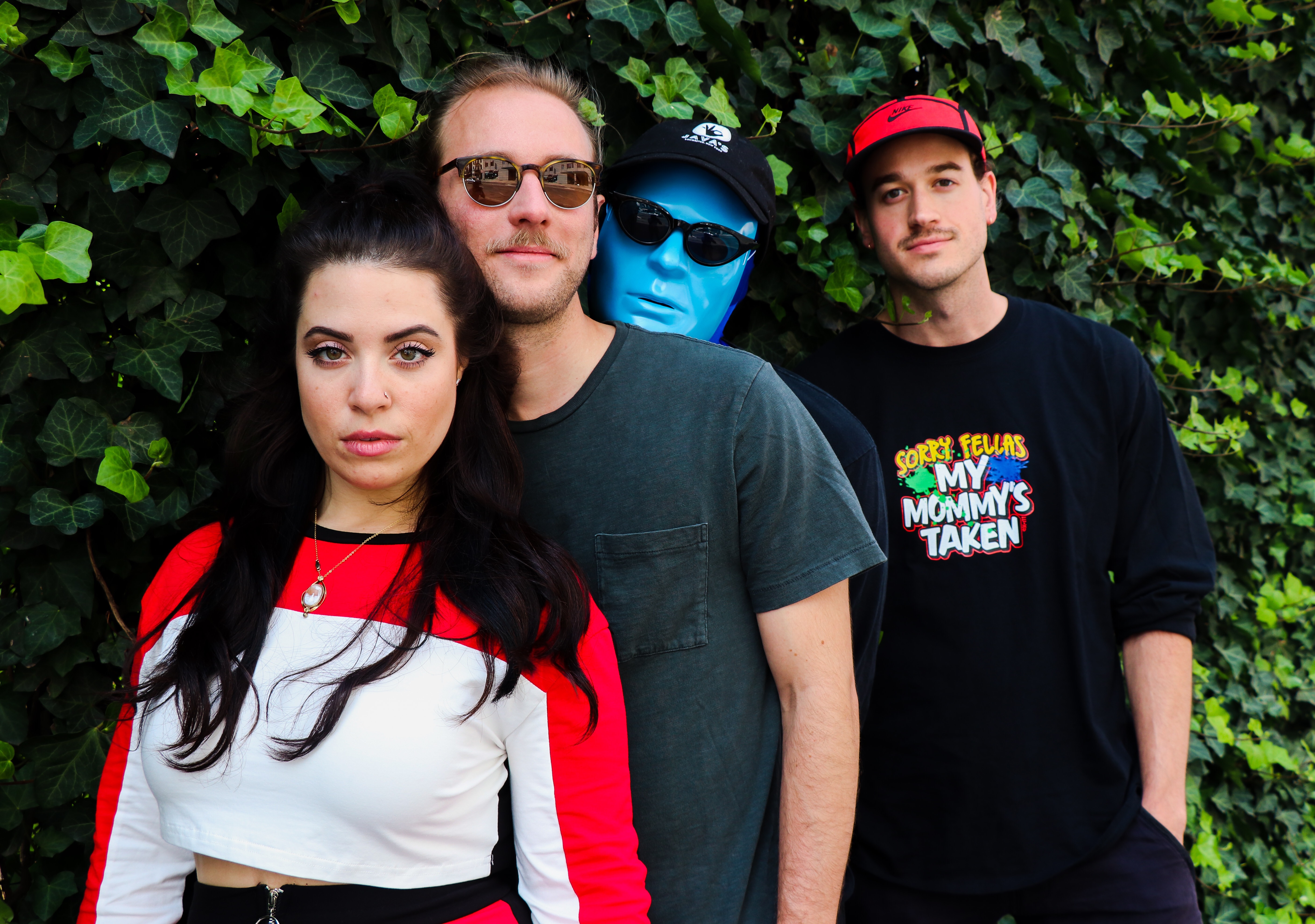 I met up with Rochester-based band KOPPS – lead singer Patricia Patrón, Kyle O on synthesizer and vocals, drummer Andrew York, and bassist Travis Johansen. KOPPS gave us the inside scoop on their new songs, new videos, and their creative process. 
S&S: I'm very interested to know where your band name come from. Does it have a meaning? 
Kyle: Well, it's an abbreviation for "keep out of poppa's pringles son." 
Patricia: Well, today.
Kyle: Yeah today, that's what it means.
Patricia: It's different every day. It changes.
S&S: I was just listening to your song "Baby I'm Dead Inside" on the way here – very cool music video by the way. Can you tell me about the inspiration behind it? 
Patricia: Well, we were just sitting around one day talking about the different phases that we went through when we were young – like some of us were considered to be goth. Somebody brought up the idea of how funny it would be if an adult went through a phase like that instead of it always being the sad teen. Then, the idea of the goth dad was born. We all thought it was funny, and we just decided to do a video about it. Mind you, this was years ago. Then finally, "Baby I'm Dead Inside" as a song happened, and we were like, "This is the perfect opportunity to do the goth dad video."
S&S: Your music is kind of poppy, but it has an edge to it. Who would you say are some of your musical inspirations? 
Patricia: We grew up in the era of KORN but also like Spice Girls and Britney Spears, so I would say our music is kind of a culmination of elements from those artists. I would say foundationally, it's pop, but we can be a little bit aggressive and weird with some things that we do. 
S&S: What's your favorite song to perform live? 
Travis: That's such a good question! 
Kyle: It's one that we haven't released yet – "Get Juicy" 
Patricia: Yeah! There's also another song that we haven't released yet that I like. It's called "Oh, Dang Dang." 
S&S: I love these names! 
Patricia: For ones that are out now, I like the choreography and the song "Thermometer" which is one of our older songs, but that one is always fun to perform. 
Travis: I have fun the whole set! 
Patricia: Our sets are choreographed. Ee all dance, so it's hard to pick a favorite. 
S&S: What artists do you aspire to work with or go on tour with? 
Patricia: I like Charlie XCX a lot! I think she's great, and she's very dynamic. She does weird stuff with her music that I appreciate. I feel like she would be an obvious fit to tour with. 
Kyle: Yeah, that's pretty in line. 
S&S: Any exciting projects you guys have coming up? Have you discovered anything new about yourself through these projects? 
Patricia: So, we are going to be releasing another single in November. It's called "Virtual Reality," and we're going to be doing a video for it. We're sitting on a lot of new music right now, so in the new year, there will be a lot of that happening. We just recently shot a video for another song called "Hott" before "Baby I'm Dead Inside," and that was a cool experience. That was the first time that we had ever worked with a more professional director team. For "Baby I'm Dead Inside," we shot in our house ourselves, so we're used to that sort of operation, where it's like squeezing a lot of content in one day. 
Kyle: Travis and I discovered we were dancers. We never knew that. 
Travis: We realized we have hips. 
Patricia: Yeah, they would always say that to me in the beginning, and it still comes up sometimes to this day. "I can't move like that; I don't have hips like you." And I always tell them, "You do have hips! You just need some practice to bring them out."
Travis: I also learned that my dad is a better goth that I ever could be. 
S&S: Oh, so that was your dad in the video? 
Patricia: All our dads were in the "Baby I'm Dead Inside" video, but the lead dad was an actor. All the other goth dads were our actual dads. 
S&S: How do you stay motivated to create? Do you deal with any creative blocks or does everything just come to you and it flows? 
Patricia: I don't think we've had a lot of periods of creative block. We were kind of lucky like that. I would say we are an inherently creative group of people, and humor is an important element, especially in who we are as a band. Sometimes, humorous conversations that we're having will become ideas for things. I think a lot of things we joke about end up becoming a song or videos. Goth dads are a good example! 
S&S: Any type of genre of music that you haven't written that you would want to do? 
Patricia: Okay, so we've never written a love song. I would be curious to see what a KOPPS love song will sound like. We've never done a ballad or a song that's mushy about love. Actually, I really don't know if I would want to know what it would look like. 
Travis: I would want to know! 
S&S: What was the best advice you have ever received? Do you have some advice for others staring fresh? 
Patricia: For other artists just starting, I would say be very patient because it takes a long time to build something. I feel like it's so easy to get music out there and there are so many artists. It just takes a long time. Like we've been doing this, us as a project, since 2009. As you go, you'll discover yourself more and you'll just keep evolving. If you really believe in what you're doing, don't stop. 
Kyle: Just stick with it! 
Patricia: Any advice that we've gotten. 
Kyle: Just keep out of poppa's pringles son. 
Patricia: We'll end it on a good note!