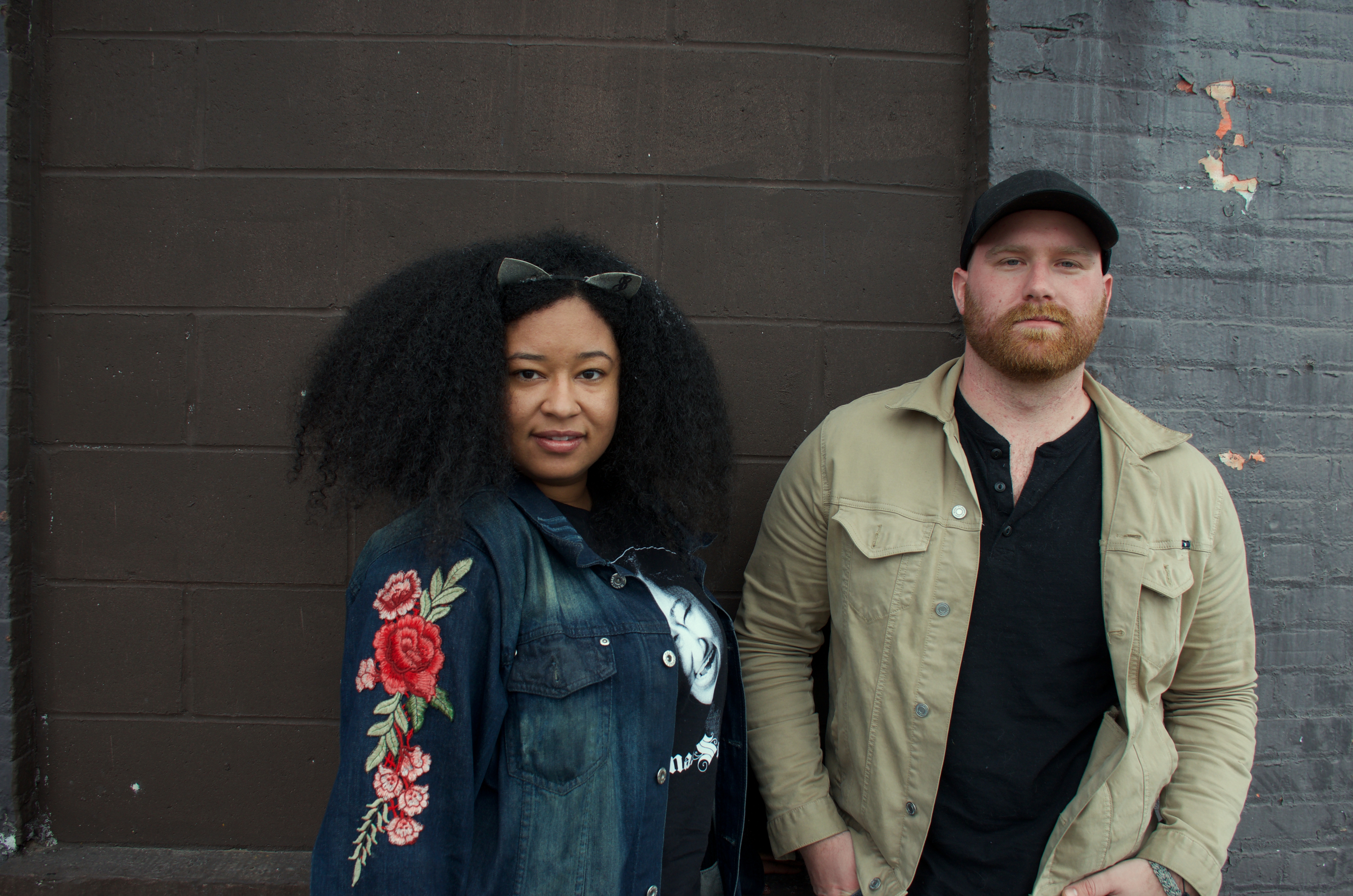 Powerhouse rock singer JanaeSound performed in Brooklyn this past weekend, and she and guitarist Andrew LaVogue stopped by Big Picture Media to chat with me and pose for photos. Janay Woodruff (JanaeSound) grew up with an operatic background, allowing her to hone her own style musically. Janay shared her inspirations and aspirations with S&S.
S&S: How was the music scene in St. Louis growing up?
JanaeSound: I fell into music kind of accidentally. My choir teacher in grade school pulled me aside after class and started playing on the piano. He played higher and higher and was like, "Wow, you can do that?" He gave me this acapella opera cassette tape that I would try to practice, but my mom would try and hide it from me. One night, she came home thinking I fell asleep to it again, but it was actually me in my room singing. She was like, "Oh, I feel horrible!" Then, my choir teacher took me on what I thought was a field trip, but it was an audition for the Opera Theatre of St. Louis. So, my first professional show was at nine years old.
S&S: What are your musical inspirations?
JanaeSound: Although opera is so beautiful, it is just not for me, so I immediately went into rock. I've always loved that. I fell into 80s rock; I love glam rock and the women who ruled that era are so strong, powerful, and beautiful in ways that aren't about physical looks. I was attracted to that strength and admired it so much. I love Led Zeppelin and Aerosmith. Vocally, opera and rock are like sisters. You've got these long, big notes that just grow!
S&S: Since the release of your latest singles, "Diamonds" and "Break Me Down," where do you see your music going?
JanaeSound: I actually wrote and recorded a full EP, and I've just been dropping singles off that. I have a poppier song coming out in March called "Fear." This year, I really want to do more visual content. We've already done two video shoots, with another one coming up next week. I want people to learn more about me, and I think video is a good way to do that. All my songs are uplifting, moving, and hopefully encouraging to people that listen.
S&S: What was the concept behind your video for "Diamonds"?
JanaeSound: The concept of "Diamonds" is about transforming, so I wanted it to be relatable. The video was all white, so you could put whatever you want in there. Basically, we're back to back, signifying how hard things are.
S&S: Since you just wrapped shooting video for "Break Me Down," what can you share with us about it?
JanaeSound: Without revealing too much, there is a lot of movement. You have to take a look for yourself when it comes out!
S&S: Other than shooting videos, do you have any other things in the works coming up?
JanaeSound: Our favorite part is performing, so we do well over 100 shows a year. After this Saturday's show at the Bitter End, we have to rush back to Portland [Maine] at Merrill Auditorium for a show. We have this really cool project with a VR component: a screen will be behind me, and I'll be wearing trackers on my arms. Then, we're doing a BMI showcase in LA, hitting Nashville in the summer, and a few fests.
S&S: Where does "JanaeSound" come from?
JanaeSound: Sometimes artists are treated like a product, and I wanted to disassociate from that. I am Janay Woodruff: I'm a person, and that is something to be loved, not to be used or sold. But JanaeSound, we're gonna sell that! I want it everywhere [on] everything, so I dropped the "Y" and added the "E."