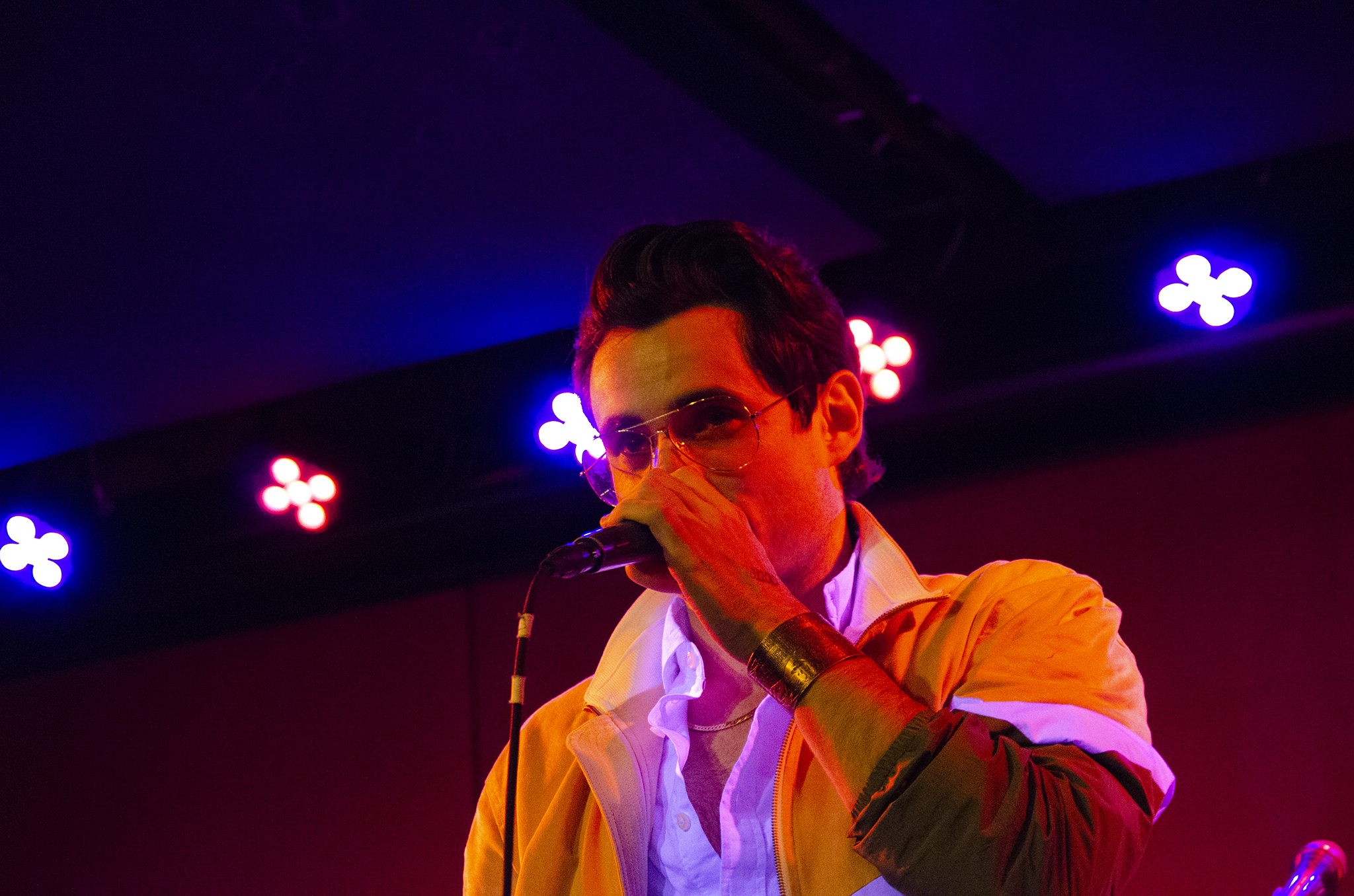 I sat with Nick and Jacob from Handsomebeast before their show on September 20 at Pianos in New York City. We discussed their latest music, future plans, and alter egos.
S&S: What can you tell us about your new song, "Playboi," the first released song in two years?
Nick: It was a conscious seat change for us to go from making stuff that was a hundred miles an hour, to something that was more minimal and direct to the mind and the booty.
Jacob: It's definitely more on the sleek, stylish, music you could make love to.
S&S: What's the difference between this song and your older work?
Nick: This is the first time we've had music where there's outside inspiration besides, "Let's just get into the studio and make a song." We were really into watching these heist movies at the time, so we wanted to see if we could distill that vibe into music. At the same time, we wanted to experiment with more minimalism, compared to what we used to do. We'd also use some beats from old Houston hip-hop from the early 2000s, late 90s to make something more sexy and soulful.
S&S: Stylistically, have you guys adapted to this mentality to reflect in your everyday lives?
Jacob: It definitely changed our stage presence and the way we present ourselves as a band. We want to make sure we stay in character. We're all about trying to look sleek and fly, especially when we play. We want to create this dreamworld like a movie. Before it was kind of all over the place; we didn't really have a direction, so everything is more compact.
Nick: To speak for Jacob, it's not dreamlike. This is who we are – we commit a lot of crimes, so we needed some music to creep along to while we're doing that! (Laughing) But yeah, we're all into unique fashion, and this is the type of music people want to listen to. The hip-hop influence is mid-tempo [and] sexual backbeats add to the story we are telling.
S&S: Going forward, is this the direction your new music is headed?
Nick: Yes, definitely. It's not a linear story, but you will hear sonically a lot of things that would belong in the same evening, the same city – late night Houston, late night Miami Vice, if you will, maybe New Orleans, some debauchery like that. After releasing the video for "Playboi," there's going to be more visuals that kind of center around the character of the Playboi and his Goons
S&S: What's your favorite part of being a musician: writing music, performing, or creating a music video?
Nick: The best moment of making music is when you have a song down and write before you record the first demo that the song is gonna be dope and see the natural progression of what's gonna happen next – to get the recording and live version right.
Jacob: It's really fun to see friends, family, and fans react to the video that we spent all this time on. We kept it secret for a while, so when it came out, people would come up to us and say, "That was really cool," "That was really funny," "What happens next?" Nick came up with this beat and words, so we played with it, fleshed it out, and it became this funk,y groovy thing. After recording it, we started talking about video ideas. Richard White from New Orleans filmed it and it became this whole Playboi and his Goons thing
Nick: It became cohesive, where the songs meet the visuals. Musically, we became a lot more simple, and it was challenging to not fill up every space and make it breathe. 
Jacob: We really wanted to keep it raw and put in some of our favorite things about playing music. There's a lot of groovy riffs making it funky and psychedelic nature.
S&S: What are you guys looking forward to after this tour?
Nick: There's a lot more music in the chamber, but I don't want to go too far and reveal, because you need, as you know, the element of surprise.
Jacob: Before, we used to try to make stuff fit for an album and sometimes it was rushed. This time, we wanna make sure everything we put out is catchy, fun, and cohesive.
S&S: If you could play anywhere in the world, where would it be?
Nick: Paraguay. Asunción, Paraguay. That's where my mom is from.
Jacob: I think for ⅘ of the band it would probably be Austin City Limits. Because we grew up watching Austin City Limits.
Nick: Oh, ahh! Ahh! There's only one place we wanna play: It's on Hot Ones. The show with hot questions and even hotter wings! We just wanna be on that damn show. Sean Evans, get us on there, dude. We have what it takes, especially Peewee. He's bred for Hot Ones.
Jacob: We love hot sauce.
S&S: Do you all live in Houston now?
Nick: Yes we all live there. Everyone grew up in Houston, except for me. And they all grew up playing music, they all taught each other how to play multiple instruments. Some of them are related, some of them might as well be related…We all might as well be related at this point. We've been friends for over 10 years now. The band started in 2009 when we were going to school in New Orleans, but it didn't start going consistently until I graduated in 2013.
S&S: Why Pianos?
Nick: Our good friends in Tygersounds – shout out to them killing it right now. They are the 80s distilled into a syringe full of futuristic nostalgia. Isn't that interesting? They helped us choose this venue.
S&S: What do you think about New York?
Nick: We adore New York. New York destroys us because we're slow-moving Texans. And whenever we get into the city, traffic moves at a different rate than we're used to. I'm from D.C. originally and I have a lot of friends and family that live in New York.
Jacob: It does scare us Texans, though. Where's all the yards and livestock? Haha it's beautiful. It's just crazy how many people are jam packed over here. It's a little overwhelming.
Nick: You would think there would be a moment where someone was like, "We're good," but they weren't! They were like keep building! Do the highways need to make sense? No. Don't worry about that.  
S&S: Fall is approaching. What is your favorite and least favorite thing about the fall?
Nick: Favorite thing is football starting. Fall is the shit. Fall is the best time of the year in Houston. It's super gorgeous.
Jacob: I love Halloween. Least favorite would be my allergies. We live in a swamp. And hurricanes! They always come, especially in Houston. And you think, "Oh, it's just gonna be some rain. Wait a minute…Then, the next day, it's a tropical storm. And the next day it's a Category 4.
S&S: What would your alter ego name be?
Nick: We have a LOT of alter egos. The characters that we help portray, who are based in reality, is the Playboi and the Goons. But if you wanna get more in depth, we have a lot of different characters if you check out our Instagram @handsomebeasttx. There's two super duos of the Eurotrash electro rave supergroup Nite Luvr called Teslo Delorean and Ferraro Maserati.
Jacob: If you follow our Instagram [and] our Youtube, we like to make funny commercials and skits. There's a lot of alter egos.
Nick: We're SO funny.
S&S: How do you guys get pumped before going on stage?
Nick: We do interviews with someone like you! You know what's funny is 98% of the time when you're touring is downtime and waiting. So, you learn over the course of doing it to not let your energy get to high during the day. We have done calisthenics in the past and we have to start getting back into that.
Jacob: Jumping jacks help. Couple boys in the band like to have a drink or have a smoke, fog out a van.
Nick: Sometimes, we will sit in front of a mirror, all five of us, side by side, just VOGUING for 30-40 minutes. You basically just are a bunch of Zoolanders, and it gets the job done!