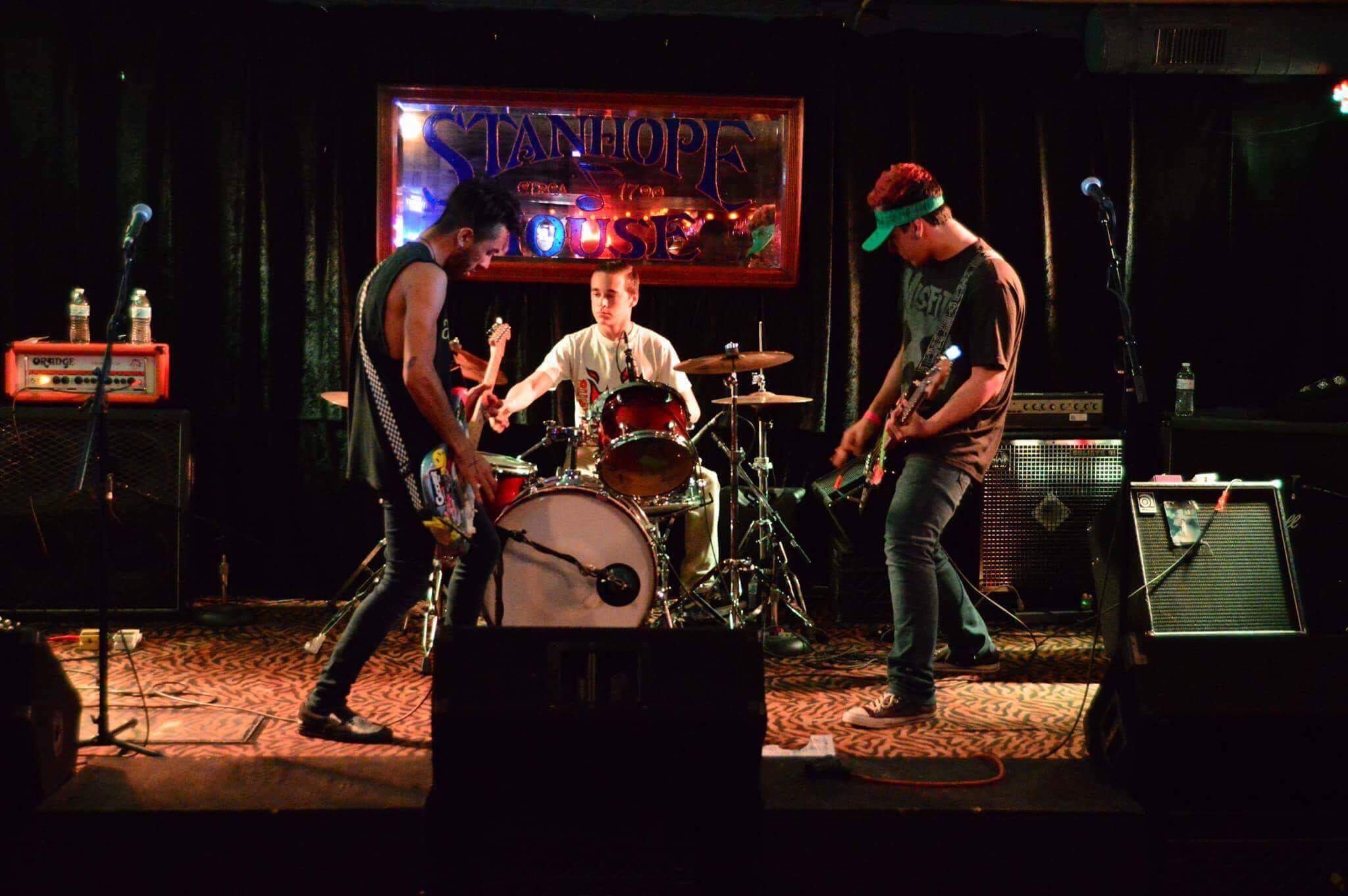 While seeing Michael Graves from The Misfits perform, this band of misfits caught my attention. Sounding rich of old-school punk and looking quite the part as well, I felt this was an opportunity that couldn't be wasted.
"Punk isn't dead, it just goes to bed at a decent hour." – Joey, Dumpweed
Who is Dumpweed?
Eric Raven: Guitar, vocals
Joey Dumpweed: Bass, vocals
Baby Matt: Drummer
S&S: Describe your sound and influences.
All: We like our sound to be fast and loud with a hint of emotion.
Eric: My big influences would be Green Day, Black Flag, AFI, and Minor Threat
Joey: My biggest influences would have to be Misfits, Rancid, Bad Brains, Social Distortion, The Casualties, and The Ramones.
Matt: My influences are Blind Justice, Floor Punch, Tear It Up, Judge, and Pure Grip.
S&S: Joe, we had a good conversation about the difficulties of finding original old-school punk today. Can you fill in our readers with your thoughts on this?
Joey: I feel like original old-school punk bands are still around – it's just all underground. For people that wanna support, all the great shows are local; that's where you've got to go if you wanna hear some good local punk. It's very rare to see punk in the mainstream, but punk is still alive and well in the underground scene.
S&S: How does it feel to be such a fresh new band (less than a year old) and to be playing with Murphy's Law?
Eric: Orgasmic.
Joey: From me listening to them since I was little in my dad's car…It just feels unreal.
Matt: It's kinda crazy to think that we made it this far and that I went from seeing Murphy's Law in a crowd of few hundred to playing with them.
S&S: …and Michael Graves?
Eric: He was my punk hero in middle school, and he influenced me to listen to more darker music like The Cure, Motionless In White and AFI. "Famous Monsters" by The Misfits helped me find what I loved in music.
Joey: Well, Misfits is probably one of my all-time favorite bands, so opening for one of their lead singers was actually one of the best nights of my life. Even after the show, I met him and told him how much of an impact he had on my life. He was so supportive, and he is a great dude.
Matt: I prefer Danzig, but it was still awesome.
S&S: What did it take for you guys to get to this point?
Matt: It is just pure luck because, in the music industry, you can spend a ton of money, write a ton of songs, and practice a ton of hours, but in the end, if the people don't like what you come up, with you aren't going anywhere.
Joey: I agree with Matt; it has to do with luck, but also Dumpweed formed because of breakups and bad stuff going on in all of our lives. We just wanted to express that through music because that is something that we all love and always have loved. I guess now people like us.
S&S: Where will Dumpweed be next year?
Joey: Having a full-length album out, playing a ton of more shows, and hopefully playing out of state.
S&S: Where can we find Dumpweed?
Matt: Livin on the Raritan Bay.
Eric: Peeing in a local bush.
Joey: Hiding under your mom's bed 'cause your dad came home.
Just kidding, you can find us on…
Instagram: @DumpweedNJ
Facebook: Dumpweed
Twitter: @DumpweedNJ
Bandcamp: Dumpweed
Soundcloud: DumpweedNJ