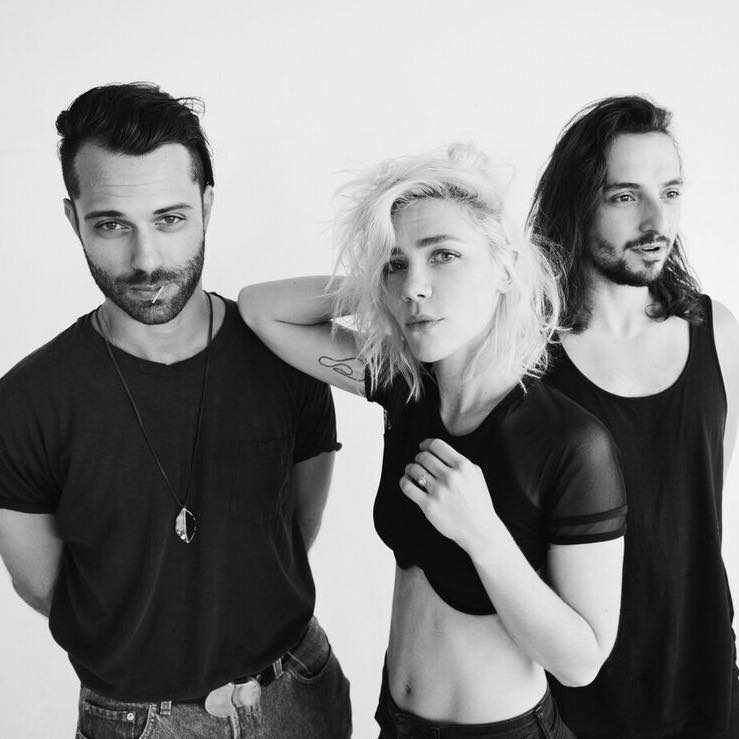 Photo by Shervin Lainez
What hiatus? Chicago alt-rockers Company of Thieves are back, and they're still not going anywhere quietly. Genevieve Schatz (vox), Marc Walloch (guitar, also of AWOLNATION,) and Chris Faller (formerly of The Hush Sound), announced an indefinite hiatus in 2014, with two great albums to their name: 2009's Ordinary Riches and the powerful Running From a Gamble in 2011. After taking three years off to explore personal creative ventures and build some healthy absent fondness, they came back strong in 2017 with "Treasure," their first single in six years, and a reunion tour. Now, they're out hitting the road with Walk the Moon, and have an EP, Better Together, slated for release on February 23, 2018.
I had the chance to catch up with Marc Walloch while the band was visiting the deep south and learned all about the exciting changes Company of Thieves have made, plus the awesome plans they have for the future. Read on!
S&S: Welcome back to the road! How is the tour going?
Marc: We are so excited to play; everyone has been so welcoming and warm at every show. And we love the guys in Walk the Moon. We got connected to them years ago through a mutual connection, and it's been so fun to tour with them. They have a natural momentum that makes all of us really happy.
S&S: So, of course, Company of Thieves is back after three years of not working together.
Marc: You know, we started all this when we were 18 years old. We loved each other so much immediately; we were instantly close friends. The band was a non-stop, fast running train from day one, and we quickly were a part of an industry that didn't offer much balance. We had no space from each other, either. It was a hard time.
S&S: I totally understand that. You three have years of friendship behind you, literally rekindled by sitting around a fire in Joshua Tree in 2016, where you decided to start making music again. How has the dynamic of the band changed? What is working now?
Marc: Our communication is better, we take a minute to respond to each other, [and] everything's a little calmer. Before, everything was do or die; now we know it only matters if you're happy and having a good time. Now, before making any decisions, we say, "Is this going to exhaust us, or make us feel good?"
S&S: It sounds like you're making really healthy decisions!
Marc: That helps the overall morale of the band; it keeps sustainability. We're in our 30's now, so we've grown a lot. I would hope there has been some kind of evolution. When you're 20, that's the time to go crazy and say yes to everything. I know that what we did got us momentum, but at some point, it ran us into a wall. And I'm glad it did because it gave us space to breathe and gather perspective.
S&S: There has been a recurring theme in your music of "not going quietly." You came back in 2017 with "Treasure," a politically charged song written during the 2016 election. Now that we're well over a year into this presidency, how do you feel about the state of our country, and does it still inspire your songwriting?
Marc: We feel more divided than ever. We've always been this loud band in the sense of, yeah, not going quietly, and bringing people together. We want to bridge that gap, and we want to accept and embrace differences. We're not a politically charged band; we're more so about bringing people together. It's also exciting to be creators in a time of challenge; now more than ever we should be doing and making our best work to provide something better than the energy around us.
S&S: What else, then, is inspiring your songwriting right now?
Marc: We are inspired by so many things. Life, of course, and internal feelings of being more aware of what feels good, and why, and trying to head down that positive path now more than ever. Even the way we worked on "Treasure," we thought, "Let's be really present right now. What are we feeling right now?" This process of being in the moment, it helps you build the song piece by piece in a very present way. On the day we wrote "Treasure," Genevieve had such strong feelings when she came in, so I started playing a riff with a sort of aggression, and she went in that direction.
S&S: It's wonderful how organic your process is. Do you have a goal for your new music in contrast to the past two albums?
Marc: Musically, we've always been a mixed bag of nuts. We grew up in the height of alternative music, so when we were in third grade, The Smashing Pumpkins came out and Nirvana, and we've been attracted to those bands that don't have a definite genre. We embrace that we're something that doesn't have a title, but we also hone in on things musically that work really well and make it defined by just us.
S&S: So, truly, Company of Thieves is "just doing you."
Marc: Yeah! And, we want to have fun playing every night, all the time. We want to connect with so many people. With Genevieve, she has the ability to convey so much with her voice, and it's very infectious. I wouldn't want anything to get in the way of connecting with as many people as possible. We don't want to be weird enough to have people walk away.
S&S: Speaking of walking away, you're also working independently now. What's that like?
Marc: It's exciting! We've never really had a chance to be a band without the influence of a label. I think most of our fans know the version of us that kept touring and working because it was funded by this massive machine. Now the machine is gone, there is nothing in the way. But, the challenge is funding and surviving. We don't want to work 9-5 jobs; we want to make music and share it.
S&S: It definitely seems you've found an answer to this funding struggle with your Big Cartel shop page with all the fun incentives you offer. How did you get the idea for this?
Marc: When we came home from the reunion tour, we were selling a ton of vinyl online, and we realized we wanted to have everything we offer in the same place. We went with an online store because we're not crowdfunding for a specific project. We want to continue and record and tour; it's freer and ongoing. We're really trying to be independent and protect ourselves and our work, especially any capital that goes to places we don't know about.
S&S: Big Cartel puts all the creative freedom back in your hands.
Marc: Definitely, and it's been so fun to make our own store. Our fan base is so supportive, even with being away for years. People are saving our lives by supporting us this way. When you're independent, that's what keeps you moving forward: relationships, art in the community, sharing.
S&S: I think my favorite incentive on the list is the "Mystery Polaroid from the Band." What other fun goodies do you have in store for the future?
Marc: Every few months, we want to add new creative items. We have our favorite merch we've ever made on this tour [with Walk the Moon], so when we come home, we're going to put it all online.
S&S: Has anyone actually purchased the bigger ticket items you offer?
Marc: We have an acoustic performance booked! Someone bought the baritone guitar we used during tracking for "Treasure" – we're gonna sign and send it out. We've sold test pressings, the handwritten lyric, and postcards. Honestly, the orders have been overwhelming. We are very grateful.
S&S: All of this sounds really awesome and healthy. I am so glad y'all are back and really enjoying what you do! Before you go, I need to know: What is your favorite song to play live?
Marc: It changes night to night depending on how I'm feeling. Like I said, we're a mixed bag of nuts, [so] it's hard to pick one song. I always enjoy playing "Nothing's in the Flowers." There's the part that changes at the end of the song…it always feels like you're running at full speed, and you get set off on a rocket ship and then you're in the clouds floating in a dream. it's very transcending. I also love playing any of the new songs. We're constantly working on them and trying to make them better – that's a fun process. Also, "Treasure" gets better night by night.