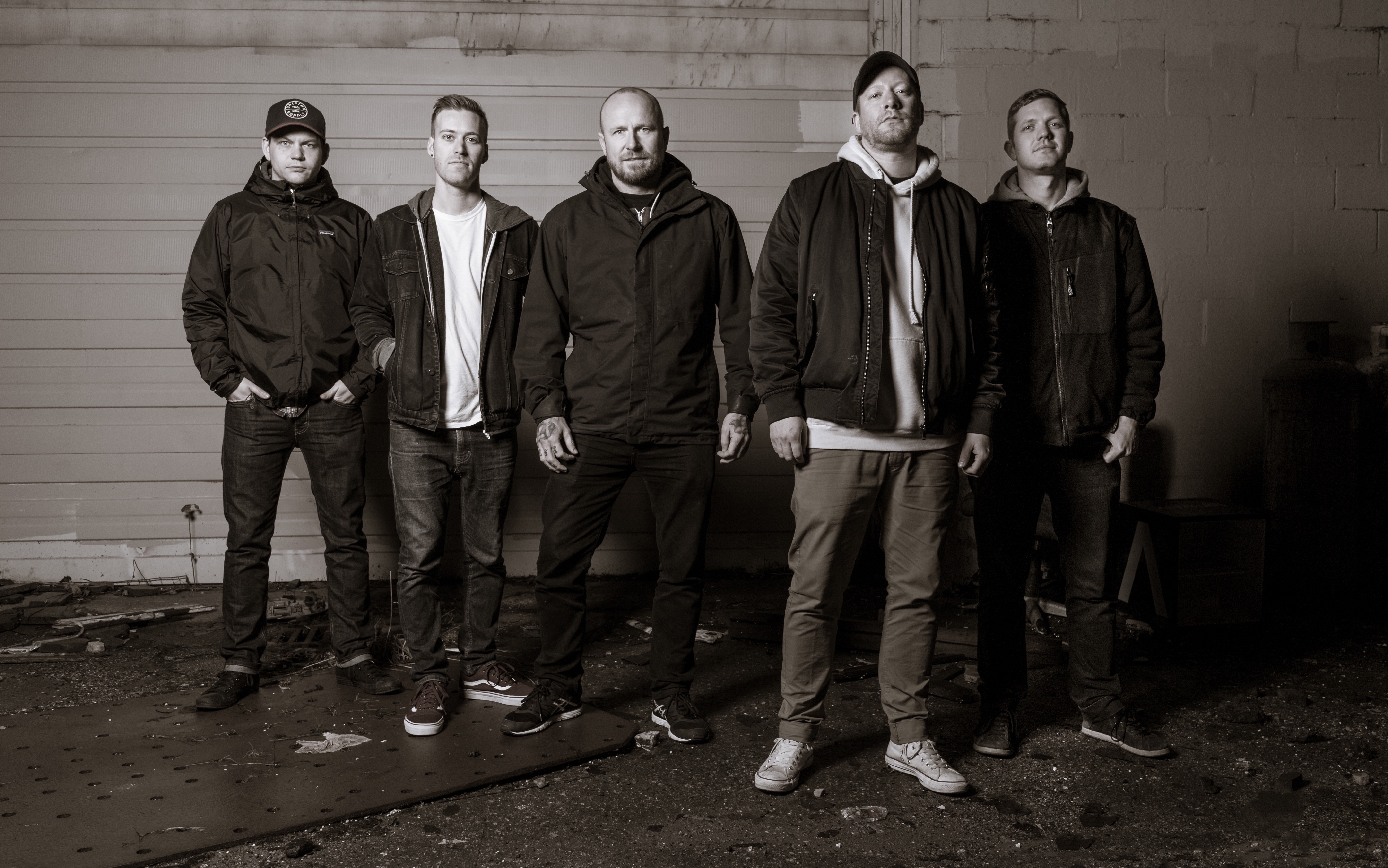 It's almost September, and for music fans, that means one thing: as the leaves turn from green to brown, summer festival season turns to fall tour season. It's a change that veteran hardcore band Comeback Kid knows well. Just a few weeks after finishing their summer stint on the European festival circuit —playing Sweden, France, Russia, Italy and many more— the five-piece band is already gearing up for the next round, this time in their native Canada. The 15-stop tour is less than a month away, so we caught up with lead guitarist Jeremy Hiebert to get some insight into life on the road.
S&S: First of all, congrats on the upcoming tour! Do you have a lot of preparing to do?
Jeremy: Not really; I think we kind of have everything in place. We're just getting that last minute merch order in. But I think we're pretty well rehearsed from our month-long European tour.
S&S: That's right, you've been doing international festivals all summer! Any favorite experiences?
Jeremy: One that stands out is Punk Rock Holiday. It's a festival in Slovenia, and it became our favorite. It has a great atmosphere — it's up in the mountains, everybody goes swimming in the day, and then it's just punk punk punk and hardcore all night. We had the best time ever.
S&S: For your upcoming tour, you're returning to Canada. Is it exciting to be playing your home country?
Jeremy: It's always fun to do Canada. We always seem to end up there this time of year. And it's our first proper headline tour with the new record — we'd done a co-headlining tour, but this time it's just us and the bands we're bringing along. We're stoked.
S&S: Speaking of that new record — your most recent album, 2017's Outsider, was recorded during a label change. What was that process like?
Jeremy: On the Canadian side, we've always been signed to a Canadian label. On the worldwide side, [we made a] switch from Victory to Nuclear Blast. As we thought about it, it made a lot of sense, because they work with a lot of older metal bands and older hardcore bands. So we thought, "Maybe that makes sense for us."
S&S: You recently recorded a music video in Lisbon for "I'll Be That," one of the songs on Outsider. Can you tell us a bit about that experience and about the concept behind the song?
Jeremy: That was with a guy we had worked with before, Finnish director Sami Joensuu [who also directed the video for "Didn't Even Mind"]. He actually wasn't there in Lisbon; he farmed out the filming to a Lisbon crew. As for idea behind the song —and I wasn't the songwriter, so forgive me, Andrew, if I get this wrong— I think it's about running away from yourself and problems. We've all done that to varying degrees. I've done it. If you're not careful, it can get out of control.
S&S: In addition to Outsider, you've released a few singles this year, including a cover of the 1987 new wave song "Beds Are Burning." What drew you to that song, and how did you approach turning it into a hardcore song?
Jeremy: That was a fun one. Andrew pitched the idea. It was funny — I have this list of 30 songs that I'd like to cover, and that was on the list. There's this plodding, heavy approach to the song, but then there's a soaring melody. [It's very] melodic hardcore.
S&S: I know the original version of the song [by Midnight Oil] was a protest song. Was there any political reasoning behind the choice, or was it just a song you liked?
Jeremy: Bit of both. The song definitely lyrically touches on what the country of Australia had done to indigenous people, which is a familiar topic if you're Canadian. I had sent an email to the singer [Peter Garrett] to ask we could change some of the lyrics to be more Canadian. He didn't actually get back to me, but his office got back to me and said they didn't want any changes. But it's still similar to Canada, so it kind of made sense for us.
S&S: Comeback Kid has been around for almost 20 years! Do you feel like the industry and the touring experience have changed over those two decades?
Jeremy: It's definitely changed. The most would be how much the internet has changed how we consume music. When we started out, it was a lot of physical copies, but now it's more about digital and streaming. We've noticed that.
Touring wise, not as much. We're still doing the van thing. We get hotels now — now that I'm in my forties, the last thing I want is to wake up [on a van] in my underwear! But overall, people are still making us feel relevant.
S&S: Do you have any tour traditions or pre-show traditions?
Jeremy: We're not really too superstitious. I do my stretches, and Andrew might have a few drinks, but we don't put a lucky penny in our underwear or anything. (Laughter) At a big festival, we might do like a pre-show shot of Jameson, but we don't do that every night. I might have been able to do that every night at one point, but not anymore.
S&S: Finally, can you give fans a sneak peek of the upcoming tour? Any set list plans or surprises?
Jeremy: For the setlist, we'll play a few new songs. We'll definitely be playing songs from every album. We always try to do that. We don't want to be that band that just plays for ourselves — the favorites will definitely be in there.
It might not be the same set every night. Hopefully, we'll switch it up a bit, but no huge surprises.