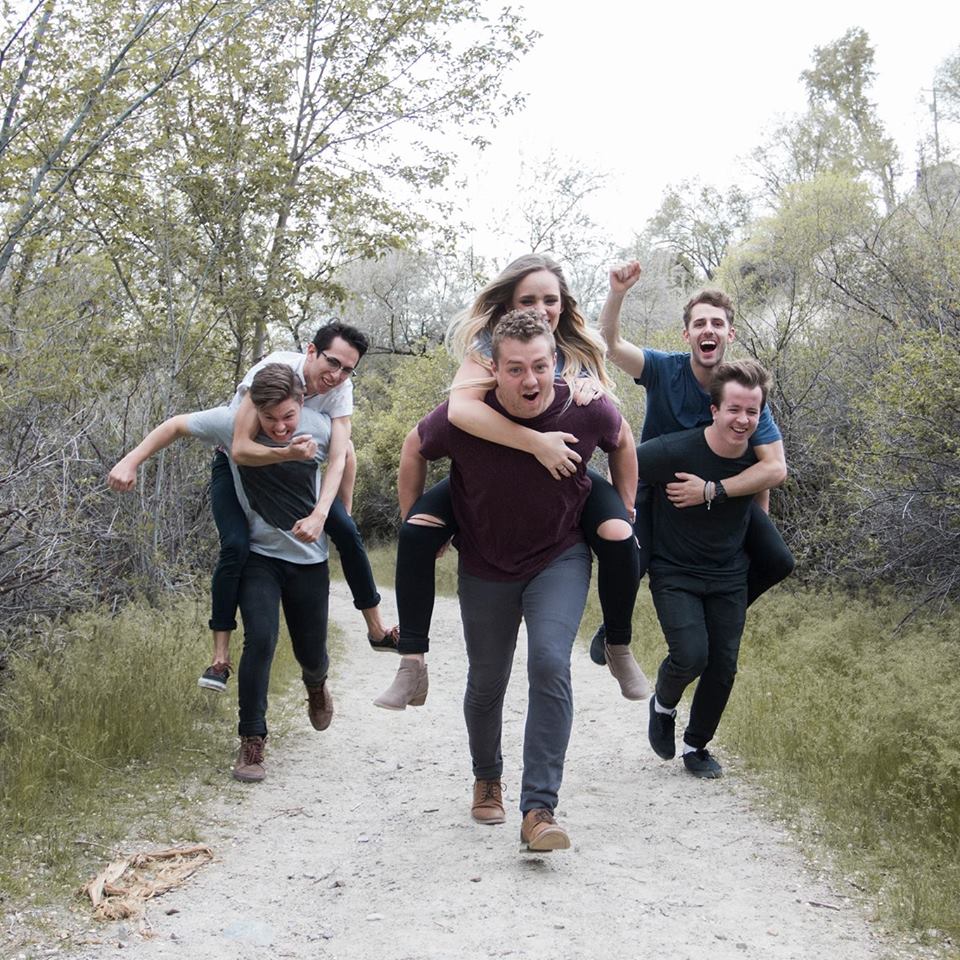 As I skimmed through YouTube one afternoon, I watched a video about two guys taking a spontaneous trip to a random location. I ended up loving the video, but the highlight was the music featured throughout. Two songs immediately caught my attention, and I soon learned that they were both from a band named Cinders. Upon further research, I discovered that this six-piece band was from Salt Lake City, Utah and had some amazing songs. Their debut self-titled album was released just a year ago, and I recently had the chance to get to know this band a little bit better.
S&S: The anniversary of when you released your debut album just passed. Did you guys do anything special to celebrate?
Cinders: Yes, we did! We got asked to headline Pigstock Music Festival which happened to be on the exact anniversary, and it was super awesome. We continue to see a lot of support through singing and dancing and all the fun pictures we get to take with our fans. We couldn't ask for a better way to celebrate our #albumversary
S&S: Where did the name Cinders come from?
Cinders: It was the title of a terrible song we wrote in high school, and we thought the name was super cool and deserved more than just that terrible song. The definition of cinders is "a small piece of partly burned coal or wood that has stopped giving off flames but still has combustible matter in it." So, we thought it was pretty fitting.
S&S: What's the significance of the man in the yellow coat since he appears on both your acoustic album and debut album?
Cinders: We feel that the captain has kind of become the face of our music because there's a lot of symbolism with him. Most of our songs are written with the feeling of loneliness while holding onto hope. The captain shows that feeling very well, especially with the help of Tyler McKinlay's incredible artwork.
S&S: What can fans expect the new album to sound like?
Cinders: A lot more energy and confidence in what we're doing. We want an album that will match our live sound more. We're not afraid to try new things with this new album now that we've established our sound with the first album. We're still the same band but matured.
S&S: How has the writing/recording process for the new album been going?
Cinders: It's been a lot of fun diving into all of these ideas we've had for a while. Our first album laid all of the groundwork that this next album will build from, but now we get to expand on everything. We're so excited to show you guys what we're working on.
S&S: Do you tend to write lyrics first or come up with a specific sound for songs?
Cinders: It changes for every song. Sometimes, a song will be started with lyrics in mind; sometimes, we will jam the entire thing together, but we sing gibberish because we don't have any words yet. But I would say that every song starts with a certain feeling that directs the song to where it ends up.
S&S: Does one person typically write all the lyrics or is it a group effort? 
Cinders: Jordan and Montana typically start the process, but the rest of the group fills in the missing pieces that make the songs whole.
S&S: Do you have a release date for your second album yet?
Cinders: We're shooting for 2018, but we don't have an exact date yet!
S&S: What's your favorite song of yours to perform live?
Brad: "Gigantic" (new song) because with the first album, I wrote super chill drums, and this is the first of many songs where my punk rock side comes out because the songs are super upbeat and fun. I get to spice things up a bit.
Adrian: "Moody Blues" because I think it has the most energy, and I care about that one time at band camp. But the weight of the world never left my shoulders. So, I just jump really hard.
Jordan: "Dog Heart" because everybody can jump, and everybody can sing along. Plus, it's awesome watching Austin jumping around with an accordion.
Austin: "Gigantic" (new song) because I love getting to blow people's faces off with my killer keyboard sounds that were crafted by Abraham Lincoln himself.
Montana: "I Could Do Better" because there's a lot of crowd participation during the whole song. Everyone jumps with us, sings with us. It's just a whole lot of fun.
Chelsey: "Like a Holiday" because I like the saxophone harmonies and the buildup to the last chorus. I feel like it's a song that most people know the words to, and it's cool to see people singing the words back to us. It brings a lot more energy to the stage.
S&S: Is there a tour planned for sometime in the near future?
Cinders: We'll still be playing shows here and there, but as of right now, we're just really focusing on writing and recording. But we can't wait to get out there again. Touring is our favorite thing ever.
S&S: What do you think your most underrated song is?
Cinders: "Found: or "Dreamers. "We love both of those songs so much. The number of streams for them is very low, but we feel they give our sound more variety. We still play "Dreamers" at every show!
S&S: Personally, I discovered your band after hearing two of your songs in a YouTube video. How does it make you feel when you hear your music featured in videos?
Cinders: It's incredible. It's so cool seeing people react to our music the same way we do to the bands we look up to. Just knowing that people want to bring our music into their lives and share it along with whatever their art form is – it's such an awesome feeling. We always love and appreciate it.
S&S: Are there any specific musicians you guys look up to?
Cinders: Bill Evans, Andy Rourke, Brian Sella, Justin Pierre, John Coltrane, Chris Martin, Tyler Joseph, Charlie Parker, Jason Schwartzman, Tony Royster Jr., Andrew Bird…to name a few.
S&S: If you could collaborate with any band who would it be?
Cinders: The Front Bottoms, The Killers, We Are Scientists, Generationals, Belle and Sebastian, Noah and the Whale…the list could go on and on. We just love music, and all the bands listed above have been big inspirations for our own music.
S&S: What is one of the best memories you have since forming this band?
Cinders: When #TeamCinders faced off against another band in a 5-on-5 basketball game before a show. We won.
The final verdict? The people that make up this band were super nice when I asked to interview them, and if you haven't checked out their music yet, what are you waiting for? Seriously, this group is beyond talented, and you'll probably hear me raving about them when their new album finally launches!