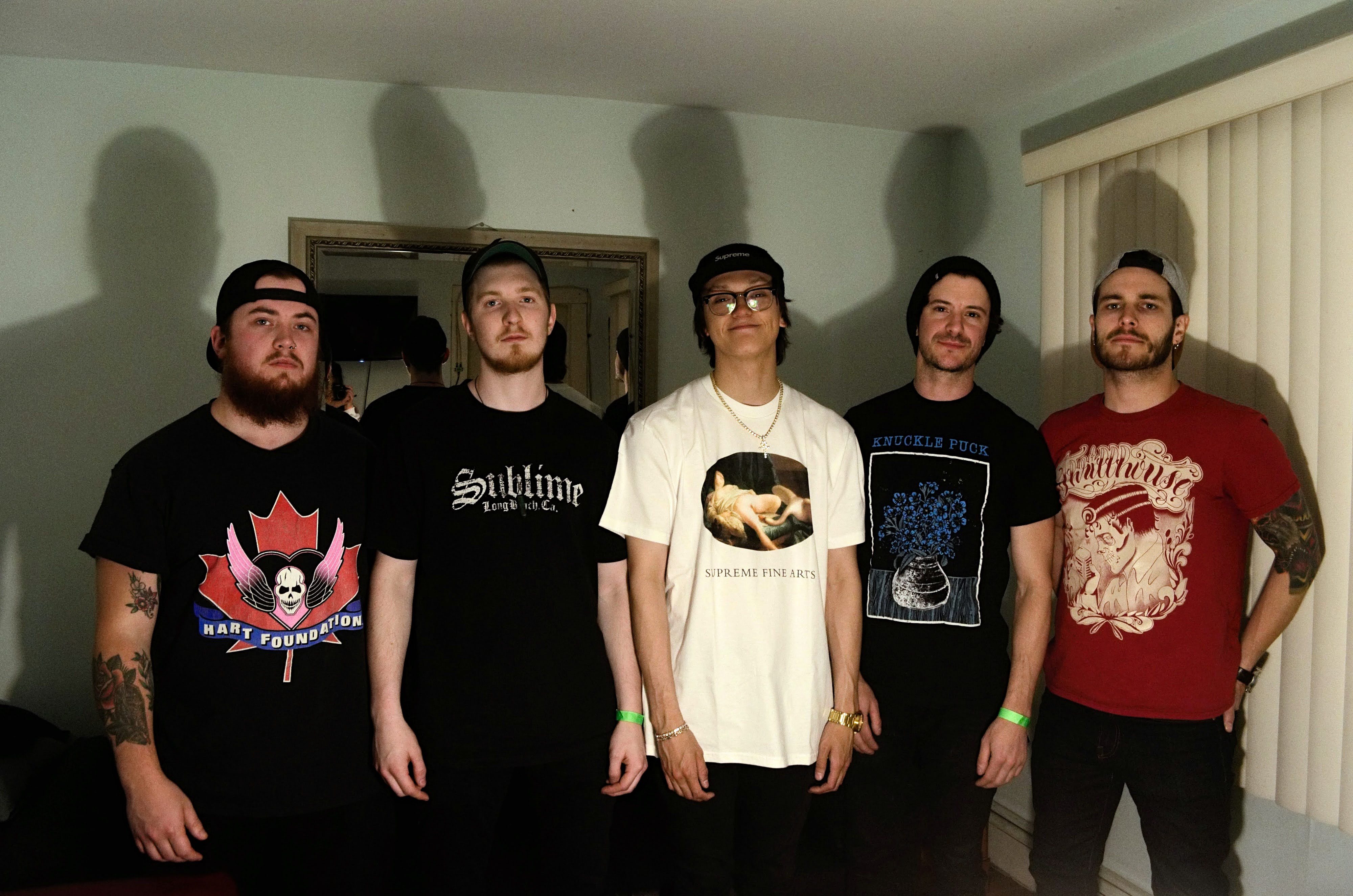 Calling All Captains are a five-piece pop punk band hailing from Saint Albert, Canada. The group consists of Luc Gauthier on vocals, guitarists Brad Bremner and Connor Dawkins, bassist Nick Malychuk, and drummer Tim Wilson. Since forming in 2014, Calling All Captains have been working rigorously to put out music, tour, and record their debut full-length album. They have a reputation for high-energy live shows, and their gig at The Kingsland in Brooklyn lived up to that rep.
S&S: Your debut EP "Nothing Grows Here" was recently released (February 2019). What can you tell us about the album?
Luc: We can tell you that it's out now on Spotify and Apple Music and available for your listening pleasure. But more specifically, this album means a lot to us. For me, Luc, this is the first album that I'm singing on fully. We put a lot into this record, and without the help of our producers, this album wouldn't have sounded exactly the way we wanted it. Connor and I put the work into writing, and it also is his first time singing on this record as well.
S&S: What's your favorite song off the EP?
Connor: That's a really tough question. They all mean something different, but I think my favorite would have to be my favorite to play which is "Out of My Head," which has fast riffs and is really jumpy.
Luc: My favorite is definitely "Fools Gold." That was one that meant a lot to me. We got back from our two week run across Eastern Canada. I wrote that in one day, and I was going through a lot of things and was really happy with how things sounded. I stole Connor's riff – sorry mate – he wrote something real nice, and I just took it and made it into a song.
Nick: "Chasing Ghosts." It was the first thing we did together with the lineup change and proved we still got it. So, it was the evolutionary process and kind of cementing that we're not done yet.
Luc: We back baby!
S&S: How did you go about finding the artist or artwork for the cover?
Nick: So, Kevin at Soft Surrogate and his wife do archive design, so we got in touch with them because they've worked with a ton of other Canadian artists. We wanted to keep as much of this album as we could in Canada because we are really proud of where we're from. Although, for lack of a better pun, nothing does grow there. It is frozen nine months of the year. We're very proud of it.
S&S: From the places you've toured so far, where was your favorite?
Nick: I'm gonna say Fullerton [California] because we got to hang out with our Equal Vision family, and my girlfriend flew down and saw a couple shows. It was the gnarliest venue. Dropping like a hundred bucks buying shirts and records inside the venue was just incredible.
Luc: My favorite show was probably Odessa, Texas. It was So. Much. Fun. It was the best ever. It was the first time I've ever seen this: after the show, everybody stayed at the venue. The soundman pumped on traditional Mexican tunes, and the whole place was bumpin'. It was like a nightclub.
Nick: The venue was an abandoned retail store, too. It was cement walls, cement floor. It was gnarly.
Connor: I'm gonna say the shows we did in Florida were my favorite and not only the shows, but I was looking for gators the whole time. I'm really into shit like that. Now, here we are in Brooklyn, looking for rats.
S&S: Where are you excited to head next?
Nick: We got two weeks left, and we are excited to get back home. We get home and immediately do our Western Canada tour. Our hometown crowd in the entire Western Canadian scene has been more than family to us than we could have ever expected. So, to go back to them after this and have the stories and memories I think is one of the coolest things we get to do.
Luc: We've never even played these songs for Canada yet.
Connor: I'm excited to go to Albany because we finally get to meet our manager, who we've known for a long time, but we've never actually met him. So, I'm stoked about that. We're gonna hang with some Equal Vision peeps, which is always fun. And the homies from Young Culture are coming out.
S&S: Tim, what was it like getting rotator cuff tendonitis during tour? How did that affect the tour and the band?
Tim: Oh well, you know, it was a rough couple of weeks. The boys had to pick up literally all of the slack for me. For two weeks, I was just a useless deadweight, and they literally hulled around all my stuff – they wiped my ass! It sucked not being able to play, but I had a lot of positive support, and the band really helped me out. Even the people back home and at the shows – people were really supportive. Luc ended up playing the drums and singing at the same time for two weeks.
S&S: Being from Saint Albert, Canada, what is the music scene like?
Connor: Edmonton, Canada is the best. Western Canada is awesome. We have some of the best shows of our lives just in the Western Canada scene. We haven't done a ton out in the eastern and central parts of Canada, but when we do, we get some good crowds.
Luc: Hometown shows are the best. We have people flying off the stage. It's actually dangerous.
Nick: We lost all three monitors in one song.
Luc: I had to listen for the stage volume. It was crazy.
Connor: We just have an ambulance outside now.
Nick: No, but we got very fortunate to be from such a loving and tight-knit community that goes from Edmonton to Vancouver to Calgary and everything in between. We've got people in every city willing to put us up and come out to these shows and sing along. We've made such a family between Western Canada, it's amazing.
S&S: Who are your musical idols?
Connor: We get asked this a lot, and it's weird because we are all over the place. I'm into all the old, classic rock stuff like Beatles, the Stones, Bob Dylan's my boy.
Luc: I listen to weird shit, too. I listen to the heaviest music like Lotus Eater, Acacia Strain…but I also really mess with that trap stuff like Lil Pump. I love Lil Pump, he's hilarious. But writing style, I'd have to say like Knuckle Puck, The Story So Far. I jam those dudes all the time.
Nick: I'm more or less the hardcore kid out of all of us. I appreciate the business mind as well as how Grayscale and State Champs write their music. For Grayscale to literally run their band as a clothing company that plays music to advertise is one of the smartest things you could ever do.
S&S: What do you enjoy doing when you're not doing music?
Connor: At home, I worked at a furniture warehouse. I quit that to do this, but all I would do is move furniture and write music, go on tour, come back and move furniture, and write music and go on tour.
Luc: Back home, I run my clothing company, Worthless Streetwear. I'm also a traditional Métis dancer. Métis means half Native American and half French. It's actually our own indigenous culture in Canada –  there's the Inuit, First Nations, and the Métis. I'm part of the Métis, and I'm very active within the community. I MC events and perform dancing all the time. I also quit my job to tour, and what I used to do was be an admin assistant/caseworker for a company called Native Counseling Services of Alberta. We help at-risk young adults ages 18-30 get back on their feet, try to get sober, basically making sure they have all the support that they need to move on to the next step of their life.
Nick: Well, I got nothing that cool in my life. I play music, I'm a photographer, and I'm a heavy beer connoisseur – there's a brewery five minutes from my house that sponsors the band because we're there so much.
All: You mean YOU'RE there so much!
Nick: But yeah, I've got a degree in graphic design. I'm dating a hairdresser who's training to be a tattoo artist, so we're creative all the time. We've got two hairless cats that I have to deal with. One just had surgery.
Connor: They lotion them and sunscreen them.
Nick: I love my cats, man!
Luc: They're like little people.
Connor: All covered in lotion.
Nick: They get like super dry. We're not human at all back home – everything is dry to begin with. And we found out that Edmonton is on par horizontally with Siberia. So, we live where they exile people.
S&S: What's your favorite home cooked meal?
Connor: Whatever's cooked, man.
Luc: I would kill for some of my mom's moose meat and mashed potatoes. We're fortunate to know a lot of aboriginal hunters, so they go on hunting missions with the youth, and it's like a right of passage. In the culture, you share what you get, and they share the wealth. If anybody has a chance to try moose, it's good. Definitely try it. You cook it up just as you would a steak.
Nick: I just miss my mom's cooking. I don't live at home like these two, so even when I'm home, I don't get homemade meals unless I'm making it. I do a ton of chicken and cauliflower based stuff. My girlfriend was vegetarian for a while, then I converted her back to meat, but we still eat a buttload of not meat.
S&S: When you're touring, what essentials besides band gear are your must-haves?
Connor: Baby wipes and bananas. You gotta wipe down your whole body sometimes. I also just recently got into bananas. If you're out there and you're not sure about bananas, they're fucking good. Give them a try.
Luc: Dry shampoo. Love that stuff. Spray all day. And probably 30 t-shirts. I just love having a different style all the time.
Nick: Beard oil and my phone. I'm tour managing this run, so I'm organizing seven different bands and every show. I need so much information, I live on this goddamn thing. So, it's glued to my hip at all times.
S&S: Any music video ideas for your new songs?
Luc: Well, it's not gonna be in a house. All of our music videos are just in our houses: my house, Brad's house, our old singer's house, and my backyard.
Connor: If you guys have cool ideas, send them to us on Instagram or our email!
Make sure to catch Calling All Captains on tour here!