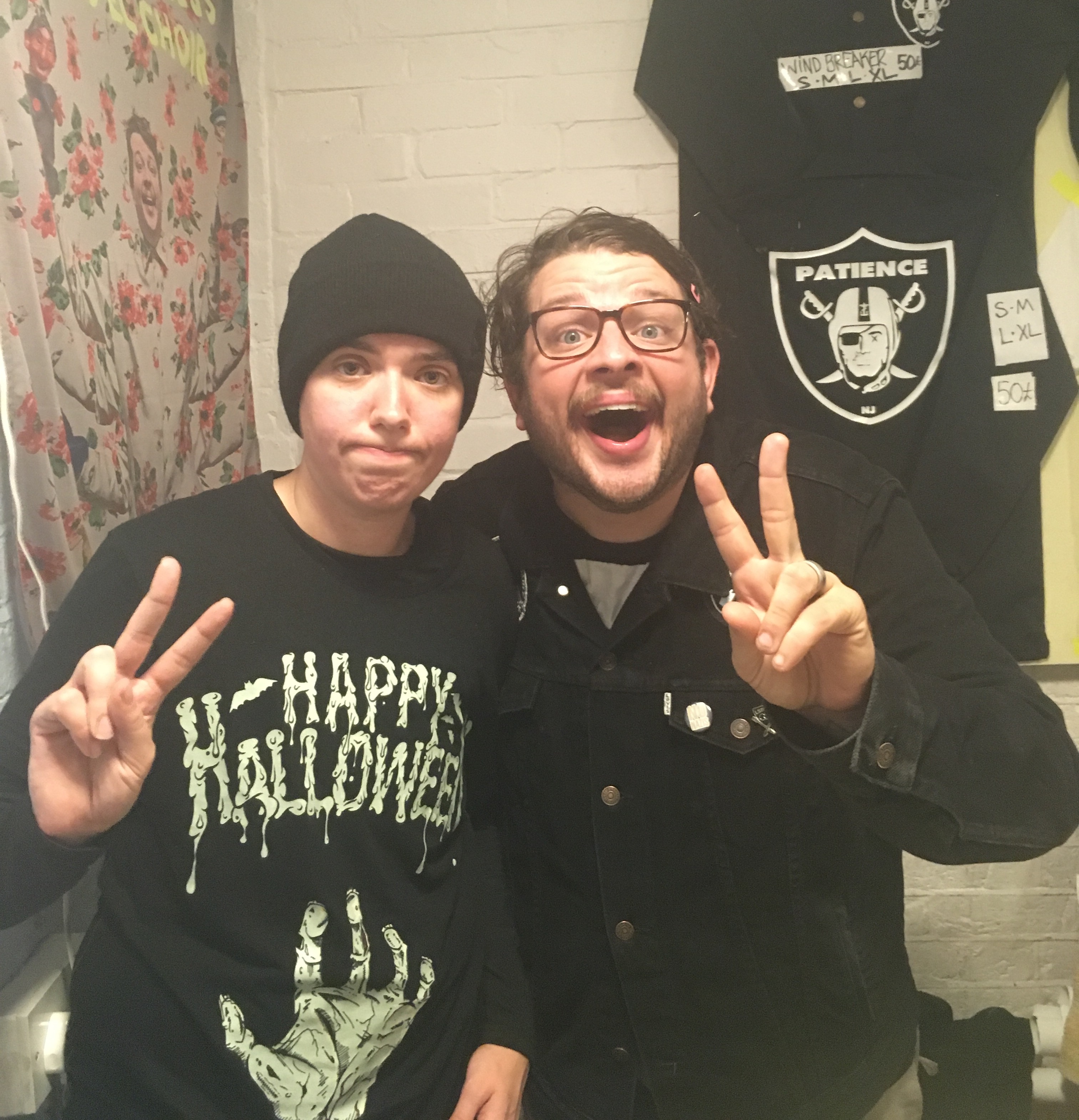 Bec with Derek Zanetti from The Homeless Gospel Choir
The Homeless Gospel Choir are not, in fact, a gospel choir full of homeless people as I originally thought, but a one-man folk punk machine dedicated to spreading the 'truth' of the healing and community building power of music – and punk rock in particular, fronted by the down to earth and charismatic Derek Zanetti.
"I wanted to write…from the perspective of a bunch of people who are traveling and moving around, and they're singing these songs of hope," Derek explained to us when we caught up with him during his recent tour supporting Frank Iero and the Patience.
"Not gospel choir, but gospel and then choir. Two separate words. Gospel meaning 'the truth.' And a group of people singing it together. And offering hope and offering truth to people who really need it." He then went on to use his own tour as a practical example for the 'homeless' part of the name.
"…we're all here together singing these songs together. We're making a difference. We're singing these songs of hope, and we are living in this bus, and we are traveling around, very much so like we are….[homeless]. And if you think about it in the bigger picture, what does it mean? We're all in some way homeless, maybe not in the physical sense of not having a place to lay your head, but in search of a place to belong. And I wanted to touch on that a bit too."
It's pretty deep stuff, but most things are when it comes to Derek. He really is a fascinating person to chat with and a great speaker. In between the songs of his set, he talks to the audience like a punk preacher, about social justice issues, politics, mental health, and a host of other important and relatable topics. And by the end of my interview with him, I felt so inspired and enthused that I told him he should run for President, at which he laughed and said, "Who knows, maybe I will run someday."
Under this moniker of The Homeless Gospel Choir, Derek Zanetti just released his third full-length record, Normal, which is actually a celebration of anything and everything that isn't normal. It's like saying, 'I'm a weirdo and I'm proud, because who wants to be normal anyway?'
"The full name of the record is The Homeless Gospel Choir Presents Normal. And 'Normal' is a puppet show," he explains. "The music that is on the record is the story, about the character – myself –and my interactions with all these different people. When you look at the cover there's the two puppets – the cop and the devil – and it's interesting because that's how I felt in my mind for so long. I had a devil on one side of my brain telling me to behave this way, and then I had a cop on the other side…making me feel  ashamed by it."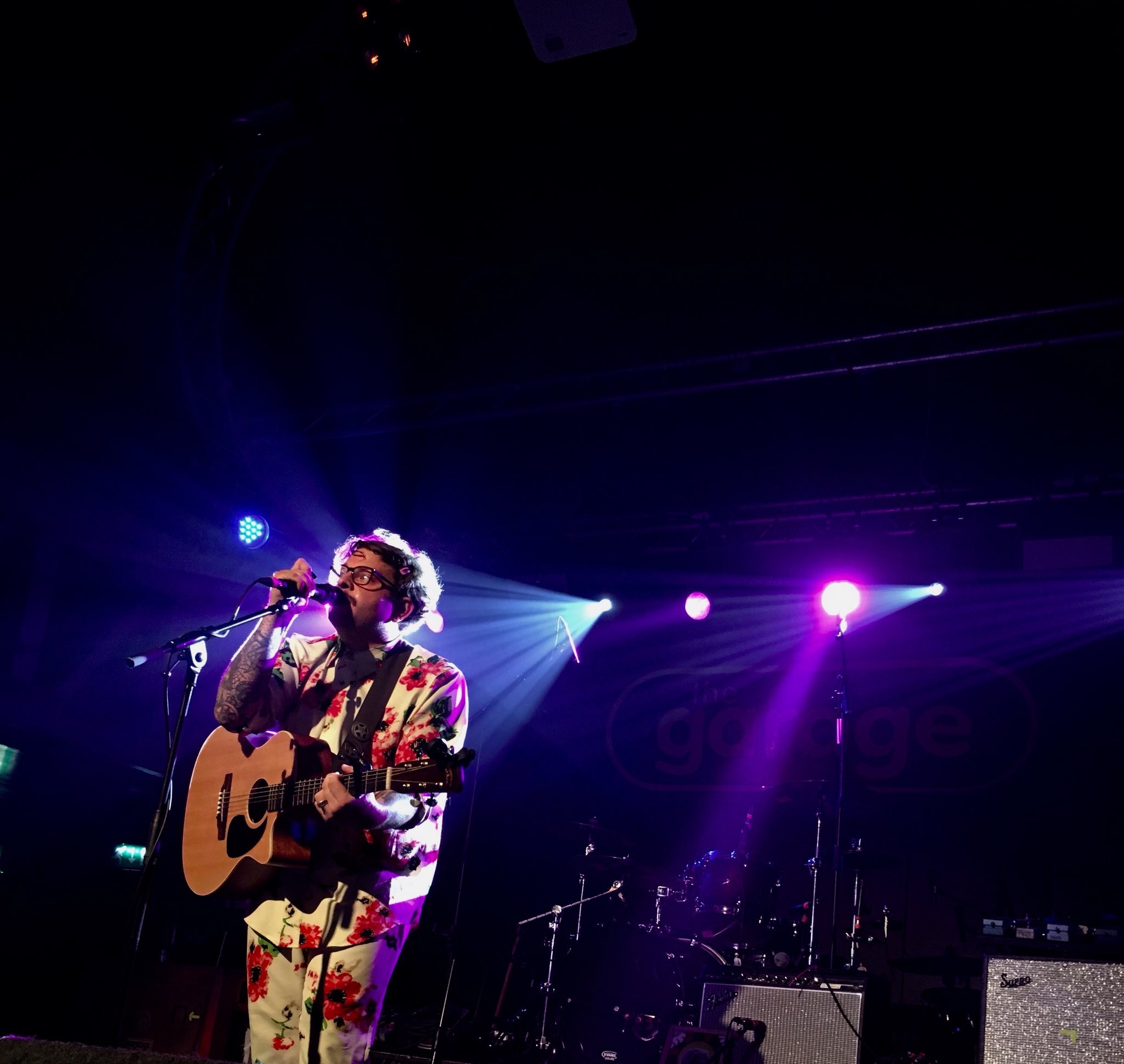 Having grown up in a very strict, evangelical conservative right-wing family, Derek spent a large portion of his childhood having God and religion drilled into him, being told that certain things were sinful and would send him to Hell, even "asking God his opinion about what type of jeans you should buy, like real crazy, whack out there shit, and that was my normal for a really really long time."
But his world was turned on its head when he was given a copy of Dookie by Green Day on cassette tape back in 1994. "So I hear punk for the very first time, and I find this element of freedom…The anger, and the rebellion, and the togetherness, and the community. I'd never felt that before. I'd never felt like I belonged somewhere in my whole fucking life."
Along with that newfound sense of freedom though, came a whole world of guilt brought on by his background and upbringing and "the shame that comes along with thinking for yourself, living outside of the box, creating your own little bubble…to know that I'm disrespecting God, and I'm disrespecting my family. I lay at night crying because I didn't think this Christian thing was working for me. I don't understand it. I don't feel the goosebumps that everybody else feels…but whenever I go out with my friends, and I hear this music, I [do] feel those goosebumps. I felt it."
Skip ahead twenty years or so and Derek, now in his thirties, is finally able to express his "raw, honest, bare self" with the release of Normal.
"…as we grow and learn and develop as people, there are certain things that we're expected to know…or we're expected to behave in a certain way. This is what 'normal' is. Normal is fall in love, get married, have children, go to college, buy a house, have a dog, picket fence. And that normal, lower case 'n' normal, might be applicable for some people, but it certainly isn't applicable for all people."
It's a relatable concept, and one of the reasons there are a lot of people out there who are starting to catch on to what Derek is saying; his message is reaching a wider audience. It's not just 'for punks.' Here, he openly deals with some mental health issues, heard particularly on songs like "Crazy" and also Normal's mention of "seasonal depression" amongst other little references that are dotted throughout the record. It's an issue that he feels strongly about and holds particularly close to his heart, and was willing to share his reasons why.
"I think it's the most personal piece of music I've ever made," he readily admits. "And I don't think I'd know how to make a song that isn't now…I was very afraid and unsettled to talk about and to mention the word 'bipolar.' My dad suffers from that as well…and I didn't know what to do. I didn't know how to talk about it. And I had mentioned that I was feeling weird inside my head and that I was feeling these certain thoughts…I mentioned it to some people who are close to me, and their inability to understand what I was trying to say built this gap between us. There's a lyric on the record that says, 'my old friends they don't call me, most likely because they're busy but in my mind, it's not easy, it's not easy to believe. I feel crazy half the time.' And I didn't know the words to describe what was going…to describe this weird war that I felt that was happening inside my mind. I tried to tell people that I trusted, and it just turned into a mess."
But making the record was almost like a cathartic process for Derek, and it seems like it's definitely helped him figure a few things out in his head.
"You have no idea how much better I felt when I said those words out loud…I've never felt like a normal person ever…I'm old enough now to know that I'd rather be myself and have clarity than continue to be confused and pretend to be something I'm not. And I don't even know if I have an answer…but I just want to have a conversation with you and with other folk and with my friends and my family and people around me and these kids at the shows to [let them] know it's ok, You don't have to have an answer. Life isn't about arriving to some answer. It's about the journey you and I get to be on, here, right this moment, and the grace, care, compassion and understanding, and the humility that comes along with taking on somebody else's pain in a conversation, and how you and I get to bear one another's burdens…that's what fucking punk rock is supposed to be."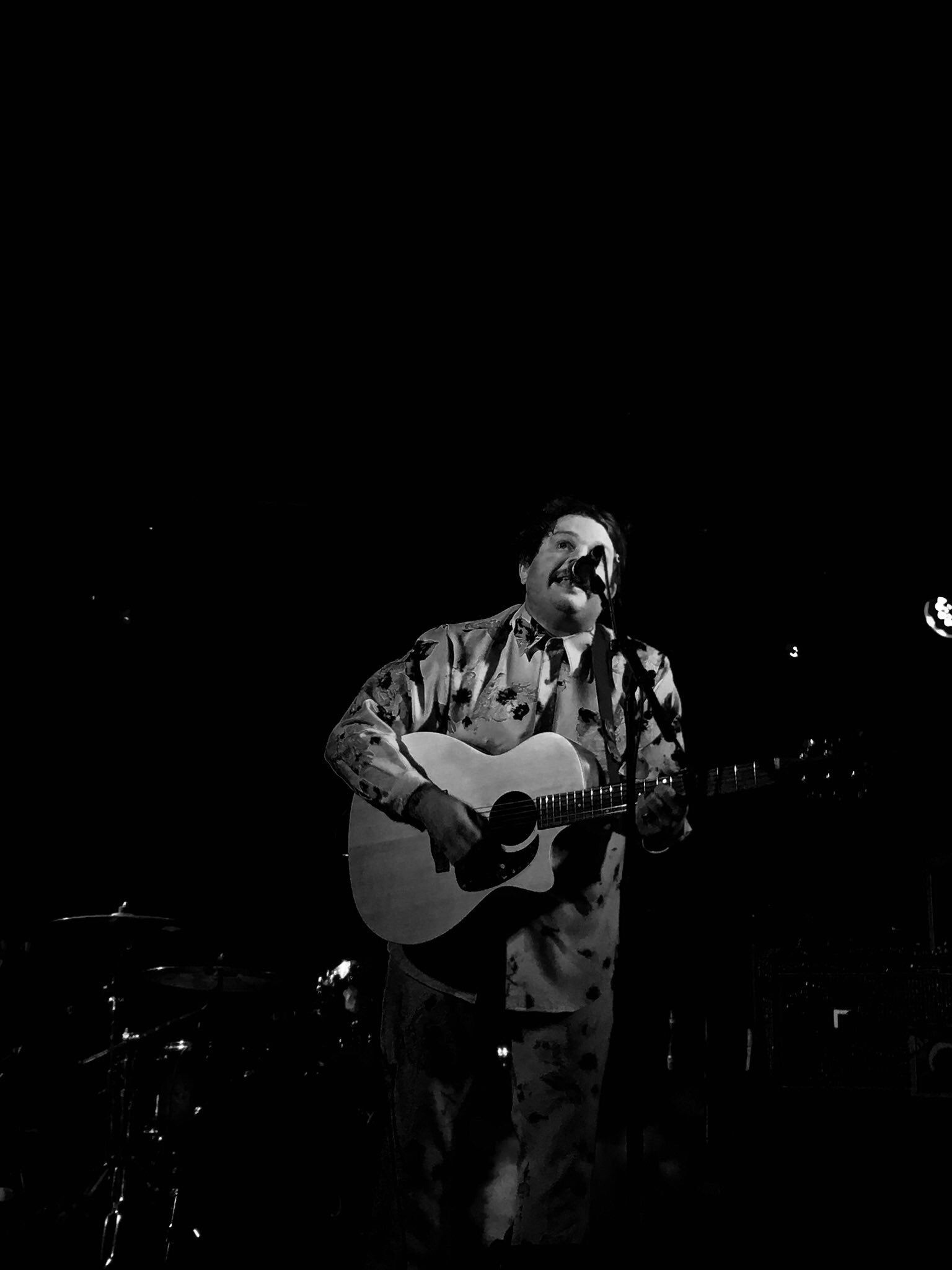 The passion and enthusiasm with which Derek speaks on these topics certainly shines through on the record and has obviously gone on to influence his friends and co-workers to the extent that Normal ended up turning into a gigantic star-studded party project.
"I said, 'Here's the story that I wanna tell. Do you want to be a part of it?' And they were like, 'Yes, of course, we're gonna do it.' These are folks that I've been on tour with and I've built relationships with, and they've heard my music and just grown akin to it. It's out on A-F Records, so the guys from Anti-Flag are involved, and another band from A-F called White Wives…Frank Iero, Frank Turner…"
The relationship between Derek and Frank Iero has flourished over the past couple of years to the extent where they not only tour together regularly but also recently helped each other out completing songs they were both 'stuck' on in their respective projects.
"We were in the backstage of a little DIY venue in Boise, Idaho on a little ten-day tour we were doing, maybe a year and a half ago….it's that one song he wrote on the new Parachutes record, "Miss Me." And he was like, 'What do you think about this?' And I said, 'I think you should just make it like astraight-upp country jam and really just own it and just play G, C and D and write a Johnny Cash sounding song.' And he said, 'I think I'm gonna do that'…and I said, 'I have this problem. There's this song that I'm working on, and I don't know how to say the things that I wanna say without sounding stupid.' And I told him the thing I wanted to say and he said, 'You have to just fucking say it exactly like that. That's how you have to say it because that's what's honest.' And I was like, 'But it's too broken. It makes me look foolish.' And he was like, 'I think that's relatable part to it.'
hat song turned into "Crazy," which Frank actually guest stars and sings on. One of the highlights of the recent tour was the two of them standing up on stage and performing it together live as a full band for the first time. As Derek tells us, "[Frank] really helped me and gave me the courage I needed to say those things. He's a great songwriter. I was so honoured that he came along and sang those words for me."
One thing Derek apparently doesn't need courage for is his ability to speak out on political issues. Having grown up with such a conservative background, he now seems to be the antithesis of this and introduces nearly every song as 'a protest song.' Of course, there are a couple of political type tunes on the album, which isn't really a surprise considering the relationship punk has with politics, and for Derek, that relationship is crucial.
"I think it's a shame when punk isn't political. I think it does punk a disservice. Punk rock is supposed to be there to disrupt and disturb those things which are comfortable, to comfort those people abandoned and disturbed. That's our rule as punks…if somebody's getting picked on or bullied or treated inappropriately, our job as punks is to comfort them and to bring them in and to let them know that they have family somewhere. And those things that are comfortable, and those people with privilege, and the things we see that are corrupt and bad, our job is to point that out and speak against it. That's the punk that I know, from whenever I was younger. For me, making a political statement is my primary focus and my primary goal…to get you to begin to think about it, and then to empower you to take action in a way that you see fit, to create the change you wanna see in your own little communities."
One of the more interesting aspects of The Homeless Gospel Choir's act is that despite the album being a full, fleshed-out band experience, it's literally just Derek up there on stage with his guitar, pouring his heart out and sharing his soul. But that was entirely intentional, he tells us.
"I want people to hear the lyrics first…And I want you to feel it in your blood and in your guts, the thing that I'm trying to say. And then once you're on my team, and I know that we're all here together, six months, nine months, a year later, come back out with a full band, and let you hear what you hear on the record." And thankfully, for those on Derek's 'team,' a full headlining tour with a band is on the cards "hopefully within the next year."
It's great to see Derek's music achieve a wider audience and hopefully, the message that he's attempting to put across will start to snowball and grow. There's still a lot of work to be done in the scene to create that unity and community he speaks so passionately of, but here's to hoping that The Homeless Gospel Choir and those others spearheading this movement will find practical ways to apply these worthy sentiments and ideals to everyday life. Perhaps a few years down the line, we'll be faced with a bunch of kids who can state that they too found their home in punk, and were inspired to take action to effect change in their own communities.
Asked for some final thoughts or one resounding message he wanted to get across, Derek paused to consider his answer, before replying, "I hope…when people leave my show, they feel encouraged and equipped to leave with the feelings they have inside their heart and share that with other people. We'll take the goodness that we got out of the show, the goosebumps that we felt, the encouragement that we felt…and we take it to school, and we take it to our workplace, and we take it to church, and we take it to the gas station, everywhere….and we're able to take that kindness and care and understanding, and empathy, and offer it to people who don't have the same skin colour, gender, sexual orientation, nationality, religion…and break it outside the borders of what makes us feel comfortable. And I think that's what punk should be. It should be a viral, violent act of kindness."