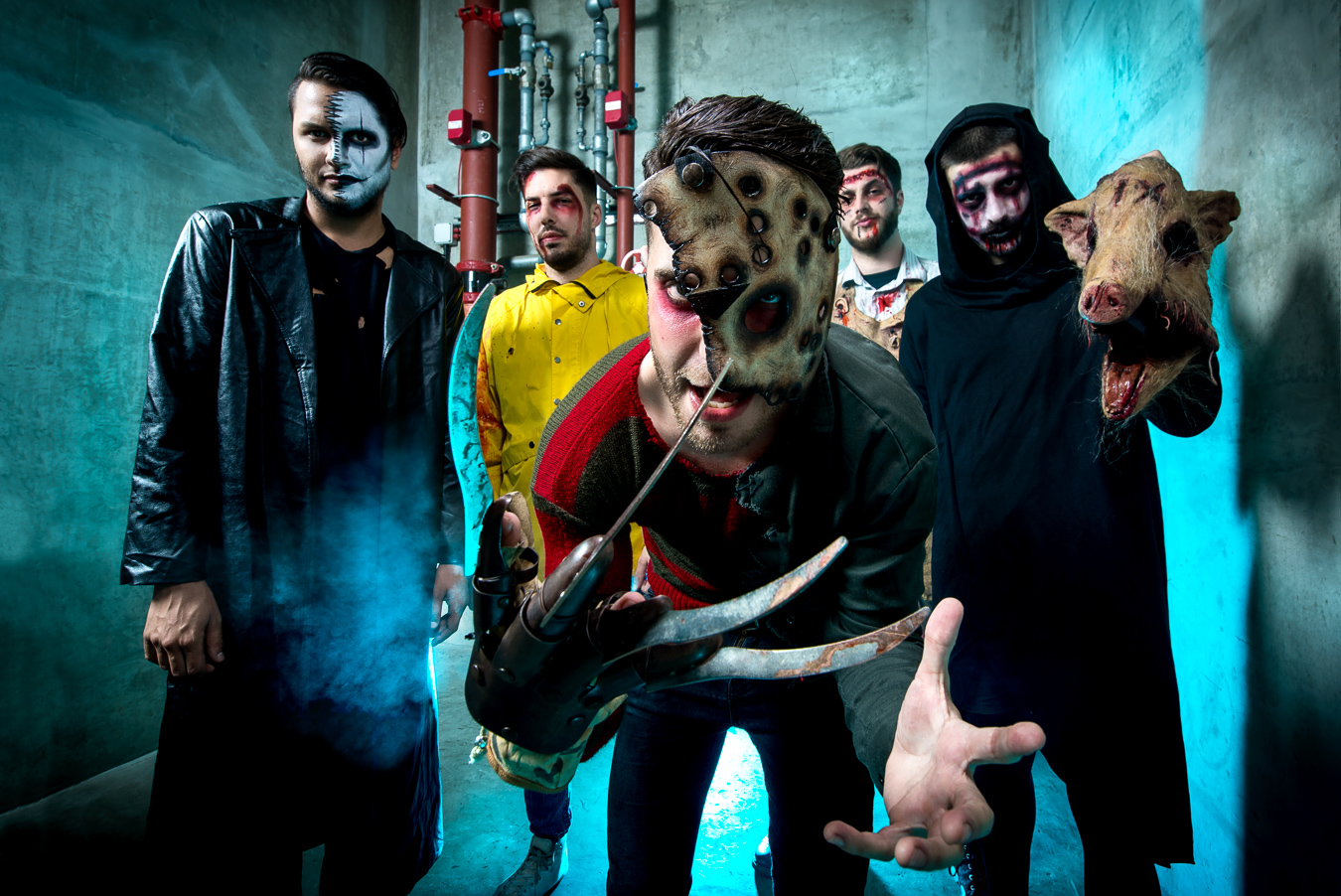 Although Ice Nine Kills are a band who've been going in some form or another since way back in 2002, it's only in the last two to four years that things have really started to pick up for them, with interest, hype, and excitement around the group rapidly growing. We spoke with vocalist and songwriter Spencer Charnas backstage just before the band's packed and sweaty Manchester Academy show last month, a sold-out 950 cap venue which had to be upgraded from the 400 cap Rebellion due to the incredibly high demand for the band's tickets.
It wasn't the only venue on the tour that had to be upgraded either, as Spencer went on to explain: "I know that initially when it went on sale, some of them sold out right away, so we did have to upgrade the venues. Like…in Germany, I think originally they booked us in a 500 cap, and they had to upgrade it to 1200 and then that sold out so…yeah, it was crazy," he said, before adding that they actually chose not to upgrade some in order to keep the shows a more intimate experience between them and the fans. "There was the option… but I thought, 'Let's keep this tight; let's keep this pretty exclusive.'"
Indeed, the shows are tight, both musically and in the amount of sweaty, eager bodies packed in there, excited to witness Ice Nine Kills' special brand of horror metal. "We try to make it more than just a concert," said Spencer of their live performances. "We want to make it a show and do justice to the theatricality of the songs and the movies that inspired them." And when you watch Spencer wrestle someone in a giant inflatable shark outfit to the ground on stage, one gets the impression they certainly managed that level of theatricality.
While they might not have a huge budget or large stage space to bring in big screens with visuals or buckets of fake blood, they still make an effort. Every song is a performance. It's not like being at a gig – it's like watching a metal horror musical, albeit one where everyone's shoving each other around. In between songs, the crowd is treated to voice-overs and clips over eerie, dramatic music, helping to tell the story and build-up to the next song – while Spencer runs off-stage to change into a different mask or pick up a different prop. There's a mask or prop for each killer he represents, be it Jason or Mike Myers or Pennywise the clown. "I wear a bunch of em," he laughs, before going on to talk about the sound clips used both in the live shows and on the record. "Most of them I just wrote and either I did them myself or had some of our very talented voice actor friends do them. The dialogue is either completely new or a homage to something iconic from the film."
But voice actors aren't the only type of performers that are part of the INK entourage. Actors portraying different characters are brought out onto stage at various points (such as the aforementioned shark). Spencer performed an eerie dance with one of them…then murdered another. Jason's mother was there at one point…and someone in a giant Mickey Mouse suit holding a red balloon.
Ice Nine Kills are still a relatively small band in the UK playing relatively small venues, but they're bringing this HUGE theatrical stage show worthy of a stadium or the Download Main Stage. It certainly seems to capture the audience's attention and admiration, and the reception this time around is a stark difference to how things were on their first tour of the UK, as Spencer recalls. "Some of the shows were okay…but we'd never been here before, and we were headlining, so it was definitely sort of…ego-checking in the sense of 'Okay, we're starting new over here, we've never played here so there's not that many people that know us,' but then we came back on another support tour and saw the buzz start to grow, and then this one has just, y'know…it's been one of my most memorable tours in the history of the band," he smiles. "It's been so fun, amazing…seeing where we came from just a few years ago touring over here for the first time."
The band's last two albums have all followed a very specific theme and concept. 2015's Every Trick In The Book contained songs based off horror literature, and 2018's The Silver Scream was a collection of songs based off horror movies, but it's this specific theme that seems to have locked in the fans and brought more attention to the band. "It's been fantastic," said Spencer, clearly buzzing about it. "We've been doing it for so many years that it's nice to see all the hard work pay off and just seeing more and more people enjoy it…new faces and familiar faces…and scary faces." The winning formula has most certainly not gone unnoticed by the band either, and it's something that's undoubtedly influenced their decision to leave earlier songs out of the set, which now consists of material only from their last two albums. "The majority of the people that are coming out [to the shows] heard us maybe from Every Trick In The Book, but primarily, I think more people found out about us through The Silver Scream…I think that we really found ourselves on those last two albums ,and they sort of define the band's sound."
It's safe to say this kind of theme or vibe will continue then and although Spencer is aware of the pressures of topping such a successful album like The Silver Scream, he's trying not to worry about it too much. "With anything that's successful…a film or an album, there's always that pressure to try and one up yourself, but you just have to not let it consume you." That being said, he's already got a few ideas for the follow-up album, and although some fans have suggested they do horror games next, he wasn't giving too much away about the specifics of the content. "I've definitely been thinking about it since the last one came out…I haven't settled on the final idea, but I've got some cool stuff spinning round in my head."
Until then though, fans can keep themselves busy by watching the series of videos the band released for The Silver Scream which, when watched back to back in order, is like an entire horror movie in itself. Each video is connected, building up the story of Spencer's character, who's playing himself but as a serial killer! The whole concept has been a couple of years in the making according to Spencer, but some of the final twists and turns were only added recently. "It was pretty early on in the writing process of the album," he told us. "The idea to intertwine a story about me throughout the horror movies and songs…Things definitely changed, as not the entire treatment was written from the inception of the first video, but it was pretty planned out as far as what the general overarching story would be. Parts of the twist ending in the 'IT Is The End' music video I came up with a couple weeks ago…[like] that news clip at the end which ties everything together…I thought it'd be a cool bookend to the piece."
It's safe to say the band are all horror nerds, although Spencer was eager to point out that "I'm definitely the biggest, but yeah." A self-declared spooky guy who went to watch slasher pioneer John Carpenter live in LA last year for Halloween, it must have been a dream come true to write and star in what was essentially his own horror movie. "It was a lot of fun," he grinned and following on in "great horror tradition," the music video series which ended on latest single "IT Is The End" was left open for a sequel in the future, although Spencer was cryptic about whether that would happen. "It's something to think about…we'll have to see…" which is also what he said about the mysterious hooded guy, an unresolved possible red herring (but possibly not) from the videos. "Maybe it'll be revealed at some point," he murmured in that same low serial killer rumble he applies to his character in the videos. "Did leave it open on purpose."
Keeping their wave of success and interest growing, the band just dropped The Silver Scream (Final Cut), a special edition extended version of the album which includes acoustic versions and two brand new tracks – a cover of "Thriller" and a new original "Your Number's Up" based on the movie Scream. In November and December, they're embarking on "the biggest headliner we've ever done in the US" as well as going to play in Australia for the first time. If you missed them on UK shores this time around, hopefully, you won't have to wait too long – the band are booked to play Slam Dunk 2020. "We did it like, three years ago, and played on a really small stage earlier in the day," said Spencer. Now, they're on a larger stage with a better time slot, and things seem to be moving from strength to strength for these five spooky guys from Boston, Massachusetts.
—
'The Silver Scream (Final Cut)' is out now via Fearless Records.