Stars and Scars contributor Becton Simpson was lucky enough to spend last weekend at Donington Park for the legendary Download Festival. Out of the 20 amazing acts they managed to catch over the course of the three-day event, here's their pick of the 10 Bands You Should Have Seen:
1. Employed To Serve
They may have been on early on the first day, but Employed To Serve pulled a big and dedicated crowd for their half-hour epic show at the Avalanche Stage on Friday at 1:50pm.
Opening up with "Void Ambition," lead vocalist Justine Jones told everyone that it being early was "no fucking excuse," demanding mosh pits and circle pits which the crowd duly delivered. A 20-strong circle remained for the entire show, which involved a lot of traditional hardcore dancing and scissor kicking. It wasn't for the faint-hearted, but everyone was in a jubilant and friendly mood, supporting each other through the hectic non-stop set.
Employed To Serve no doubt made a lot of new fans continuing on their meteoritic rise to the top of their game and deservedly so.
2. Ded
Mounting the monitors and bouncing around the stage with his baseball cap and hoodie on like a metal Eminem, Ded lead vocalist Joe Cotela dominated the Avalanche Stage on Friday, resulting in riotous mosh pits which really started to kick off when they played the fan favourite and debut song "FMFY" with everyone shouting the chorus back at them.
They finished off with most recent single "Anti Everything," which provoked an arms in the air singalong from the eager mid-afternoon crowd of festival goers.
These guys were a surprise hit at Download but deserve more attention and are ones to watch out for in the future. They've only been going for a couple of years and have a lot left to give to the scene.
3. Higher Power
This hardcore band from Leeds took to the Dogtooth Stage on Saturday at 1:30pm to play for an impressively packed out tent of keen fans all ready to pit hard despite them being the first band of the day. In fact, Higher Power were so eager that security had to go in at one point to sort out a dispute!
Arms and legs were flying as people hardcore danced around the large open spaced pit, with lead singer Jimmy Wizard clearly delighted with the response and encouraging more moshing from the crowd. They could have done with more volume on his mic, but the crowd didn't seem to notice, and their set went down well.
4. Stray From The Path
Ever political Stray From The Path took to the Avalanche Stage at 3:30pm on the first day, with lead singer Drew York announcing, "We're not afraid to say how we feel," and it was recent hit "Goodnight Alt-Right" that really cemented their appeal with the crowd. Everyone sang along with their fists raised in the air in defiance against racism.
"I am not proud to say I'm from the United States where Donald Trump is president," they added, before launching into "The House Always Wins." Their newer songs off latest album Only Death Is Real went down a storm, raising a riot in the small tent and getting everyone moving.
The band delivered a tight and impressive set, with all the breaks in the right places, and left everyone sweaty and tired.
5. Parkway Drive
Gracing the Zippo Encore Stage on Saturday night, Parkway Drive were excellent, putting on a grand display of exciting metalcore, which had crowd surfers coming over by the dozens and people dancing and creating their own mini pits right to the back.
They thrilled the crowd with an explosive and dramatic set, complete with flamethrowers and a rotating drum stand which moved the entire kit round and round like a hamster wheel and resulted in Ben Gordon playing upside down at one point.
Ending on "Bottom Feeder," the band stormed through their set and ended on a high. These guys are definitely ones to see more than once; they have something new to give each time.
6. The Bronx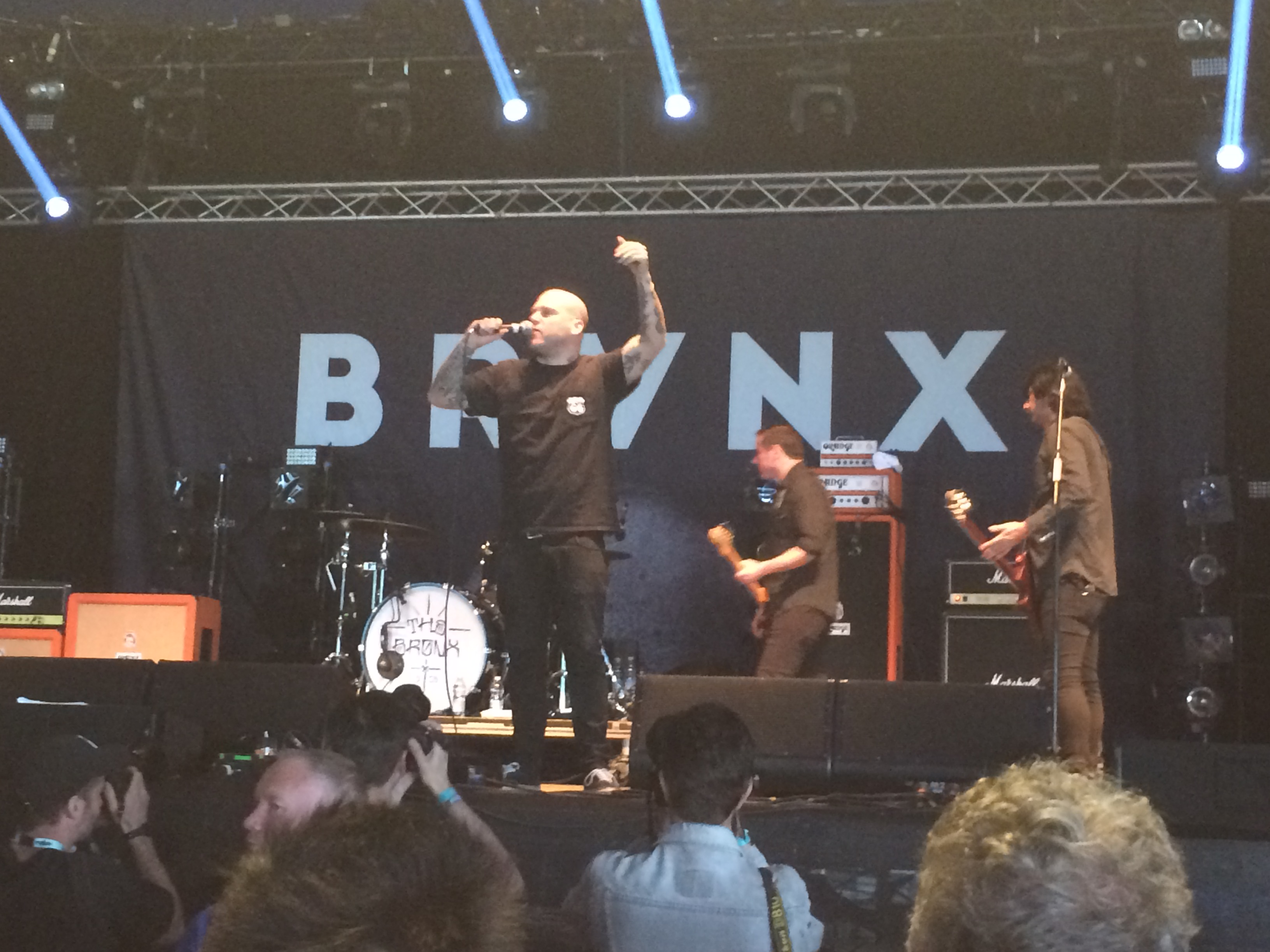 The excitement and fever inside the tent of the Avalanche Stage were palatable in anticipation of The Bronx on Friday evening, with people literally limbering up inside the pit area, jumping up and down, psyching themselves up, because as soon as the LA hardcore legends took to the stage, the craziness began.
The crowd was riotous but incredibly friendly as The Bronx delivered a 30-minute set of non-stop hardcore that felt all too short, everyone pushing each other around with massive smiles on their faces.
Lead vocalist Matt Caughthran came into the crowd as per usual for a couple of songs and was shoved around and lifted up in the pit. Although admittedly he didn't come in as often as he usually does, perhaps because there was quite a big gap between the stage and the audience.
He did manage to organise a messy wall of death though, which resulted in even more chaos at the closing end of their fantastic set.
7. Avenged Sevenfold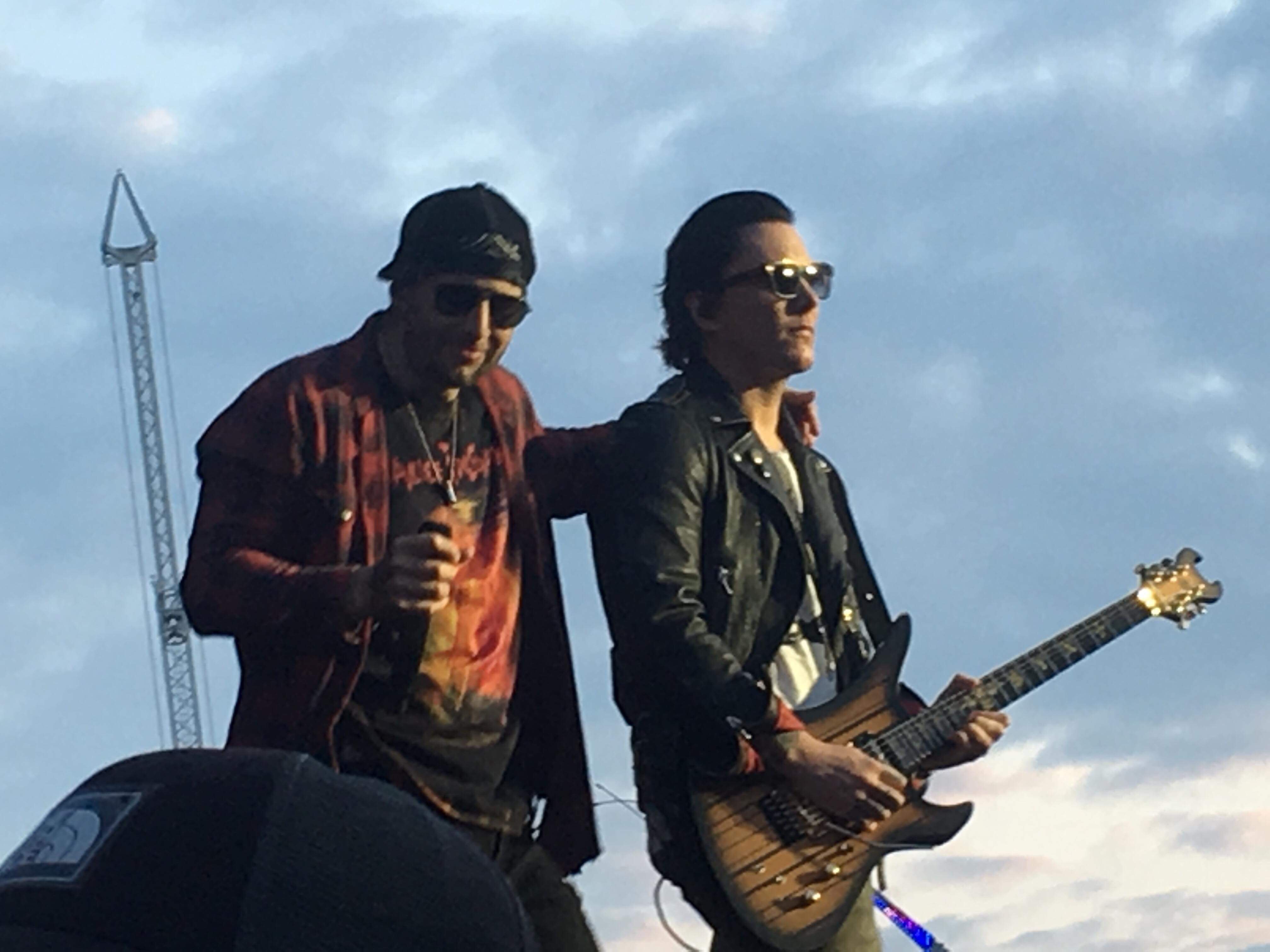 Photo by James Garratt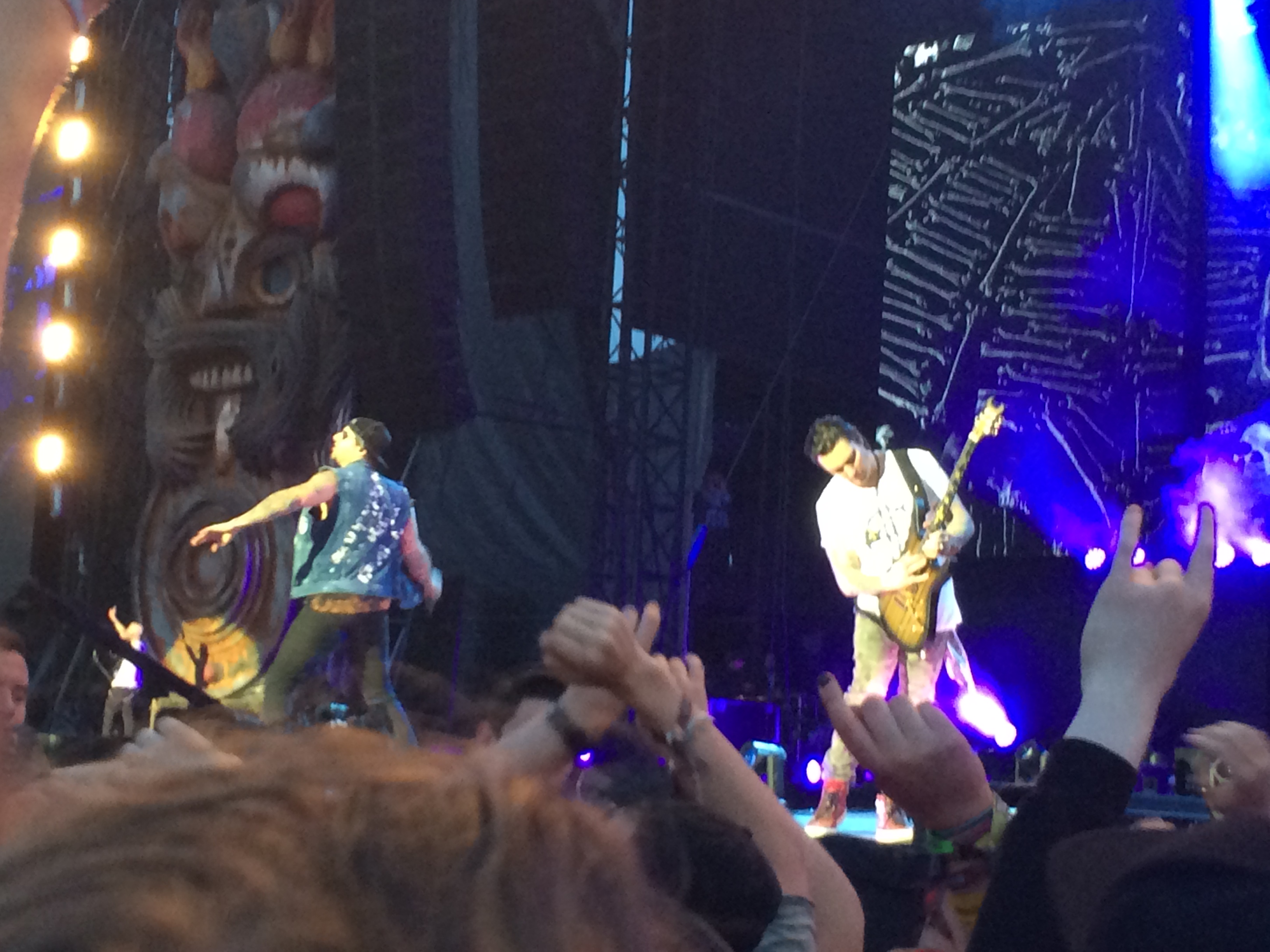 Friday's headliners on the Main Stage were the mighty gods of theatrical metal Avenged Sevenfold, delivering an incredible one hour 50-minute set featuring a giant spaceman and regular explosions of fire, sending heat waves through the surging crowd of fans. The crowd was a real mixed bunch, with lots of hardcore Avenged fans who seemed to know every word, people who knew a handful of songs, and those who were maybe checking them out for the first time. Regardless, the atmosphere was one of excitement and jubilance, especially as they launched into "Afterlife" for their second song as well as playing hits "God Damn," "Nightmare" and "M.I.A."
Highlights of the set were the emotional tribute section to The Rev (featuring a cover of Pink Floyd's "Wish You Were Here" over a montage of pictures), and "Hail To The King" which involved the entire crowd chanting "hail, hail, hail" with their fists raised in the air.
The band went off for two encores, the final of which began with "A Little Piece Of Heaven" (which was dedicated to necrophilia), and ended with "Unholy Confessions." It was a triumphant finish which got the teeming crowd moving and singing along till their voices were hoarse. It was only Friday night, and these guys had already stolen the show.
8. Rolo Tomassi
Filling out the Avalanche Stage on Saturday as the weather gradually began to heat up, Rolo Tomassi delivered a mid-afternoon set of incredibly tight, heavy and beautiful music. They fans literally running into the tent upon hearing the opening ethereal chords of "Aftermath," jostling with each to secure a good viewing position or get closer to the pit.
As the set continued, even the slower songs provoked movement and interaction from the crowd, with a pit of slow dancing, which kind of looked like they were moshing in slow motion.
Rolo are an amazing band to hear live and their music sometimes hard to define, but check them out if you get chance.
9. Knocked Loose
Kentucky hardcore five-piece Knocked Loose hit the Dogtooth Stage on Saturday afternoon for a heavy as hell set of solid hardcore and metal, with plenty of breaks, droning drop-tuned guitars and their signature high pitched screams courtesy of Bryan Garris.
Three-quarter way through the set, the band went off and a few people left thinking it was the end – then they came back on to play three more songs.
"Blood Will Have Blood" and final track "Deadringer" both went down really well, with everyone signing along even right from the back of the tent.
10. Marilyn Manson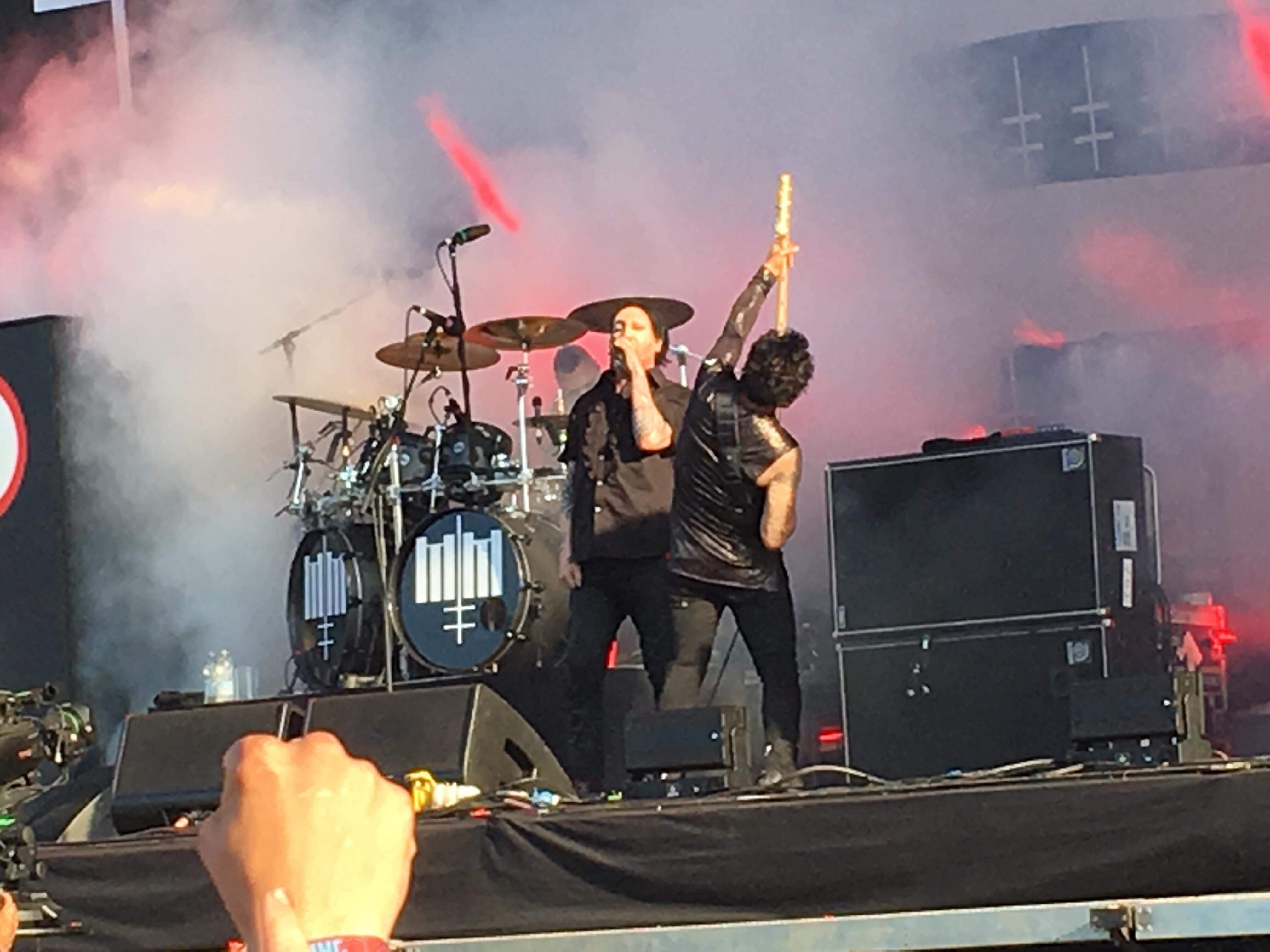 Photo by James Garratt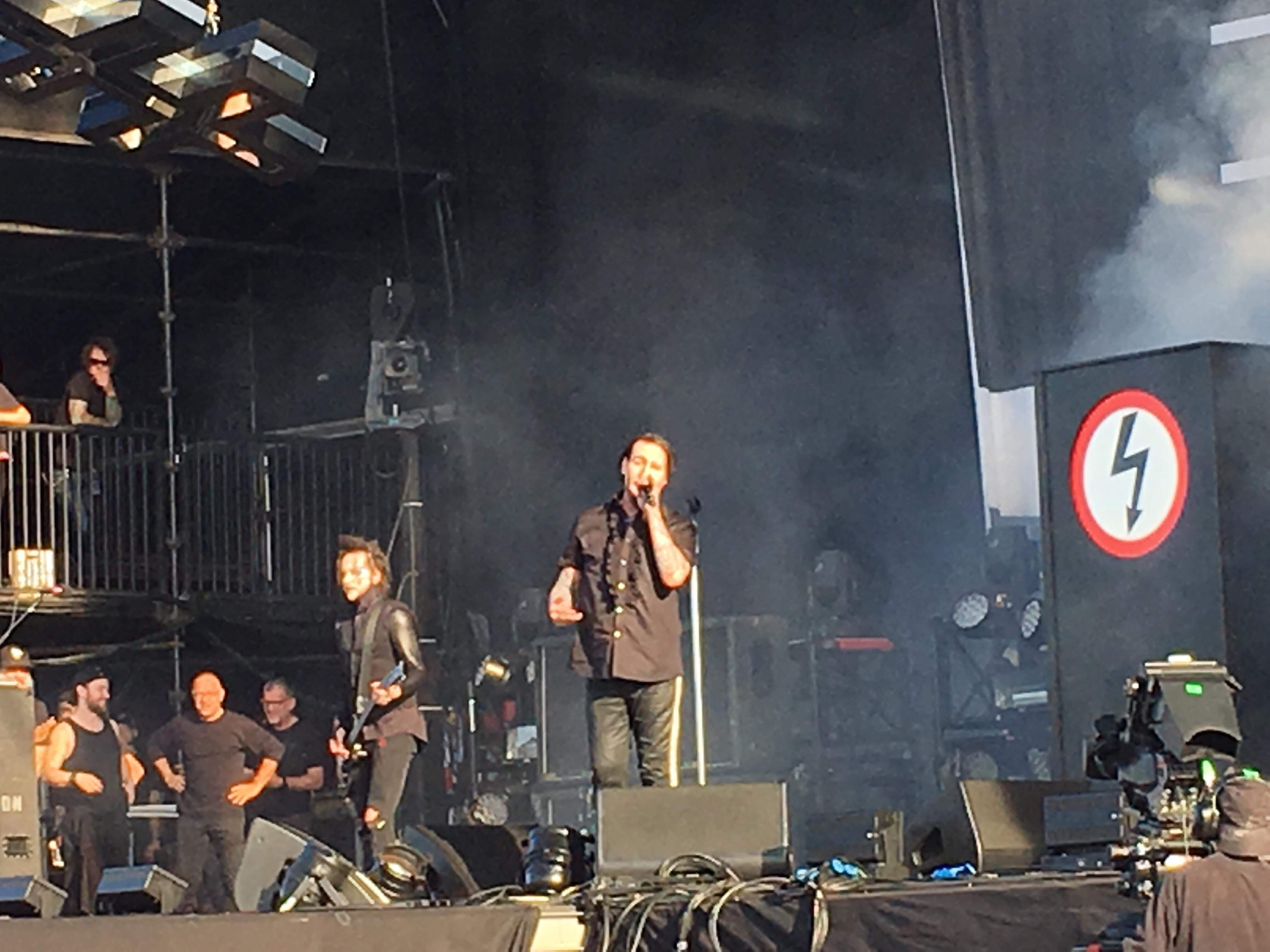 Photo by James Garratt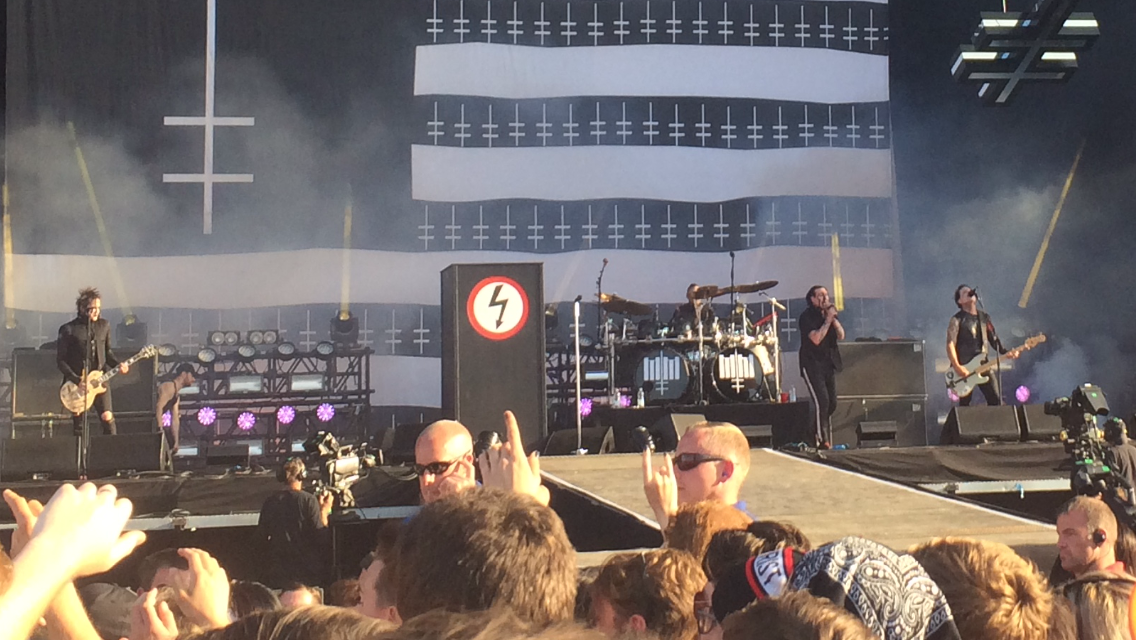 In the still scorching heat of Sunday evening, Marilyn Manson hit the Main Stage, declaring that "people like us don't like the sun…we prefer the dark" to laughs and cheers from the large audience gathered to watch.
As a first time viewer of Manson's live set and after seeing some of the bad press he receives, one might have expected more pretension and arrogance, but he seemed down to earth and chatty and enjoyed the rapport with the crowd. Although the old classics like "Disposable Teens" and "Sweet Dreams" went down well, it was actually some of the new songs off the latest album, Heaven Upside Down that seemed to get the most eager responses from the crowd. Tracks like "Say10" and "Kill4Me" were real winners, proving that the goth rock legend is still relevant and can still put out some bangers.
Holding a flag that said "I'd kill for you," one eager fan managed to crowd surf right to the front, get pulled out by security as per usual, then duck around them to leap onto the stage. She held up the flag for Manson, who hugged her before allowing her to leave through a stage exit.
Another great moment was the unexpected appearance of Dani Filth, who screamed a verse of "Beautiful People" after Manson beckoned him on from the side stage during the final encore.
At the end of the set, he disappeared off stage without saying goodbye, leaving some people confused and wondering if he might make a reappearance that didn't happen. Nevertheless, the crowd no doubt hummed his catchy songs for the rest of the evening.
—
With such an incredible line-up this year and many more not mentioned in this article, Download continues to impress and remain the best heavy and alternative festival out there. If you get chance to check out any of the bands on this list, you definitely should!