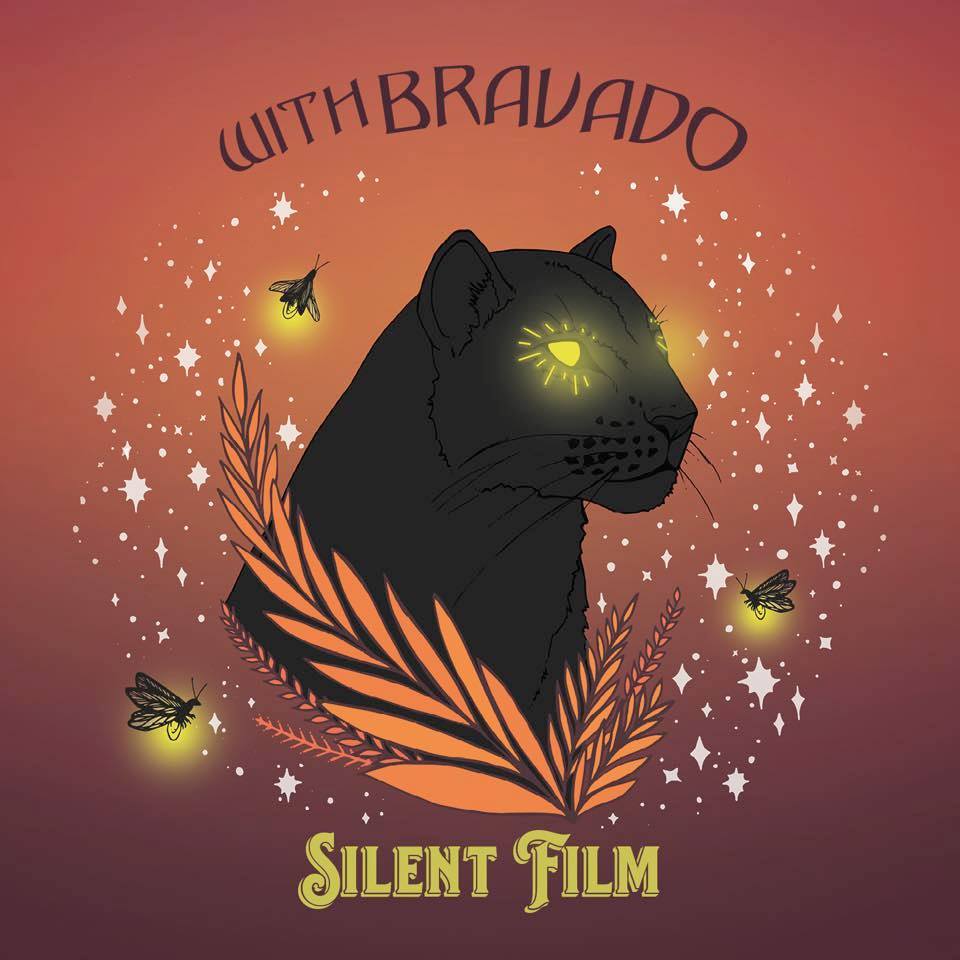 With Bravado (officially written 'with Bravado') are a four piece grunge alt/art rock band from Memphis, Tennessee who describe themselves as "a dopamine fiesta," and with their brand new EP, Silent Film, they certainly appear to be living up to their claim.
Opening track "We're All Alone Together" begins with a thumping grungy bass line that feels like it's going to kick into some kind of Nirvana-esque dirty, heavy song. But it surprisingly drops out and opens up to a soundscape of shimmery guitars and minor inflected vocals more reminiscent of early Smashing Pumpkins. The song then leads to a chorus that immediately feels painfully familiar yet original, with that vibe you can't quite put your finger on. It's a great beginning to the EP, like a starter that leaves you salivating for the main course.
The next song, "I Saw You," ventures into interesting territory, once again channeling some Nirvana in the early verses. The lead vocals switch from male to female, with bass player Kayla Stanz bringing something new to the table. From this track onwards, she is a prominent feature on the EP, which definitely adds something fresh to the band's sound.
"All Of Our Friends" is an 80s pop-infused ballad which would be well paired with some kind of epic synth solo. It doesn't include one, though the track does have a swirling, synth-type sound on the build-up to the breakdown. It also has some beautiful dueting back and forth between male and female vocals and a chorus that could have stepped off a Pulp record. It sounds like such a completely different track from the first two, which is a testament to the band's expansive songwriting and diverse influences.
"Timeline" features a delicate but heavy guitar-based Iron Maiden-esque intro and impassioned shout-scream, early-emo type vocals – all of which once again show a different side to this multi-layered band. The delivery is full of angst and passion, and there's definitely a slightly darker vibe to this particular track. It's in contrast to "Live" which comes next – a more upbeat and hopeful song, with soaring Brian May-style guitar licks and singalong, swaying arms choruses.
"In Love With Something Real" is the final track on the EP which opens with a classic rock/blues chord progression, soon contrasted with delicate lead guitar and a melodic, relaxed vocal delivery. Mismatching styles and mixing genres to their own advantage, with Bravado consistently prove over the course of Silent Film that they have something new to offer. "In Love" turns into an epic, stadium-worthy 6 minute and 50-second track – a worthy end to this six-song collection.
Overall, the listening experience is positive and uplifting. Hopefully, with Bravado will continue to surprise and delight listeners with their unique tracks and garner more attention in the wider music sphere. Ones to watch out for, as they say.