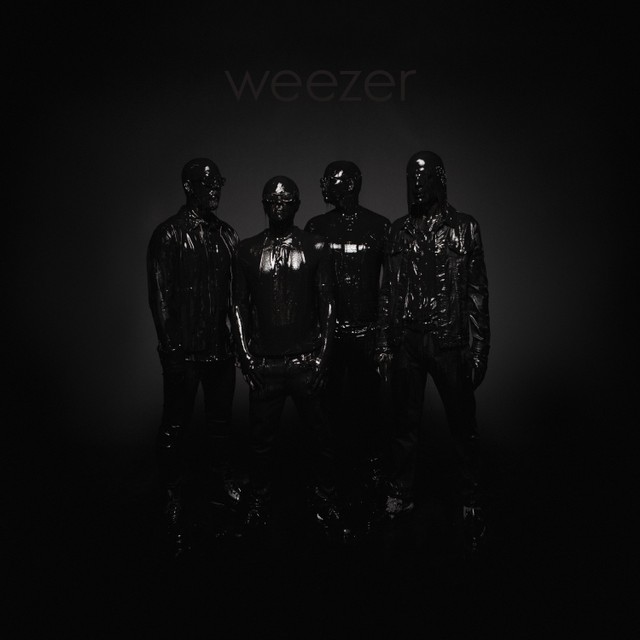 With the release of their 13th full-length album, Weezer continue to be a source of conversation. Perhaps you saw the SNL sketch that aired a few months back regarding the debate between older and newer Weezer. Upon listening to The Black Album, I will say that if you're of the camp that believes Rivers Cuomo and company peaked not long after Pinkerton, then odds are, this album isn't going to change your perception overnight. However, for those who have stuck by the band's side through thick and thin, The Black Album does offer some surprises and experimentations, even if the final output isn't entirely consistent or cohesive. In terms of sound and style, The Black Album dips into almost genre imaginable with considerable abandon and exuberance.
Opener and lead single "Can't Knock The Hustle" sees the band tackle a hard-edged sound with elements of hip-hop and R&B incorporated. "Zombie Bastards" crisscrosses several genres at once ranging from folk, trip-hop, and psychedelic rock.  The gusto and confidence Weezer possess in upending their current sound is admirable, but as with most of their releases, their brightest moments are often their simplest. "High as a Kite" contains elements of synth-pop and ambient music, but its warmth and understated delivery by Cuomo makes it one of the more immediately accessible and likable tracks on the album. Another stand-out track is "Living in LA," which leans upon an indie-based California rock sound but still manages to let Weezer's vibrant pop touch shine through. It also offers some of Cuomo's clearest lyrical moments on the record – another example of Weezer working best when they consolidate their influences in one track.
For an album as wide-ranging and sonically sprawling as The Black Album, there are moments where Weezer's ambitions do exceed their grasp. Tracks such as "Piece of Cake" and "I'm Just Being Honest" attempt to lyrically examine critiques and frustrations Weezer have faced within the industry to uneven results. Musically and lyrically, the two tracks lack subtly and ultimately don't quite add anything dynamic or unique enough to the band's catalog or sonic palette. Unlike some of their other colored-themed records such as Green, White, or even Red, The Black Album can at times lack a central identity for listeners to fully engage with. Much of the album loosely concerns Weezer's relationship with the music industry and the ways in which they've been pigeonholed or derided. It's a noteworthy theme especially for a band that has faced such a varied relationship with listeners and critics. However, their commentary doesn't always achieve its desired level of insight, and at times, it can feel too on the nose for its own good. However,  it is largely admirable to see Weezer playfully upend their image and sound with such charm energy and lack of vanity.
What truly allows The Black Album to be an enjoyable listen despite its flaws is how Weezer aren't afraid to embrace absurdity or spontaneity. Track "Too Many Thoughts in My Head" is a full psychedelic head trip that in true Weezer fashion is completely bonkers but strangely irresistible any way. "Byzantine" is a quirky yet hypnotically listenable piece of Bossa nova-tinged latin rock. On final track "California Snow," the group dip into EDM-style pop, and Cuomo turns up the swagger and brashness to surprising yet oddly effective results. All in all, The Black Album ends up being one of the most sprawling and diverse releases Weezer has put out in quite some time, blurring genres, styles, and moods throughout and subverting the band's image and legacy in the process.
So, how does The Black Album fare in Weezer's discography? Truthfully, we may never get another release quite on the level of The Blue Album or Pinkerton if we're being real. While The Black Album doesn't reach the levels of either album, it's still a fascinating example of a band in their later-stage constantly pushing the boundaries of sound and identity. Regardless of what your take on the album is, you can't knock the hustle.
Songs to Spin: "Can't Knock The Hustle," "Living in L.A,.," "High as a Kite," "Too Many Thoughts in My Head," "Byzantine"