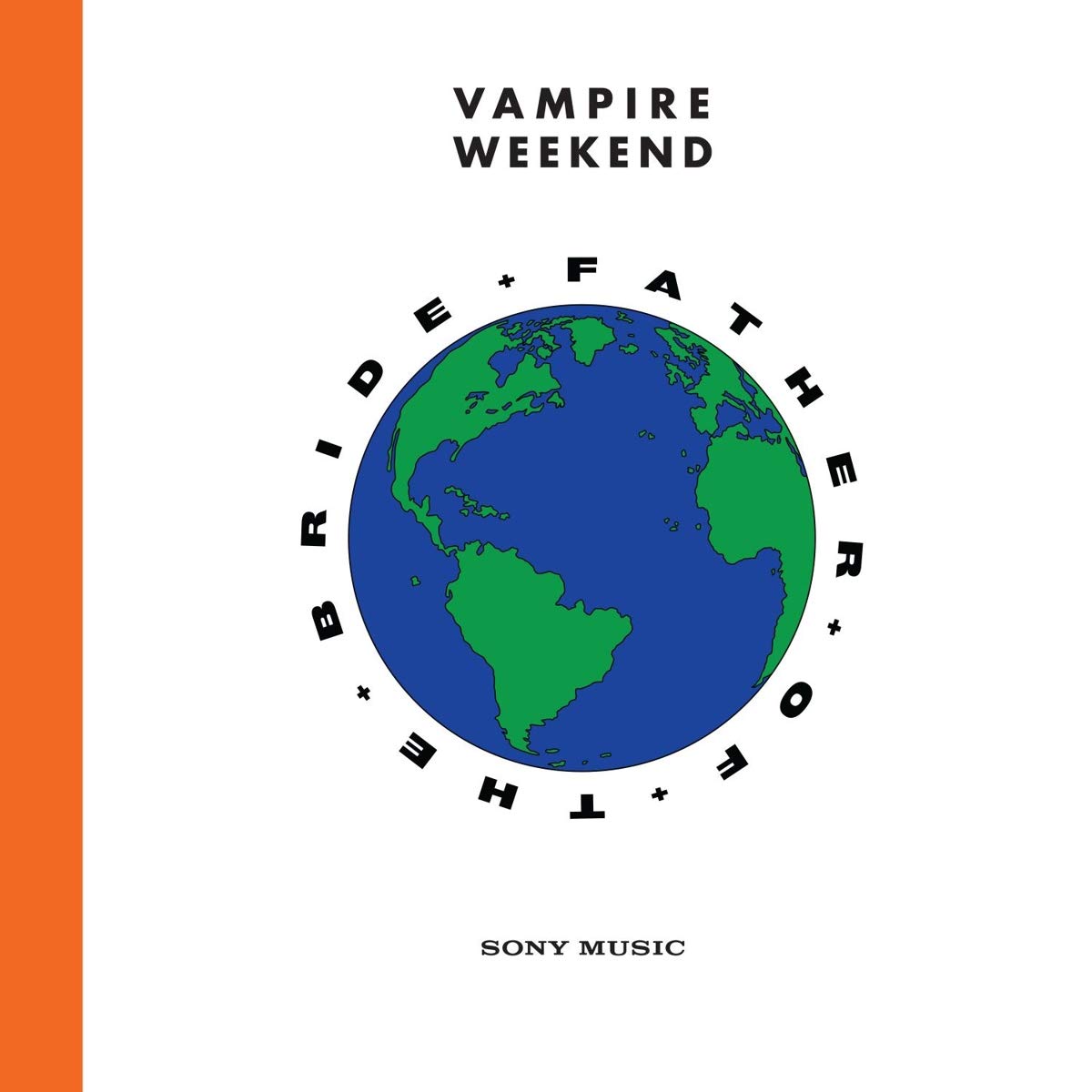 What do you do when you have so many musical ideas that you can't fit them all onto one album? The answer is easy: you indulge yourself with a double album. Many artists have tackled the double album concept, and the latest to do so are indie darlings Vampire Weekend. On their latest release Father of the Bride, Vampire Weekend construct a sprawling, ambitious, and genre-hopping album that contains some of their most introspective and personal work. Thematically, Father of the Bride explores relationships, communication, and the angst of modern society, all while expanding Vampire Weekend's eclectic and abstract brand of pop.
Frontman Ezra Koenig has never been one to shy away from confessional songwriting, and Father of the Bride is a notably revealing listen lyrically. Tracks such as "Married in a Gold Rush" and "Harmony Hall" are decidedly intimate, and Koenig's vocals are warm and vulnerable to match. Much of the album's subject matter is inward as it ties together a sort of loose narrative musically and thematically. Koenig's collaborations with Danielle Haim on tracks "Hold You Now," "Married in a Gold Rush," and "We Belong Together" create a sense of unity for the listener. It helps that each track's sequencing is rather seamless, allowing for a strong sense of fluidity and cohesion between songs.
In terms of production, Vampire Weekend cast themselves quite a vast scope. The album's sound incorporates alternative, rock, pop, and world music with touches of electronic. The grandeur and scale of the production create a tapestry of sound that's dynamic and mostly well-rounded. Tracks "Sympathy" and "Unbearably White" show the band leaning into their avant-garde nature to fascinating effect, and tracks "Married in a Gold Rush" and "How Long?" indicate the group's pop and Americana influences. Elsewhere on the record, Vampire Weekend showcase new-found funky energy on joint tracks "Sunflower" and "Flower Moon" featuring Steve Lacy.  The overall style of Father of the Bride is artful and vibrant but contains plenty of the band's signature sonic touches too.
As with any double album, there's bound to be an overabundance of ideas, and Father of the Bride does at times suffer from a slap-dash approach. Occasionally, the album attempts to convey so many emotions and styles that certain moments can feel slightly jarring. When compared to its more folk-based content, the electronic-based songs can feel at odds. But despite these shortcomings, Father of the Bride manages to largely succeed and deliver a rich, dynamic, and overall absorbing listening experience.
For most successful bands or artists, the double album can be quite the challenge to pull off. They either largely achieve their ambitions and offer progression or buckle under their aspirations. Thankfully in Vampire Weekend's case, they take on the challenge with heart, gusto, and imagination. As a return from a prolonged absence, Ezra Koenig and company deliver a body of work that confirms they're still highly gifted songwriters with a knack for organic and artful yet accessible pop music. As it turns out, Vampire Weekend and the double album are a more than fitting marriage indeed.
Songs to spin: "Sympathy," "This Life," "Married in a Gold Rush," "We Belong Together," "Unbearably White"