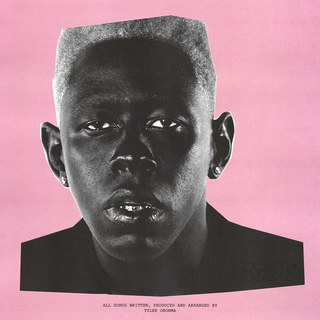 Surprises in music are truly something to behold these days. One of the biggest in recent memory is the total 180 in rapper-producer and conceptualist Tyler, The Creator's musical journey. Back in 2011, he – along with his Odd Future collective – were dedicated to creating music that was loud, rambunctious, and cheerfully defiant of good taste. Over the course of four albums, however, Tyler honed his lush, moody, and soulful sound and eventually progressed from shock value to sincerity, resulting in the career highlight of fifth album Flower Boy. With Flower Boy, Tyler proved he could craft a personal, artful, and honest body of work while still retaining his quirky, absurd, and endearing qualities. On his latest release IGOR, Tyler finds himself pushing the boundaries of his sound in terms of production, texture, and style to create some of his most personal, heartbreaking, and intimate work yet.
What truly makes IGOR stand out on first listen is how immersive it sounds. Opener "EARFQUAKE" is a clattering soul number that soars with traces of gospel and R&B echoing throughout. It's also noteworthy how these songs take shape as vocals float in and out, are pitched down, and moments of bombast are immediately followed by moments of space. Early highlight "I THINK" feels almost like something 70's Stevie Wonder would produce with a bridge section that's utterly captivating. The joyous and exuberant nature of this track showcases a genuine sense of feeling which carries through the album. Other tracks such as "RUNNING OUT OF TIME" effectively capture the listlessness and frustration of a break-up musically and thematically and highlight "NEW MAGIC WAND" is gothic and ominous in nature as its production twists and turns throughout.
Musically and lyrically, IGOR is a radical departure for Tyle, which is saying something given his discography. Its influences stem from soul, funk, Motown, R&B, and electronic, all while filtered through an abstract perspective. Lyrically, IGOR captures the nature of a deteriorating relationship with an approach that's wistful, sincere, and darkly comic. Its lyrical focus comes most sharply into place on tracks "A BOY IS A GUN" and "PUPPET." Both songs find Tyler examining his insecurities and anxieties, and in the case of "PUPPET," his relentless devotion to a relationship that's all wrong for him. "A BOY IS A GUN" is an absolutely gorgeous piece of old-school soul that sounds like a long-lost Motown track.
The most fascinating aspect of IGOR might just have to be how it's designed. As an album, it's exquisitely produced and crafted but also sequenced with a sense of purpose too. It's the way tracks are broken up by voice-overs from Jerrod Carmichael, and how its guest appearances weave through almost unnoticed. It's the timing of the breakdowns, the way Tyler's vocals inhabit the musical spaces, and how each song just flows right into the other that allow for such a layered experience. At its core, IGOR is Tyler as an artist combining aspects of his previous work and forging ahead into unknown sonic territory.
There are traces of the anarchy of Cherry Bomb and Wolf on "WHAT'S GOOD" and "NEW MAGIC WAND" and his newfound soulfulness is apparent on tracks "GONE, GONE / THANK YOU" and "I DON'T LOVE YOU ANYMORE." But what truly allows IGOR to qualify as a triumph is how human it is. Underneath its sonic layers, textures, and grand soundscapes is a current of raw emotion. Closing track "ARE WE STILL FRIENDS?" is the simplest track but arguably its best. A throwback ballad with Tyler aching for a bygone lover, the way it builds and builds until it crescendos is truly transcendent. It's here that IGOR's mission statement fully comes into place and establishes this as arguably the most personal record of his career.
In many respects, this album may or may not offer the instant gratification of past works such as Goblin or Flower Boy. If one is looking for the Tyler that produced "YONKERS" and infamously wished death upon Bruno Mars, you won't find that here. However, what you will find is one of the most imaginative, human, and accomplished bodies of work released so far this year. With IGOR, Tyler, The Creator has pulled off arguably his biggest surprise yet. He's revealed he's just as human as all of us, and thanks to IGOR, that realization is a true musical masterpiece.
Songs to Spin: "EARFQUAKE," "A BOY IS A GUN," "I THINK," "ARE WE STILL FRIENDS?,""WHAT'S GOOD," "NEW MAGIC WAND"