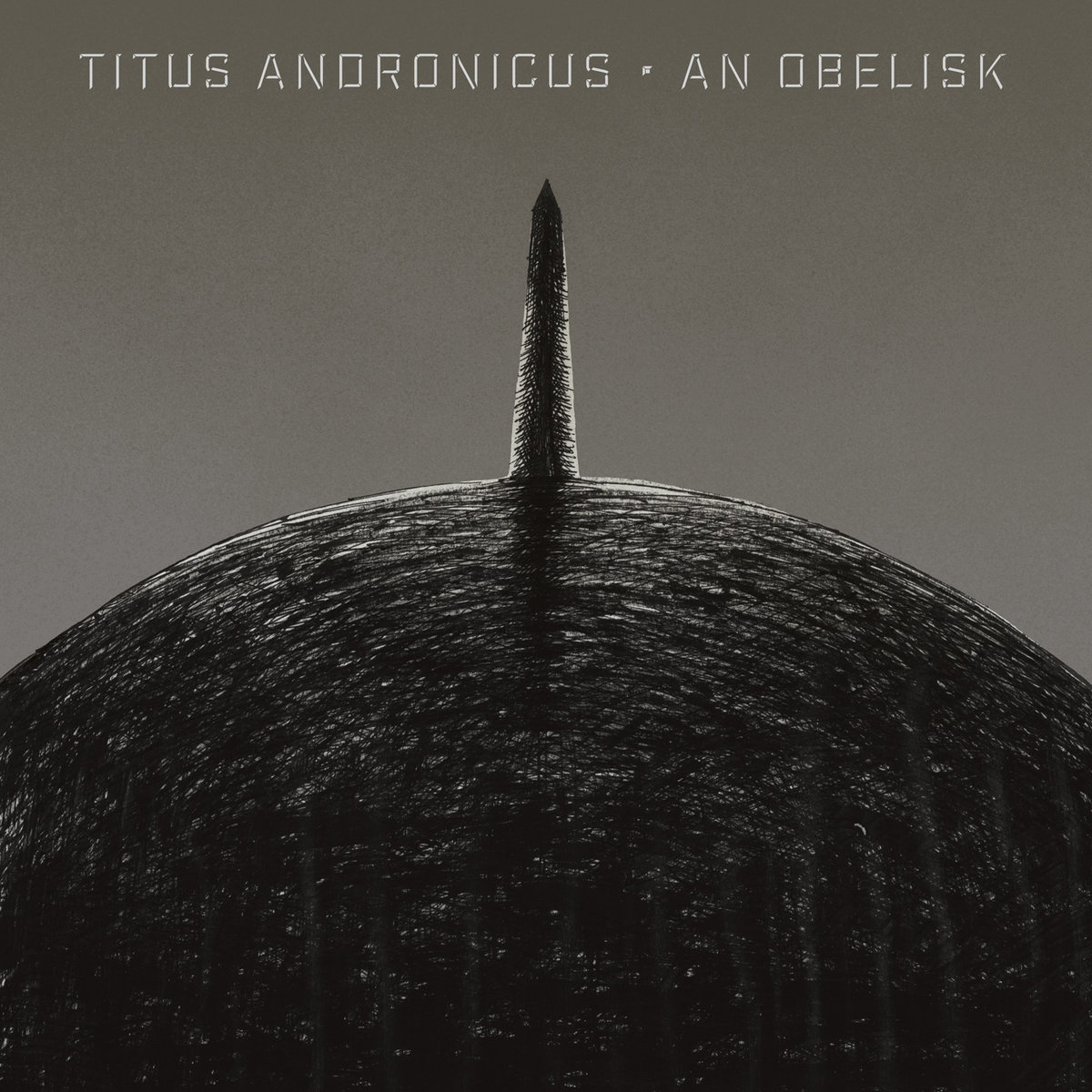 While the old "Is Rock Dead?" debate continues to rage on, some of the most prolific and influential bands of the early aughts are still very much keeping the genre kicking. One such act, Titus Andronicus, are just as raw, angry, and defiant as ever, resulting in an absolutely exhilarating and satisfying new release. An Obelisk channels the band's early roots while still remaining fresh and vibrant. Collectively, Titus are very much fans of a killer riff and powerful vocals coupled with some gnarly breakdowns. An Obelisk is full on with its intensity and maintains a rollicking momentum throughout. It contains a freewheeling sensibility but manages to still pack in tight hooks and strong melodies, coming together in a concise package.
The one-two punch of opening tracks "Just like a Ringing Bell" and "Troubleman Unlimited" are hard-hitting and show that Titus haven't lost any of their edge and vitality over the years. Lyrically, the band examine modern societal ills with gusto especially on highlight "(I Blame) Society" and show off their prowess on the strutting "My Body and Me." Musically, Titus Andronicus take cues from early punk acts like The Clash and Sex Pistols but thankfully still embody their own distinct sound. In terms of songcraft, each track is lean and mean and briskly paced, ensuring impact. Despite the rage of their lyrics, Titus still know how to let loose and have a good time,  evident on the rambunctious fun of "Hey Ma" which boasts some of the record's catchiest riffs and hooks.
Much of An Obelisk's commentary is political in nature, thus adding a layer of relevance. Like their punk forefathers, Titus Andronicus rally against the hypocrisy of establishments and do so in quite spectacular fashion. Tracks such as "Beneath The Boot" and "On The Street" tackle issues of oppression with searing intensity and give the record a genuine resonance. While it may seem like a simple record at the outset, An Obelisk is more accomplished and complex than its nature might suggest.
For many bands deep into their careers, facing oncoming trends is inevitable. For Titus Androncius, the band have honored their roots while engaging new fans with a record that's dedicated to their excitement and enthusiasm of making music. An Obelisk is one of this year's most impactful and purely rewarding rock records. While some may argue if rock is truly still alive or not, An Obelisk is proof that its heart is still very much beating and here to stay. If you wanna hear what a real-deal rock record sounds like, give this one a spin – you'll be glad you did.
Songs to Spin: "(I Blame) Society," "Just Like a Ringing Bell," "My Body and Me," "Troubleman Unlimited," "Beneath The Boot"