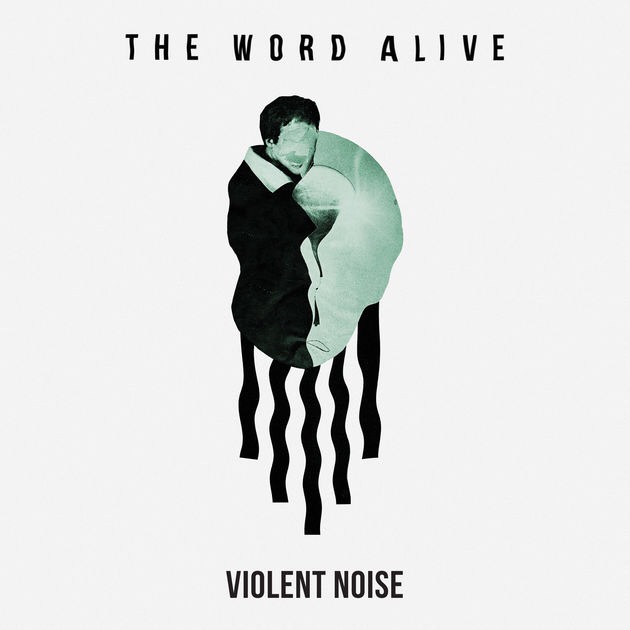 In some alternate universe, The Word Alive is just called "ALIVE."
"No meaning behind [the name] TWA actually," the band's lead singer, Telle Smith, explained in a recent Reddit AMA. "The band was supposed to be called just 'ALIVE' but we kept having to say 'You know, like the word alive' and people said, 'Oh, the word alive.' So we gave up." Having already noted that listeners often mishear the band's name, he added: "Guess we should've called it 'The World Alive.' ;)"
It's a charming anecdote, and it also illustrates one of the band's central preoccupations— whether they were a word or world or none of the above, the "alive" part was never in question. The Arizona-based metalcore four-piece has always been a band about living, about exactly what it means to have a beating heart.
And on their latest album, the band follows this idea to a glorious height. Titled Violent Noise, The Word Alive's fifth release uses an atmospheric post-hardcore sound similar to that of their 2016 album Dark Matter; it's a bit less heavy than some of their earlier work, but it's no less emotionally raw. True to its name, Violent Noise is unshakeable, passionate and gut-wrenching. It's an album that drips and bleeds and stains your hands, a barrage of hard-hitting feelings and sounds that lingers long after it's over.
The moody "Red Clouds" starts the album with a wash of dark color. The song looms like an incoming storm, with a pulsating, electric soundscape and an undercurrent of guitars that bristle like radio static in the rain. It's a tight, suspenseful opener, raising high stakes that carry into the album's nightmarish lead single "Why Am I Like This?" A spiral of self-destruction and addictive behavior, "Why Am I Like This?" stings like an open wound, and I think it has the potential to be a definitive song for the band. The fraught, desperate chorus —"take your time/wrong or right/I just wanna feel alive tonight"— builds to a gore-soaked refrain of "our own Bloody Sunday," and the lyric couldn't be more apt. I had chills during my first listen, and the song is quite possibly my favorite metal single so far this year.
Gloomy "Stare At The Sun" has a retro grunge flair. In both sound and theme, it reminds me a lot of Soundgarden's "Black Hole Sun"; both songs features lilting melodies, choppy guitars and bleak lyrics — "only time will tell/can you spot the difference/because I'm living in hell"— that paint a portrait of crushing unease. "Stare At The Sun" also features guest vocals from Asking Alexandria's Danny Worsnap, and his roaring baritone and signature growl contrast nicely with Smith's lighter, more delicate vocals. Their discordant duet is a match made in twisted heaven.
"I Fucked Up" is a more up-tempo number, raging teeth-first through its angsty, mosh-ready verses. The song's spunky chorus sounds like it could have been culled from a pop-punk song, but the vicious bridge —in which Smith repeatedly howls "hate me, hate me, hate me," chewing scenery like a monster unleashed— is pure screamo. In-your-face brash and catchy, "I Fucked Up" is the album's most dramatic set-piece, and I think it would be an awesome choice for a single.
Much of Violent Noise tackles themes of depression and overcoming hardship, and this is perhaps most evident on "War Evermore." Written in honor of Linkin Park's Chester Bennington, the song's lyrics serve both to pay heartfelt respect — "every time I say I give up hope/I sit and think about the songs you wrote/And each day I realize/it can get better over time"— and to reach out to listeners who may be struggling. Bennington's death has reverberated hard throughout the scene, and while the song isn't an easy listen, it's a worthwhile one. With its grand arrangement and hopeful message, "War Evermore" is a poignant tribute to a beloved and influential musician.
The shivery, experimental "Human" has similar themes, and it's definitely a standout as well. The song pairs Smith's breathy performance with a backdrop of echoed, high-pitched wails — the words out of his mouth are "I'm human," but he's singing them in the company of ghosts. "Human" also features a guest verse from rapper Sincerely Collins, and while it's a more left-field appearance than Worsnap's, I think it works just as nicely; Collins's rap style is crisp and bright, giving a hopeful pulse to the song's graveyard world.
The album's second half swings quickly through a variety of tempos and genres. Energetic "I Don't Mind," for example, combines a brisk beat, growly vocals and shredding guitars for a grungy radio-rock vibe. At just three minutes even, it's the album's shortest song, but the hyper-catchy chorus prevents it from getting lost in the shuffle. The explosive "My Enemy," meanwhile, is an industrial-tinged banger. Boasting a strong unclean vocal performance as well the album's best breakdown — an aggressive surge of percussion, it beats in as sudden and hard as a fist to the face— the song is cacophonous in the best possible way, a cluttered delight full of screams and static, pounding instrumentals, and rage.
"Run Away" on the other hand, has a softer approach and takes its cues from 80's rock. Something of a power ballad, "Run Away" features chanted "woahs," rhythmic drums and a big, gushy belter of a chorus. The song is a little confusing in context —coming right on the heels of "My Enemy," it kind of feels like it dropped in from a different album— but on its own, it works really well. Exuberant and sincere, I imagine it will make an excellent lighters-in-the-air moment at live shows.
Finally, "Lonely" returns to the somber tones of the album's opening third, and it does so with stunning results. The song is a masterpiece of ambience, drowning itself in layers of shrieks and wails, its eerie refrains drifting in and out like whispered threats — "describe what it's like/now that you're missing me," Smith demands in the chorus, sounding almost like he enjoys the idea. The song has a slasher-movie vibe that reminds me of Drop Dead, Gorgeous's Worse Than A Fairy Tale; it's a stylish, creepy, curious oddity, a story that'll leave you checking for monsters under the bed. With its mysterious final measures— the guitar is the last thing to go, buzzing out on a frayed edge—"Lonely" ends Violent Noise on an uncertain note. There's no closure here, just goosebumps and darkness and held breath.
As the band put it in their Reddit AMA: "Violent Noise as a whole is about all of the crazy shit that happens in your life, and how everything we do just gets filtered by our hearts and our minds… Everyone has things that are going unspoken, and if left unchecked, it can creep up on you."
It's an almost ghostly description, an image of pain that lurks like a phantom, and it perfectly reflects Violent Noise's powerful impact. Emotional and evocative, this is an album with a heart, lungs and then some, and a triumphant addition to The Word Alive's catalogue.