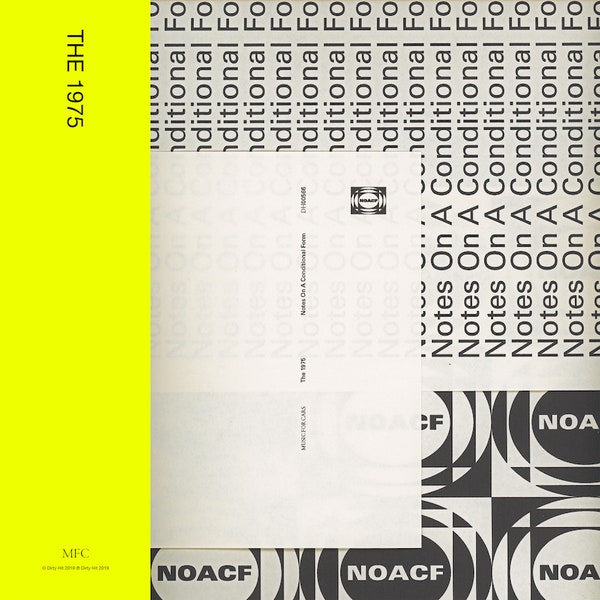 The sound of The 1975 has always been one of multitudes, at least to me. To many a new listener, baffling is their ability to sound both like the interior of an Urban Outfitters and yet something wholly genuine. To others, perhaps the former assessment is all you're able to glean from their discography: overwhelmingly slick music, crafted with the utmost awareness that if you mix all the right elements of 80s revival and post-Passion Pit era indie pop, you sell double LP records to teenagers with Crosley Cruisers. This is the standard dismissal of Matty Healy's strange brainchild, after all.
But this has never felt fully accurate. From the beginning, brewing beneath the blindingly bright production was a chaotic energy that popped out in the likes of "Sex" or a desperate passion that emerged from "Robbers." Hell, even when they were shamelessly wearing their influences like fast fashion (see: "Give Yourself A Try," or "Disorder" by Joy Division) later on, they felt singular enough to warrant all the discussion about them. Music critics were split on both what to call this stuff and how to react to it, which brings us to the ultimate display of gleeful polarization: 2020's Notes on A Conditional Form.
At an hour and twenty minutes in length, it seems The 1975 have reached the stage of their musical output that Oasis did on Be Here Now: riding on top of the world, one can get away with excess, and so they have. The key difference is that Be Here Now was decidedly career-ending, and Notes might just be career-cementing. Almost everyone, including the record's apologists (of whom I find myself stumbling in and out of the ranks) agree that the 1975 have overextended themselves here, or maybe just lack some quality control. And yet that's part of Notes' appeal – as Pitchfork writer Sam Sodomsky put it in an apt tweet, it's "an album I have loved getting lost in." As much as you'll find yourself lamenting how bloated this can become, you'll find yourself immersed within it.
I, at least, felt my brain oscillating in and out of focus at times, but always pulled under the surface of something a little surreal and occasionally sublime. Instrumentals like "Having No Head" are numerous in appearance and drag on a little long but feel intrinsic to the experience. "The 1975" is arguably not the best introduction to all that lies ahead, feeling a little on the nose with its usage of an iconic Greta Thunberg speech without the lyrics ever touching on the topic climate again once it segways to "People." Then again, Matty could just as well make the case he's singing about a different climate throughout Notes, that of our constantly-connected and yet alienating social one.  
Whether you advocate for taking it all in or for cutting the fat, one thing is certain: the highlight tracks are absolutely highlights. "People" is admittedly a red herring of a lead single, but it fits with the wildly eclectic range of genre-hops here. Aggressive, moody, and short, it's a pop-punk wake up call right before the first fully instrumental track, "The End (Music For Cars)." There's "The Birthday Party," of course, a reflective look on life after addiction and self-realization and the first track in the Americana-tinged section of Notes. Another potentially polarizing move, but the different genres bouncing around in this LP flow surprisingly well.
Phoebe Bridgers makes a welcomed cameo on "Jesus Christ 2005 God Bless America," in the same vein of gentle alt-country somberness. "Me & You Together Song" transitions back into slightly more familiar territory, but it's "If You're Shy (Let Me Know)" that recalls that signature 1975 sound from their earlier discography. There are synths, there are horns, there's a saxophone solo- for what it's worth, my personal bias in favor of this combination goes back to a Hurry Up, We're Dreaming-era M83 obsession from years prior, but not everybody can wield the nostalgia saxophone that well. And The 1975 do, or at least get within striking distance of that infectious nerve reflex. "Guys," the closer and another single preceding the album's long-delayed release, is subdued but earnest, and no doubt a contender for a fan favorite with its wide-eyed proclamations of bandmate comradery.
The end result of all our months of waiting is this: a thoughtful, overflowing cup of songs that is far from perfect, but undeniably fascinating. The 1975 have proved themselves as more than a one-trick pony before, but this is a manifesto to that. One can only hope the future will bring more ambition and eclecticism from the Manchester outfit. Sure, quality control is in order here. But I'm willing to be taken along for the ride to see where Notes On A Conditional Form leads.