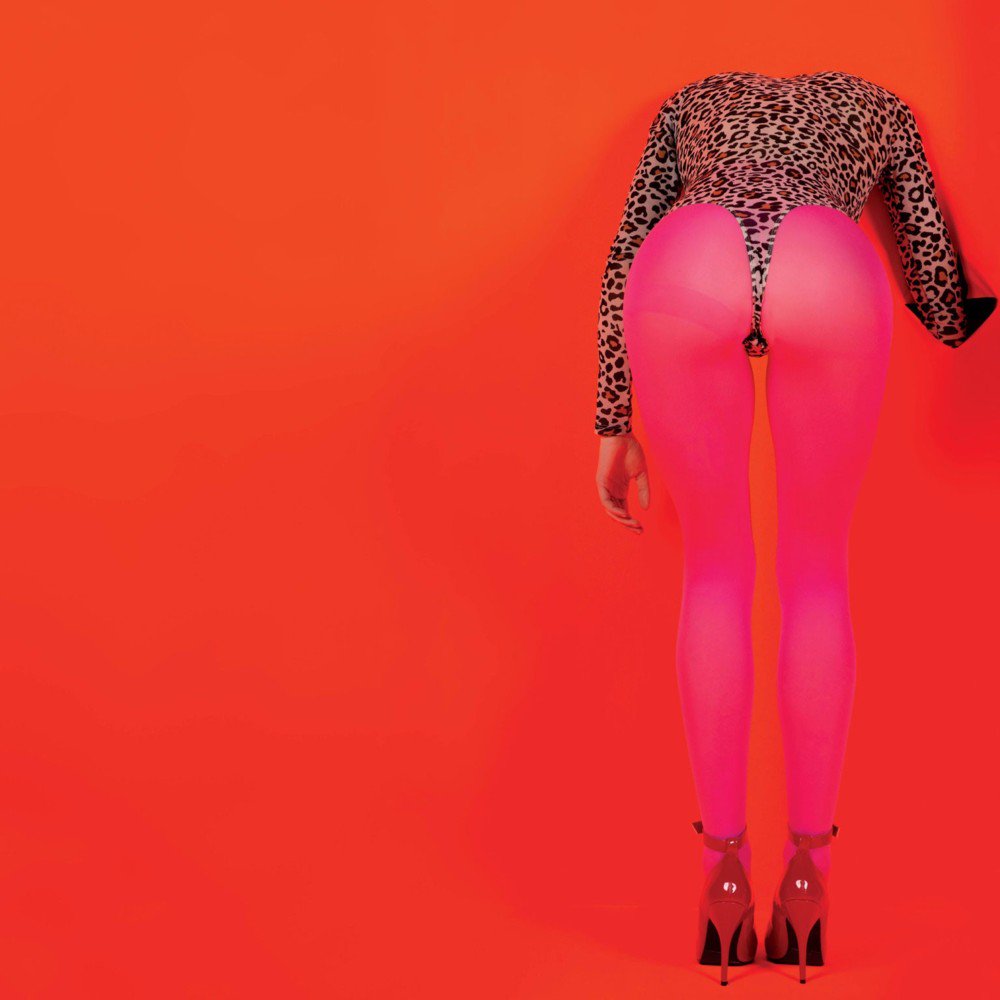 Annie Clark, the queen of girl power herself, has hit another home run with her fifth album as St. Vincent. Her self titled record from 2015 proved to be a tough act to follow, earning her a Grammy for Best Alternative Album and second place on TIME Magazine's annual "Album of the Year" list. However, MASSEDUCTION effortlessly steps up to the plate. With upbeat, eccentric tracks juxtaposed with lyrics about heartbreak, loneliness, and abandonment, this dark yet glamorous riff-driven record is more than meets the eye – or should I say ear?
The album's opening track "Hang On Me" starts off with a quirky drum beat paired with dark, apocalyptic lyrics. This gives a taste of what's to come on the record and is very much reminiscent of Lorde's "Royals," or even The Eurythmics's "Sweet Dreams." The chorus repeats like a hauntingly beautiful broken record while putting the spotlight on Clark's signature falsetto as she sings, "Yeah so hang on me, hang on me/'cause you and me, we're not meant for this world."
Sad souls, hang tight – we've only just begun.
Clark has a natural knack for blending catchy, upbeat pop rhythms with complicated, hard-to-swallow social issues, such as mental health. "Pills" is a cheery, singsong commentary on our overly medicated culture with verses, like "Pills to wake, pills to sleep/pills pills pills every day of the week." Her phrasing comes off in a kitschy commercial-like style, almost as if the chorus itself is a jingle mocking the marketing campaigns of modern-day pharmaceutical companies. With a message so starkly different from its groove-heavy melody, it almost feels wrong to want to throw on a pair of dancing shoes and bust a move to this one.
In defense of the urge to dance, Clark recently shared her interpretation of the track. In an interview with Pitchfork, she stated, "I don't think it works to write finger-wagging songs because it's condescending to the audience and just a bummer to listen to. This song is super personal for me, a little snapshot of a small period of my life."
Clark went on to explain how she had experienced a bout of insomnia and began taking medicine to help her sleep. As she took a dose of pills each night, she sang to herself for comfort's sake. Thus, this chipper number was born.
However, just like the high one gets from habitual pill-popping, there's always an inevitable comedown. This song delivers just that, with an outro reflective of society's post-bender gloom and doom: "Come all you wasted, wretched, and scorned/watch me standin' under the wall/come all you children, come out to play/everyone you love will all go away."
The album's title track, "Masseduction," dives even more into Clark's own philosophies on complicated social issues. While "Pills" is blatantly obvious in terms of its lyrical theme and message, "Masseduction" has Clark's beliefs regarding sexuality brewing just underneath the lyrics' surface. The recurring chorus, "I can't turn off what turns me on/I hold you like a weapon," is indicative of Clark's personal acceptance and confidence in her own sexual fluidity.
In an interview with The Sunday Times UK in 2014, Clark stated that she "fully supports and engages in the spectrum" and is "not one for gender or sexual absolutism in the main." With dashes of glitz and glam coupled alongside these suggestive and stylish lyrics, it's no surprise why Clark's work has been compared to the likes of David Bowie time and time again. This album gives a subconscious nod to the late rock and roll superstar, all the way down to the 90s-esque dance beats and glitzy notes of individuality throughout. Ground control to St. Vincent, dare I say?
Every good album needs a sappy ballad that will make you shed a tear or two, am I right? Well, then get out your box of Kleenex, kids because this track will only tug (or yank) at your heartstrings more and more from start to finish. "New York" delivers the relationship blues with an added tinge of sass and edginess throughout. For two minutes and thirty-five seconds, St. Vincent manages to pack in all of the heartbreak and abandonment your former emo kid self could ever ask for. The singer sharply closes out each verse with variations on the line, "you're the only motherf*cker in the city who can stand me." You tell 'em, Annie.
With all of the heartache swimming throughout the album, Clark lets in some light during the final track, "Smoking Section." Yet again, Clark showcases her unique ability to weave complex issues into catchy dance riffs, as this track deals with the topic of suicide and the human condition. For a change of pace, she leaves the listener with a cautionary sense of hope: "What could be better than love, than love, than love?/It's not the end, it's not the end."
Now that's a way to go out in style.