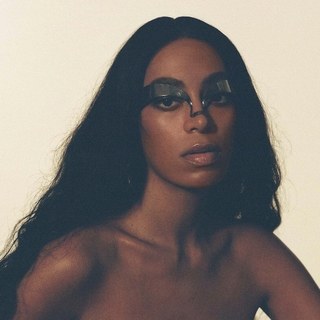 There are some albums that exist as merely a collection of songs to be casually enjoyed. And then there are albums that are meant to be heard as a singular immersive experience. R&B songstress Solange's latest release When I Get Home is most certainly an album to experience as it takes listeners on a journey through soul, funk, trip-hop, and R&B. It is a melting pot of sounds and styles all reflective of Solange's hometown of Houston. The overall result is a body of work that's artful, experimental, and thrillingly alive, all while demonstrating Solange's vast musical talents. What defines When I Get Home as such a dynamic record is how it seamlessly blends genres, time-periods, and moods, taking cues from 60's soul, 70's funk, and today's trap music, creating a unique perspective entirely its own.
The album's structure is abstract and fluid which allows each song to become its own moment. Early track "Down With The Clique" segues seamlessly into "Way To The Show," and both tracks, with their dominant funkadelic and soul elements, establish the album's core sound most effectively.  The rest of When I Get Home operates in an almost dream-like haze of sound and mood with selections "Stay Flo" and "Dreams" unfolding in more spacious and lush soundscapes expanding the range and scope of the album. What makes each of these songs feel so interconnected is how Solange finds a thematic connection and bridges them together to play off one another.  The small details that truly enrich the listening here – the synthesizers that open "Down With The Clique," the arrangements in "Dreams," and even the hip-hop adlibs in "Stay Flo" – are all distinctive and add texture to the sonic palette. When I Get Home is also compelling in how it displays its various influences yet never feeling indebted to one particular source.
The album's strongest moments arrive when completely invested in its musical surroundings. Stand-out track "Almeda" is particularly ambitious as it combines R&B and hip-hop elements to dynamic effect. Other tracks such as "Binz" are more playful toward traditional song structure yet still remain accessible. The diversity of the themes presented here ensure that When I Get Home gains emotional resonance. The songwriting concerns issues of identity, black pride, sexuality, and relationships, and the musical surroundings enliven these themes, approaching them from a unique perspective. "Almeda" subtly comments on racial identity, and "(Time) Is" openly explores the heartache of lost moments. Even the interludes such as "Can I Hold The Mic" delve into themes of self-expression. By embedding these themes alongside the music, Solange is able to present her ideas in a more multi-faceted manner.
Despite its many sonic and lyrical ambitions, When I Get Home is ultimately a work that celebrates the joy and freedom of expression, and that energy is exhilarating to witness. Solange as an artist has shown tremendous growth which was demonstrated by her acclaimed 2016 release A Seat at The Table. With When I Get Home, Solange embodies more of her true self and represents a mastery of her medium. The album reveals itself as an emotional, vital, accomplished work of art and another showcase of Solange's progression. It's often said that it's the journey, not the destination that proves to be most fascinating, and in the case of When I Get Home, the journey is truly something else.
Tunes To Spin: "Almeda," "Binz,"  "Down With The Clique," "Dreams," "My Skin My Logo"