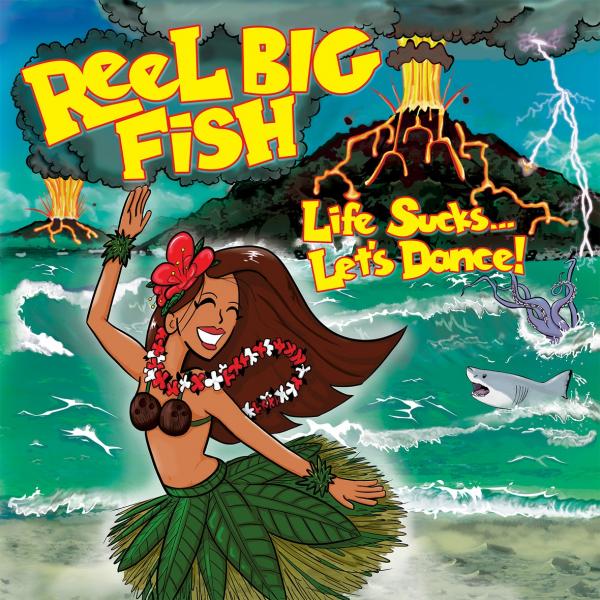 If there was any question that ska is making a comeback, Reel Big Fish have made it official. The Orange County, California band are preparing for a winter 2019 tour to support their first album in six years. Life Sucks…Let's Dance!, out December 21, will mark the band's eighth studio LP, and it is everything we've been waiting for. Fourteen tracks taking us back to high school with a perfect mix of sarcastic comic relief, catchy inspiration, and some upbeat love songs done in the way only a ska band can. "We didn't reinvent the wheel; we just painted more checkers on it," frontman, Aaron Barrett explains about the first single, "You Can't Have All Of Me."
Reel Big Fish keep the music familiar especially with "The Good Old Days," giving that "She Has A Girlfriend Now" feel to it. Tracks like "Tongue Tied and Tipsy," "In Love Again," and "I'd Rather Get It Wrong" give you those not so sappy love songs with brutally honest undertones. Need a push to keep you moving through a negative day? No worries. Reel Big Fish have your back. The title track, "Life Sucks…Let's Dance!" along with "G.D. Beautiful Day," and "I Should Know By Now" punch you with uplifting horns and bright, shiny lyrics that make life not seem so bad. You can't have Reel Big Fish without some fun, catchy little songs that make you dance even harder. Their homage to the roots of ska, "Bob Marley's Toe" and the friendly invite to "Ska Show" has us all singing along. Yes! There is "Another Beer Song." Did you really think they'd leave you hanging? Closing it out, Barrett leaves us with his true inspiration for the album, "Walter's Highlife," an instrumental titled after his pooch.
Reel Big Fish have sent us back into a time warp, and we're okay with that because we are still having fun. An album to get us through even the roughest days, Life Sucks…Let's Dance! does not disappoint. Make sure to pick it up December 21, and check out Reel Big Fish as they hit the road for The Life Sucks…Let's Dance Tour starting in January.