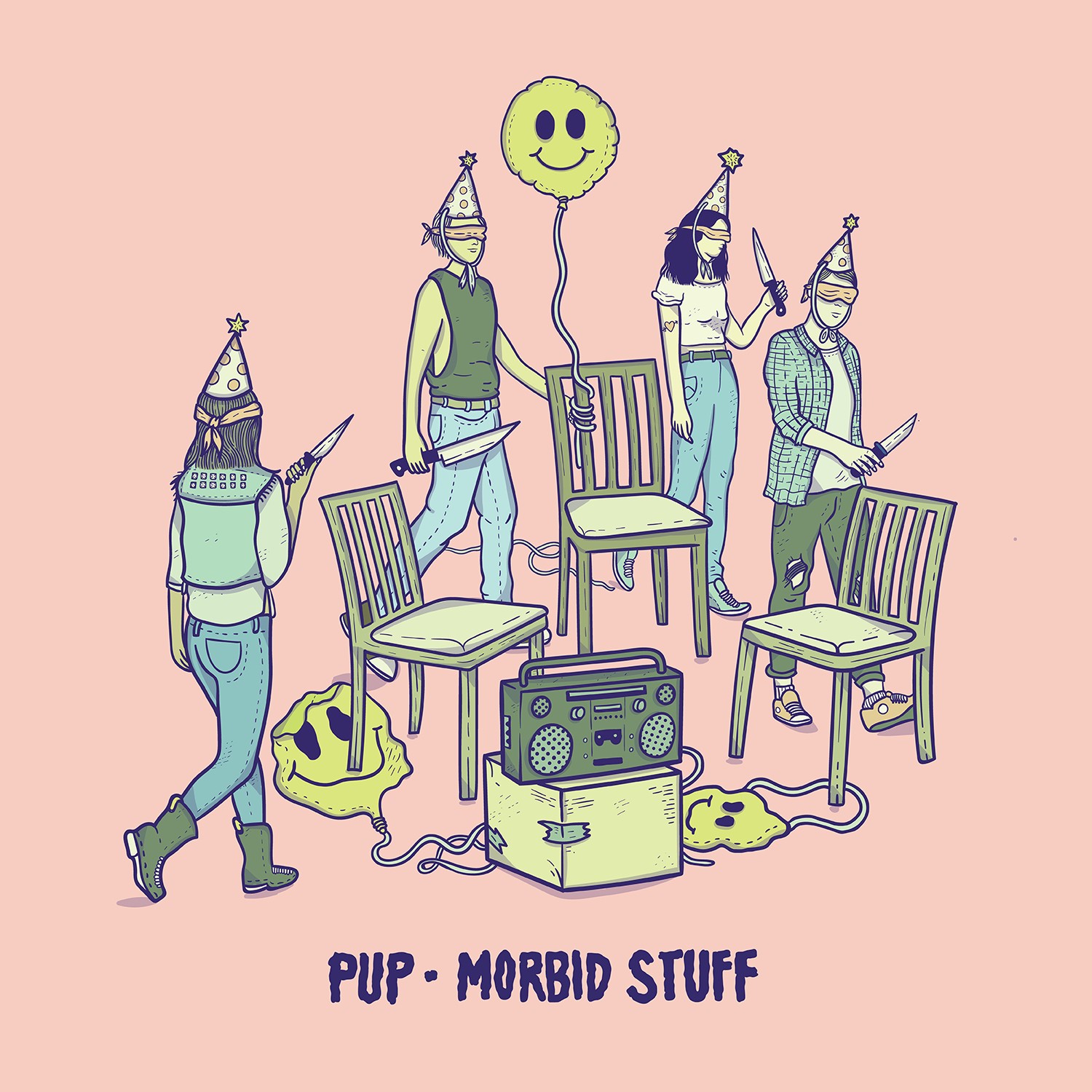 There are many things we can thank Canada for: maple syrup, peanut butter, insulin, Celine Dion, most of the famous Ryans in the world (Reynolds, Gosling, Stiles), and the tv show Letterkenny to name a few, but the thing I've been thanking the great north for lately is the gift that keeps on giving – PUP.
Canadian four-piece rockers PUP just exploded. If you live in their home city of Toronto, you may have seen Spotify's billboard announcement for their newest album on top of the Toronto Eaton Center. If you watch late night television, you may have seen their performance on Late Night with Seth Meyers. You also may have read reviews for their latest album in (to name a few) Rolling Stone, Pitchfork, NME, Consequence of Sound, etc. etc.
The recent release of their third full-length album, Morbid Stuff, has only whipped up this frenzy even more. Coming in at just 36 minutes, this 11-song collection is a quick and easy listen, but it packs a punch. PUP is known for their loud, biting sound both lyrically and instrumentally (for some context: a personal favorite song from their 2016 release The Dream is Over is titled "If This Tour Doesn't Kill You, I Will," and the video consists of the band murdering each other – it's a must watch). This album keeps that trend going, even if it brings slightly less vitriol than prior releases. Drummer Zach Myulka's work on this record is astounding. I often found myself marveling at it during any given song.
Morbid Stuff brings all of your favorite parts of PUP – prominent drums, shout-sung vocals, lyrics that tell almost always a situational story (if you haven't been noticing these, give everything a closer listen), biting one-liners – and puts them in a fresh new package. The album opens with the title track, which lyrically sets the tone for who PUP is as a collective: vocalist Stefan Babcock opens the album with the line,"I was bored as fuck/sitting around and thinking all this morbid stuff/like if anyone I've slept with is dead."
The album is chock-full of one-liners like that one. On lead single "Free At Last," Babcock refrains "just 'cause you're sad again/it doesn't make you special at all." This song (and this line) was our first taste of the album. Before the single was released, the band circulated the lyrics and the guitar tabs online and asked fans to record what they thought the song would sound like. These fan covers then became an integral part of the "instructional" music video premiering the song. This video is everything I love about PUP. It's wholesome, it's fun, and it doesn't take itself even a little bit seriously. Also, the Myulka is wearing a Katya Zamolodchikova shirt, and who doesn't love a drag queen?!
Overall, the album is at home amongst PUP's previous discography. If you were looking to hear more range on this album though, you might be disappointed. The other three singles released before the album were mostly in the same vein. However, the closing track "City" and the beginning to "Scorpion Hill" both give us a taste of variety in sound. The beginnings of both songs are stripped down, mellow, almost apologetic preludes. Someone in the YouTube comments section called "Scorpion Hill" a "campfire song into moshpit anthem," and I'm going to borrow their words because I couldn't put it better if I tried. It's an interesting switch, as the sound of the song changes but Babcock's voice does not; it's just as gruff as usual. But don't worry, it picks up almost immediately into the band's usual sound and "I've been having some pretty dark thoughts" type lyrics (and yes, that is an actual line from the song).
My all-time favorite moment on the album comes in the first half of "See You At Your Funeral." After talking about seeing your ex in a grocery store, Babcock shout-sings the line "well you know me/I've always been a little masochistic" and I can't get over it. This song is a major highlight not just for the sound but for the message. Everyone can relate to feeling this way after a break-up. I'm not going through one right now, but did this song open up all those old wounds? You bet. Do I feel like I won the break-up? You bet. The song brings all the aggression and anger of older songs like "If This Tour Doesn't Kill You, I Will" and "Guilt Trip" and gives them to you in a pleasantly upbeat, sing-along reiteration. It makes me want to text all of my exes a link to the song. I won't. I'll try not to. Okay, maybe I will.
The heaviest song on the album is (appropriately titled) "Full Blown Meltdown." It's a spectacular example of lyric/instrumental balance. As the instrumentation is heavier than any other track, the vocals are pared down to the point of just being spoken. Babcock is no longer singing – he's just talking at you. While it's not my favorite song on the album, I really appreciate the way it's done.
What's my favorite song on the album, you ask? Great Q, here's the A: it's a tie. I love the call-and-response style of "Sibling Rivalry," specifically the line "you know just how to piss me off/don't test my patience." Babcock's ability to switch between vocal styles is so effective. One minute, his voice is crescendoing upwards through a chorus and the next, he's shouting a staccato verse. On the other hand, I'm not sure if it's the chorus or the fact that it has the best song title I've heard since Panic! at the Disco released A Fever You Can't Sweat Out in 2005 (coincidentally their best album – I will not be taking questions at this time, thank you), but I keep going back to "Bloody Mary, Kate and Ashley." It sounds a lot like the inner monologue inside my own head, and I will also unashamedly admit to being scared enough of Bloody Mary Kate Olson to turn to arson. I can already picture the music video, and it is going to be glorious. Here's to hoping that Stranger Things star (and Calpurnia vocalist) Finn Wolfhard reprises his role as young Stephen Babcock as he's done in the past.
According to internet legend, PUP got their name when the vocalist's grandmother referred to playing music as a "pathetic use of potential." I bet she's eating those words now, and if she's not, someone should take her to Toronto and show her the Eaton Center. I'm not even related to them, and I'm proud of them. The first time I saw PUP live, I got a fat lip during the first song. The crowd was mostly curly-haired lumberjack types in flannels and beanies, and the minimum height requirement seemed to be 6'2.  It was one of the most rambunctious crowds I'd ever been in, and they were only the opener. I think it's safe to say that PUP's use of potential is far from pathetic. I can't image what would happen if they were to headline – and I can't wait to find out this fall.
Tracks I have on repeat: "Bloody Mary, Kate and Ashley," "Sibling Rivalry"
Tracks I could skip: "City," "Closure"