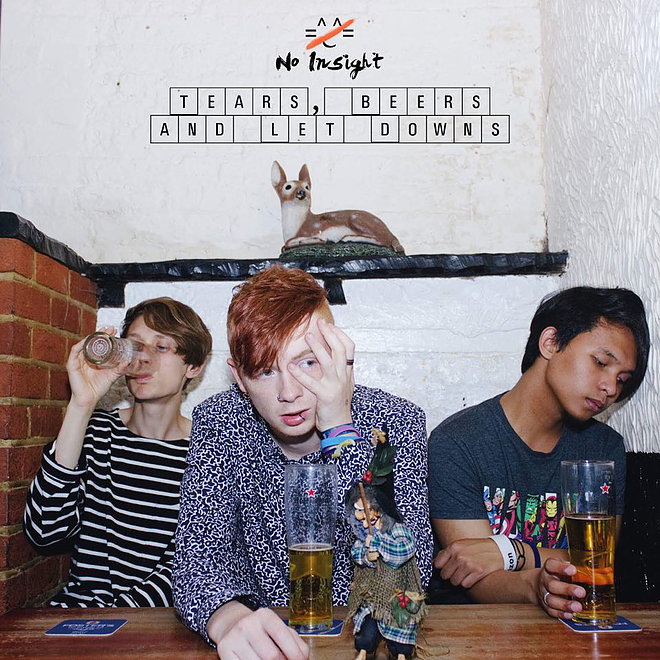 No Insight have released a vibrant and upbeat pop punk gem Tears, Beers and Let Downs, a fun journey of toe-tapping, headbanging pit tunes you can shove your buddies around to, possibly whilst crying like an emo teenager.
Starting off with the 53-second intro track, "Collateral Damage," then blasting straight into "Cheap Wine For Sad Guys," this EP is a real trip down memory lane at times, like listening to Blink 182, Good Charlotte, or Sum 41 back in their heyday.
"Critical" has a rather brutal guitar based intro that hints at some heavier, metal type influences, which brings a different perspective to this collection of songs. They guys could really take this band in whichever direction they wanted, dipping in and out of genres as they please.
Tears, Beers and Let Downs features loud, raw, and prominent bass lines throughout paired with frequent singing about heartbreak, teen angst, and frustration. On the surface, it seems like a regular pop punk record, but No Insight go a little deeper than most.
The singer's pretty and unique vocals can probably be heard at their finest during "Lights." There's something delicate about his delivery that leaves an impression of innocence and helps to kick in the empathy at his bemoaning of spending too many nights alone. It feels like the saddest tune on the EP yet is still uptempo and potentially a great pit song at a concert.
The collection ends with "You're My Francesca," the customary ballad that always seems to find its way onto every pop punk record. While it initially seems a strange choice to end the EP on such a slower track, it kicks in after the 2:30-minute mark and becomes an epic power ballad complete with a heartfelt and impassioned chorus of "I'm sorry that I'm such a fucking let down." Thankfully, the same can't be said for the EP itself.
Coming in at five tracks and 17 minutes, Tears, Beers and Let Downs is not necessarily a happy EP in terms of subject matter, although the punchy, major power chords and thundering drums help gloss over some of the sadness. It still leaves the impression of a pop punk band that has slightly more to say than some of the others, and it'll be interesting to see where this trio takes their songwriting on future releases.