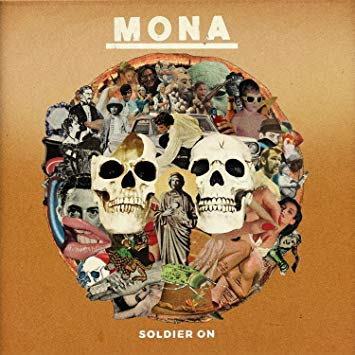 Sometimes, it takes a while for a band to truly find their sound and establish it in full force. For their fourth album Soldier On, the Nashville-based band Mona have taken their love for southern rock and stadium-sized anthems and stretched it out to full-length proportions.  The band has one foot in old-school rock and the other in modern indie like acts such as Mumford and Sons and Imagine Dragons, creating a varied set of sounds throughout the album's 10 tracks. At their best, Mona's arena-aiming ambitions can be purely infectious and energetic as evidenced by stand-outs such as "Thought-Provoked" which contains elements of 80's rock and punk as well. The album manages to showcase the band's tight unity along with their strong hooks and melodies which they deliver with a laid-back energy – each song is overall well-performed and doesn't outstay its welcome.
What makes Soldier On an enjoyable listen is its well-rounded nature drawing a balance between catchy pop and more intense rock-fueled numbers. Stand-out "Don't Let Go" shows off their bluesy roots and "All Enough" has touches of modern electronic music. On occasion, the album's sound can veer toward repetition, but thankfully most of the songs here have enough energy and presentation to carry them through. Production-wise, Soldier On has a large-scale feel yet still emphasizes the organic, combining southern rock and modern indie with enough wit, personality, and fun to overcome its more overt influences. On each of the 10 tracks here, Mona has their sights set on a bombastic and visceral sound and, more often than not, are able to achieve it with charm and confidence.
For most bands these days, there's immense pressure to create an album that's not just successful but also an artistic statement. With Soldier On, Mona offer an effective showcase of their talents while having a blast doing so. That's fine by me – a little rock and roll never hurt nobody.
Songs to Spin: "Don't Let Go," "Thought-Provoked,"  "All Enough," "Kiss Like A Woman"