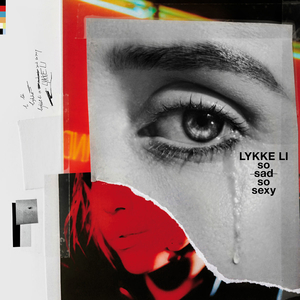 Crying In The Club: How Lykke Li's New Album Explores the Dark Side of Partying
There are two types of club music I've discovered. First, there's the loud, over the top, celebratory kind that's typically reserved for episodes of MTV's Spring Break and the latest Katy Perry album. Then there's the slow, melancholy kind – the soundtrack to a half-empty glass and unanswered text messages at 4:00 am when everybody's gone home. Lykki Li's latest album, So Sad So Sexy, occupies the later space as it inhibits a woozy and gothic atmosphere that revels in the pursuit of desire while also examining its own pratfalls and undoings.
Most of the songs featured here are haunting in their sparse yet moody arrangements. Opener "Hard Rain" starts with strings before expanding into a techno-electronic beat with harmonies as Li's voice floats above it all like a ghost going from room to room. The soundscape on So Sad So Sexy is a diverse mix of R&B, electric and synth-pop, but its best moments arrive when Li opens up her sound and adds some humanity and vitality to it. Highlights such as "Jaguars in the Air" see her unearthing emotional layers over some truly captivating vocals and gorgeously lush lo-fi production combining pastoral folk and 808's.
The sense of cohesiveness and unity allows So Sad So Sexy to remain an engaging listen and most certainly is unique in the moods and imagery Li tries to create. Her lyricism offers bleak yet emotional imagery on tracks such as "sex money feelings die" with lines like "All my lights off when I wake up / tears under my makeup / your lips will stay shut / wanna wake up / wanna break up" and on the title track where she uses the chorus to turn suffering into something romantic and cathartic.
At times, the album can admittedly feel repetitive as Li delves into much of the same subject matter throughout, and occasionally the production can overwhelm her vocals and lyrics. But in the record's finest moments, So Sad So Sexy creates a vibe that's immersive and hypnotic in its minimalist beauty. Despite its downcast tone, ultimately there is a hopefulness to Li's music, which can be heard most notably on final track "Utopia" where she waxes poetic over some of the album's brightest production – "I see the dream in your eyes and I want it / it's burning bright like a fire from a comet." It's here that the record showcases its emotional resonance, and the final track has the scope of a soaring anthem – which leads to one of the album's flaws: some tracks don't quite fully resonate upon first listen. However, So Sad So Sexy does offer a rewarding and fascinating experience and one that gives listeners a raw and unflinching portrait of Lykke Li as an artist. One final piece of advice – don't play this at a party. This isn't turn-up music but rather turn down music of the highest order.
Songs to Spin: "So Sad So Sexy," "Jaguars in the Air," "Utopia," "Hard Rain," "Two Nights."