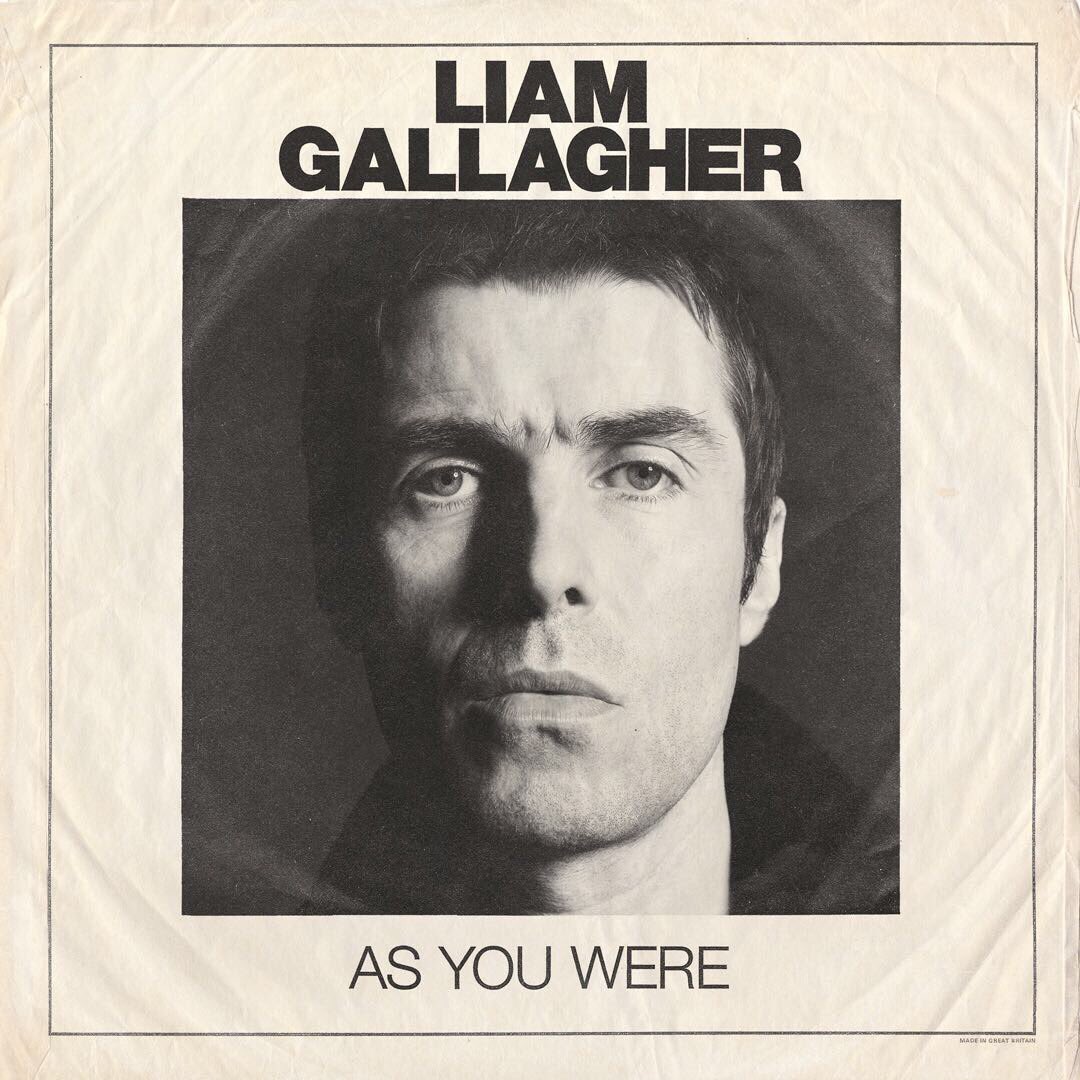 It's hard to believe this is Liam Gallagher's first solo album since the breakup of Oasis back in 2009. It's hard to believe that Oasis have been split up for that long, but we won't go there. It's not because Liam has been slacking off or being lazy. He's kept himself pretty busy, and those following his career will probably be familiar with his post-Oasis band, Beady Eye. They were essentially Oasis minus Noel Gallagher, and released two albums before disbanding in 2014. For some reason, they didn't make that much of an impact on the music industry, certainly not as much as Oasis had. Some critics and fans at the time argued this was because they didn't have Noel; that he was the best songwriter of the group and the essential glue they needed to hold everything together.
With the release of As You Were on 6th October, Liam Gallagher singlehandedly blew this theory out of the water.
In the UK, it topped the album charts immediately, outsold the rest of the Top 10 combined, achieved the highest single week vinyl sale in twenty years, and became the 9th fastest selling debut album of the decade.
That's…quite the achievement, and it seems it's definitely worked in Liam's favour to make a clean break from both Oasis and their former members, working with a plethora of excellent session musicians and producers instead. Now, he stands as a rock star in his own right, and he's doing a great job of it. People want to hear from him, perhaps partially because of his charisma and personality, but also because they're excited to hear what music he's going to put out and what he's got to say. The nation has always had a love affair with Oasis, and this seems like the natural next chapter.
Bopping opener and the first single off the album, "Wall Of Glass," is a real feel-good beginning with a catchy singalong stadium chorus and a guitar lick that seems as though it could have been lifted directly from one of Oasis' old track. There are a few songs here that have that kind of vibe. "Bold" has those familiar Oasis-esque minor inflections and chord progressions, as does "For What It's Worth," one of the other singles off the album – the latter being a pretty epic power ballad that's definitely going to be a stadium hit on Liam's upcoming tour.
"Come Back To Me" is like a cross between John Lennon and Oasis. The same can be said for "Universal Gleam," which begins like a lost track from the Imagine sessions, with the chorus transitioning into something off Definitely Maybe before slipping seamlessly back into the Lennon verse. It's a beautiful song and one of the highlights of the album.
It seems slightly paradoxical, really, to say that Liam Gallagher sounds like Oasis. Of course, he's going to on some level. He was the voice of Oasis. To many people, he IS Oasis. So having that kind of sound in no way lessens the enjoyment or importance of these tracks. In fact, it enhances them, especially if you're a fan of his old band already. It's like taking a nice trip down memory lane, and there's definitely a whole load of nostalgia for me personally when I put on my headphones and blast out this album.
When I first started listening to Oasis back in the 90s, I gave them a spin because someone told me they sounded a bit like The Beatles. It's encouraging to see the Beatles references that used to feature prominently in many Oasis songs still litter the tracks of As You Were, in a pleasing and enjoyable way that make it fun for the music nerds to look out for.
We have the word "yesterday" in "Bold," which I'm fairly sure has been used more than once in Oasis songs of the past, sung in the very specific way of "yesterdayayayyy." Then there's "helter skelter" in "You Better Run," which also amazingly has a Rolling Stones reference: "angels, gimme shelter, cause I'm about to fall, it's all gone helter skelter, I'm not afraid, I'm gonna save us all."
"Chinatown" has got "happiness is still a warm gun," a fairly obvious one, and "I've All I Need" features "tomorrow never knows" and "all things must pass," which is of course, a George Harrison reference. Even the undulating bass line during the verses of "I've All I Need" is pretty reminiscent of "Tomorrow Never Knows" itself, so the nod is even more fitting here.
There's probably even more than that – subtler references residing deep in the lyrics that you have to dig for, but looking for them is all part of the fun. They're like little Easter eggs for Beatles fans and make the whole experience of listening to As You Were more enjoyable.
But although Liam is clearly still very proud of his heritage and his origins, and he's obviously always going to be known for Oasis, this really does feel more like a "solo career" – not just an attempt to keep the old band going without his brother. It's enabled him to branch off and experiment with different sounds and vibes, and even if overall the album still has that 'Oasis feel' to many of the tracks, there are others where it's less prominent.
Both "Chinatown" and "Paper Crown" have that laid-back psychedelia sound reminiscent of the mid to late 60s, almost like the Kinks or the Small Faces. Even something like "I've All I Need" has that kind of vibe, and the melody of the main chorus hook line of "Paper Crown" sounds like something lifted straight off Syd Barrett's The Madcap Laughs.
"You Better Run" and "I Get By" both feel like they've been influenced by soul music to some extent, particularly in the choruses with the cascading brass sounds and backing vocals.
In some ways, those are the more interesting songs on the album, ones where you can hear an indication of places Liam might take his music in the future and is forging his own distinct sound that's inspired by but not copied from his influences and history.
My favourite line from the album is almost certainly this gem from "Bold": "yes I know I've been bold, I didn't do what I was told." If that doesn't some up the LG attitude then nothing does. Still bold, still not doing what he's told, and despite being in his mid-forties, he's very much still going strong. This certainly isn't the last we'll be hearing from Liam.
Check out liamgallagher.com to snap up some of the cool box sets and vinyls on offer, and look out for his imminent tour dates in the UK, US, and Europe later this year.