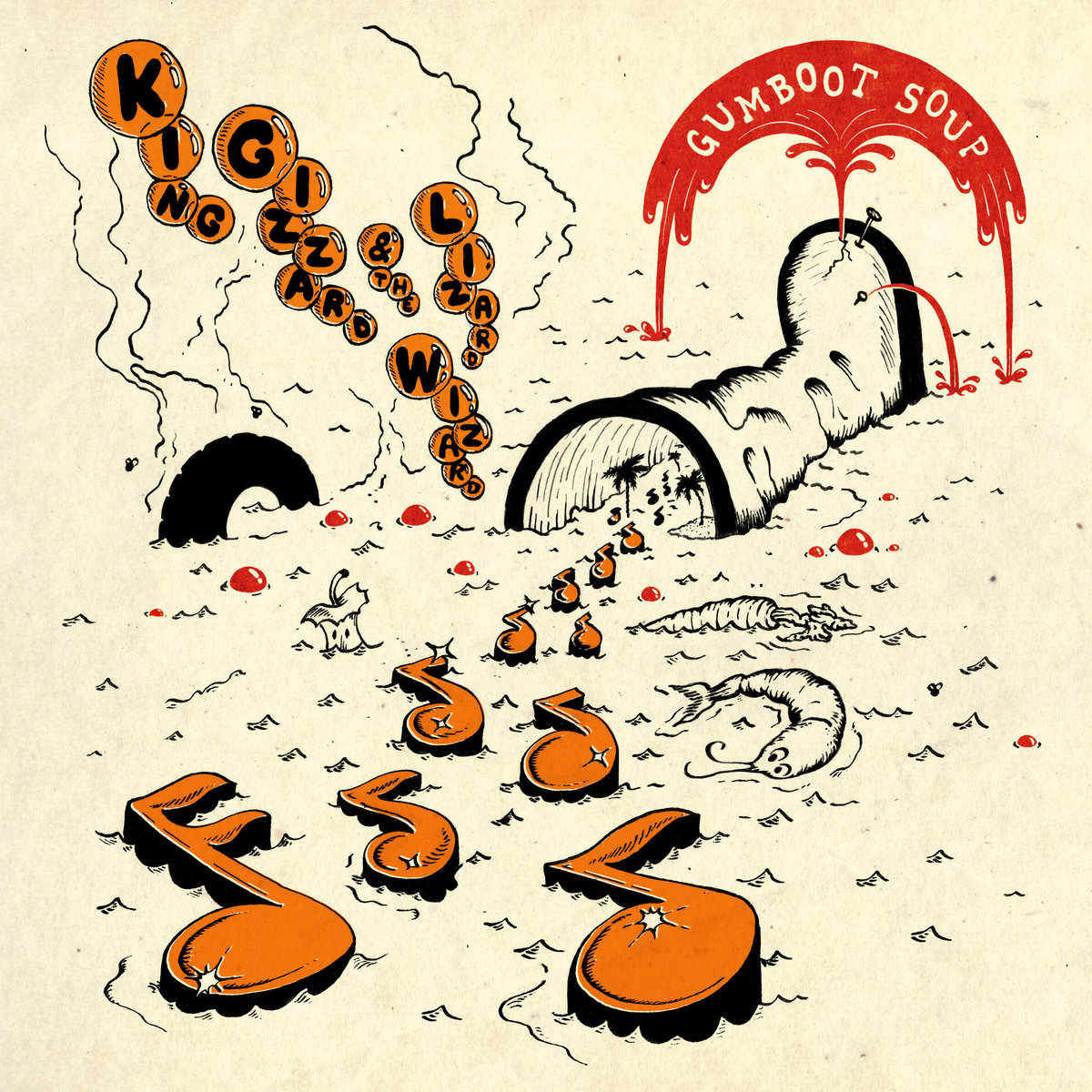 Five albums in one year. Some might say it's outrageous. Others might laugh in doubt. For King Gizzard & The Lizard Wizard, releasing five albums in one year is no laughing matter.
With the releases of Flying Microtonal Banana, Murder of the Universe, Sketches of Brunswick East, and Polygondwanaland, the seven-piece Australia-based ensemble finally dropped Gumboot Soup on December 31st, accomplishing the goal they set for themselves at the beginning of this past year.
With the denouement of 2017 swiftly approaching, fans were beginning to question if the final record would be released as promised by the band's frontman, Stu Mackenzie. But King Gizzard delivered just in time, unveiling an impressive eleven track collection on their Bandcamp page. Talk about a New Year's Resolution that you can stick to.
Gumboot Soup lives up to its name – a stew of psychedelia, grunge, odd time meters, and everything in between. "Beginner's Luck" opens the album in classic Gizzard fashion, with whimsical lyrics about "dollar signs in your eyes" and other slick casino-isms. With that being said, while lyrically these songs tend to tell winding and unconventional stories, what's most impressive here is the level of musicianship throughout each song.
In a recent interview with Consequence of Sound, frontman Stu Mackenzie described Gumboot Soup as a "place for us to put a lot of different ideas that we're trying to experiment within the song, rather than within the whole record. And for me, some of my favorite songs of the year are on the fifth record. It's more song-oriented than album-oriented."
Alternatively, many scoffed at Gizzard's grandiose goal to release five studio albums in one year, having doubts that quantity would become priority over the quality of each song. However, with seven highly skilled multi-instrumentalists (not to mention a frontman who can play the zurna, mellotron, and sitar with ease), critics were proven wrong with the release of Gumboot Soup. The level of detail and inventiveness is evident throughout.
Pro tip: please, for the love of St. Lizard Wizard, listen to this album with headphones on. Strap on your ear goggles and buckle up for an intricate sound trip. You can thank me later.
To backtrack a bit, Gumboot Soup's predecessor Polygondwanaland had a more alternative way of distribution. Although loyal to selling their music via lesser-known platforms such as Bandcamp and newly pressed vinyl records, Polygondwanaland was free of charge, and according to the band, for their fans to independently distribute.
In an interview with NME.com, the group collectively stated "We do not own this record. You do. Go forth, share, enjoy." This distribution move serves as a true testament to the band's dedication to their music and fanbase and furthermore attests to the rapid success of Gumboot Soup.
Other stellar tracks include "I'm Sleepin' In," a laid back, short n' sweet jam that'll make you want to stay under the covers, hit snooze a few more times, and groove the day away. "Muddy Water" combines grunge and progressive rock for a soupy headbanger anthem. "The Wheel" closes the album with an old school swing feel, featuring impressive drum stylings delivered by the band's percussionists Eric Moore and Michael Cavanaugh.
This album is currently available for purchase on their Bandcamp page, and available for streaming on Spotify and their record label's YouTube channel. Special edition vinyl records that include a free MP3 download of the album can be pre-ordered via Flightless Records.