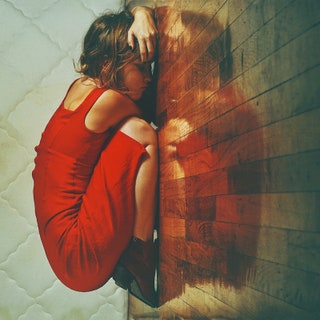 In a moment when tarot-dealing, astrology-loving witchy women are experiencing a renaissance, self-proclaimed "good witch" Johanna Warren's fifth album Chaotic Good (May 1, Wax Nine/Carpark Records) contains 10 tracks of hypnotic, healing folk. Her trademark tilt towards the supernatural is on full display from the opening lines of "Rose Potion," evoking survival from an all-consuming conflict: "The dead walk behind me/though I do not recognize their faces/I know they are here to remind me of the space/between the spaces." From there, the next 36 minutes provide a deep dive into trauma and the bitter pain that comes from losing all self-worth to a tumultuous relationship, recognizing the part one played, and ultimately putting oneself back together.
Warren's layered lyrics paint an intense emotional landscape equal parts regret and rage: chasing after someone who doesn't know what they want ("Part of It"), and an intense search for your own truth ("Only the Truth"). Separated from the music, her words would work equally well as poems or spells.
The majority of the album is soft and acoustic, but the moments where Warren does pick up the pace juxtapose intense guitar riffs with dramatic, classical piano arpeggios ("Faking Amnesia," "Twisted"), reminiscent of other genre-blending artists like Amy Lee. These louder, fiercer tracks break up the thread of folky similarity running through the album and let both Warren's vocal range and simmering rage burst forth in some of her strongest moments. There's some screaming in the last minute of "Twisted" that is particularly cathartic.
The piano-driven closer "Bones of Abandoned Futures" paints a vivid picture of a hard-fought victory over trauma; even while we mourn for what might have been, we acknowledge that something better has taken its place: "the ruins are blooming with new life/and I won't let you rip out the sutures." Ultimately, with its mix of confusion and clarity, Chaotic Good is the album to turn to in moments of reflection, those times when you need either a screaming or crying session to know that you are stronger than what haunts you.
Highlights: "Twisted," "Every Death," "Thru Yr Teeth," "Bones of Abandoned Futures"
For fans of: Joanna Newsom, Tomberlin