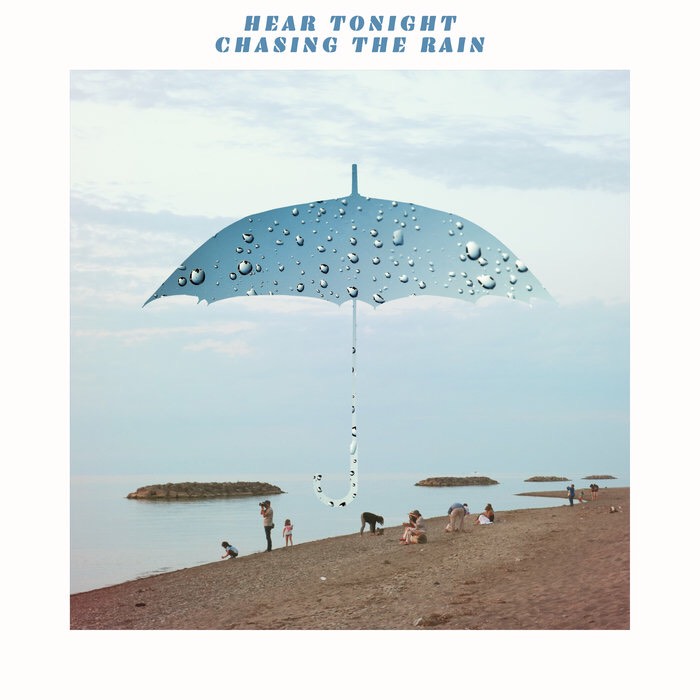 Hear Tonight is based out of California, Pennsylvania, but on my first glance at their Facebook page, the only word I saw was "California." So, I spent my initial listen of their latest EP, Chasing the Rain, imagining the story of a SoCal band— a story about beaches, boardwalks, Hollywood's Walk of Fame, and strumming guitars on all three.
Even after clearing up my misconception, this is an image I could not get out of out of my head: one way or another, Chasing the Rain is California music. Like a postcard from someplace warm, this indie-rock EP is colorful and wistful in equal parts, pairing brightness with nostalgia and sunshine with the titular stormy weather. Full of bouncy hooks and poignant lyrics, Chasing the Rain is well-worth a rainy-day listen.
The first track, "Cold Dancing," is easily my favorite of the EP's five songs. Describing the rise and fall of a hopeless crush through the literal ebbs of the tide, it is an instantly catchy and attention-grabbing opening that highlights the band's skillful arrangements. Lead singer Shane Turner has a lovely tenor, and the band frequently superimposes his voice directly on top of the background vocals to create a sense of echo and depth. On "Cold Dancing,"this effect is taken a step further: the song begins with an electric guitar solo before adding the rest of its instruments one-by-one, building layers as though slowly drifting out to sea. It is elegantly crafted, and the atmosphere pairs nicely with the song's oceanic imagery.
Lead single "Stay Dry" is another standout. Sparky with acoustic guitars and cheerful vocals, it is pop-like in a way that reminds me of Colbie Callait's 2007 hit "Bubbly," and I could see it getting similar airplay. Lyrically, "Stay Dry" presents the EP's most vibrant imagery; spinning memories of staying out late and dancing on the beach, it's a lost-on-vacation tale that is alternately optimistic— "when you dance all night/you take a ride/when you're lost/you're in paradise"— and bittersweet— "oh, you don't know where you are/oh, but you wanna go home." "Taking the Risk" has a less memorable narrative, but it employs similar vivacious rhythms and acoustic undertones. Upbeat and sweet, these two songs would fit well on any summer soundtrack.
While still incorporating elements of pop, "Choking" and "Tremble" are a bit more rock-oriented. "Choking" is the gloomier of the two songs in both theme and melody; its lyrics discuss leaving a bad situation behind, and its slowed-down midsection boasts the EP's darkest and most evocative guitar work. "Tremble," meanwhile, is heavy on percussion and internal conflict, with a delicate bridge built around a yearning "wish you were here." Both songs are excellent showcases for Hear Tonight's capabilities with subtle emotion.
At just seventeen minutes, Chasing the Rain is a short sample of Hear Tonight's music, but it's a memorable one. Full of lush arrangements and swaying melodies, Hear Tonight's sound is distinctive, delightful, and brimming with summer. The band has tons of potential, and I'm excited to see where their career goes from here. As the weather gets warmer, I'll be thinking of Chasing the Rain.