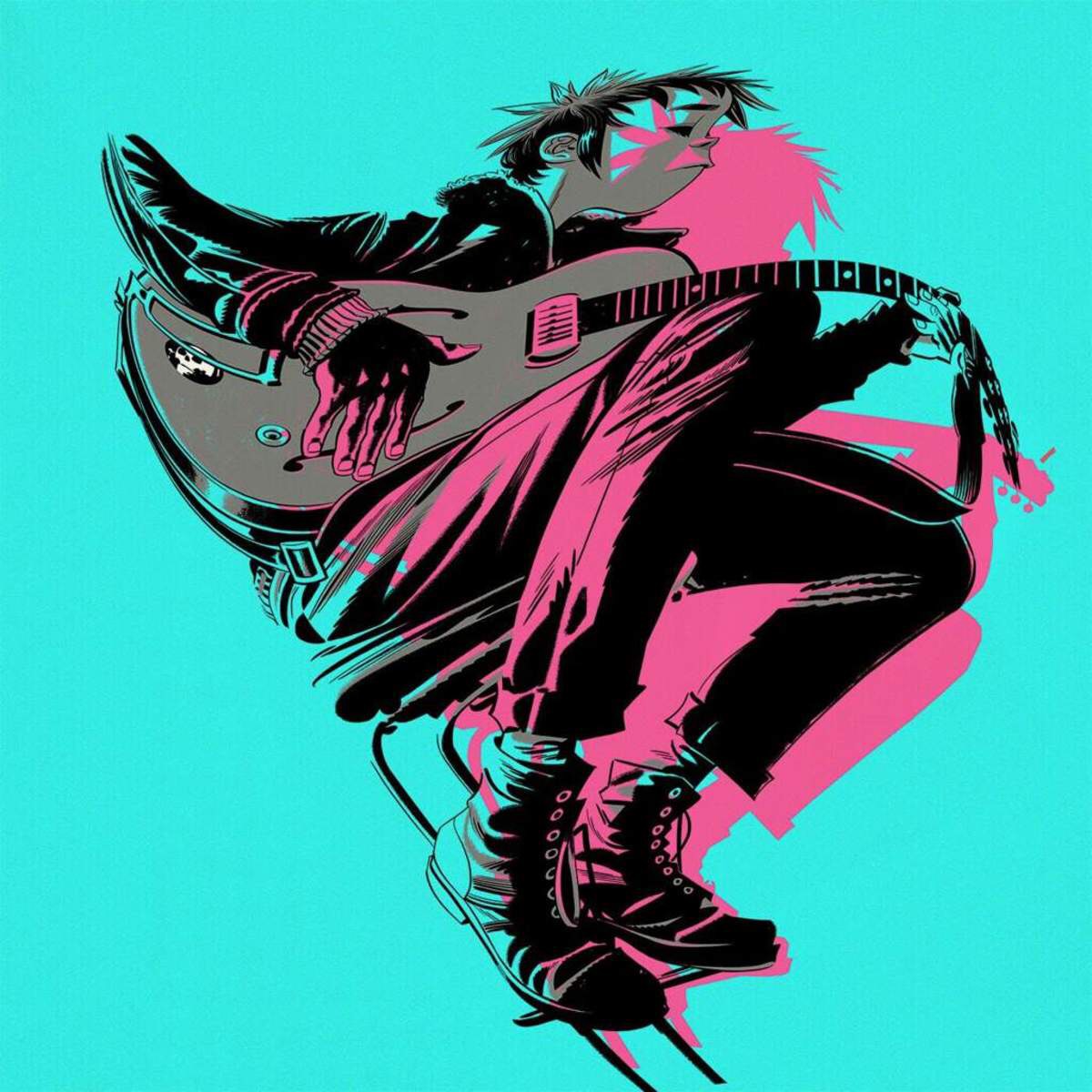 Question: what do you do when the cartoon bassist from your virtual band is framed for a fictional crime by the live-action kingpin of an unspecified, presumably fictional crime syndicate… and then sent to a very real prison?
Answer, apparently: hire a low-tier cartoon supervillain from a popular nineties television show as his temporary replacement, create a multi-platform online jailbreak campaign, and film an irreverent music video with Jack Black… all in the midst of promoting your latest album, which you debut by recording a Tokyo concert and posting the footage on YouTube, but only for one day.
It's a madcap life, but that's nothing new for the Britain-based "virtual" electro-pop/alternative rock act Gorillaz. The band's always been known for their bizarre backstage drama—remember that time their lead guitarist disappeared so they replaced her with a cyborg copy?– and the promotions surrounding their new release The Now Now have been no exception. Following a run-in with a demonic crime lord known as "El Mierda," the band's bassist —egomaniacal Murdoc Niccals who, rumor has it, is actually a zombie— has been sentenced to do time in London's HM Prison Wormwood Scrubs. And since the remaining three members of the band— ditzy lead singer 2-D, spunky guitarist Noodle, and stoic drummer Russel Hobbs—  are used to a little bad news in their ranks, they have naturally sought his replacement in another green-skinned ne'er-do-well: Ace from the Gangreen Gang, rival to The Powerpuff Girls.
Like I said: "madcap."
(All this is fictional, of course. In reality, Gorillaz is the brainchild of singer/songwriter/multi-instrumentalist Damon Albarn and Tank Girl illustrator Jamie Hewlett. Albarn is the band's only permanent musician, and he records and performs the songs with assistance from a rotating cast of collaborators and background talent.)
The Now Now is the band's sixth album, and it comes barely a year after 2017's Humanz — basically warp-speed in the music world. But in spite of the breakneck pace and the behind-the-scenes craziness, the band has mostly somber themes on their minds. The album was written largely in hotel rooms while the group was on tour, and as such, it is preoccupied with both ever-changing locations and the strange solitude of living in one. Or, as 2-D put it to NME, when asked if the singing-focused album was his "solo album": "Han Solo has always been a massive inspiration to me, and I guess he's somewhere in all my music, but I wouldn't say this album is only about him. Although both share themes of loneliness and isolation about a lone traveller drifting through the galaxy without a home. So actually, I guess this is my Solo album. Cool!"
Despite the title, the music on The Now Now isn't best described as "current." Instead, the songs are alternately retro-futuristic and straight-up retro, synth-heavy with a noticeable influence from genres including shoegaze and funk. It's a world-outside-of-time, and it combines elements of 60's, 70's and 80's pop into an exploratory joy ride. A treasure trove of artistic electro-pop-rock gems and thought-provoking lyrics, The Now Now is a delightful and highly rewarding listen.
The album's first single and opening number is "Humility," a bouncy synth tune with a warm-weather flare. The song's lyrics hint at the album's serious mood —as Albarn explained to The Sun, the song is largely an anti-Isolationism piece inspired by Brexit and the 2016 US election— but the arrangement is a cheerful one, bright with jazzy brass and pops of electric guitar. Combined with its goofy music video —in which Jack Black joins the cartoon band for a caper-filled romp down a beachside boardwalk— the upbeat sound gives "Humility" a "song of the summer" vibe. It's my bet for the album's breakaway pop hit.
Up-next are "Tranz" and "Hollywood," two smooth, danceable numbers with a trance-y atmosphere. Energetic "Tranz" is short and sweet, while "Hollywood" is a bit darker and more substantial. A collaboration with Snoop Dogg and Jamie Principle, "Hollywood" takes a tongue-in-cheek look at the siren call of fame. Stylish to the point of being sinister, the song paints its titular subject as a femme fatale extraordinaire —"'cause she can be a bitch/and it's a wonderful thing/Hollywood, she's so seductive," Snoop Dogg croons, with just enough vibrato to give you chills. Spooky, swanky and gripping, the song is a definite standout and a surefire club anthem.
Also groove-worthy are uptempo "Sorcererz" and "Lake Zurich." Featuring hyper-catchy drum and guitar lines as well as a repeated, echoed chant of "inner vision," "Sorcererz" is a feisty bop with a mystical quality that well-reflects its title. "Lake Zurich," meanwhile, reads like a piece of experimental jazz. Lyric-less save for a spoken-word bit in middle, the song is a sparkly mashup of freeform structure and quirky instrumentation — both cowbell and car sirens are heavily featured. Abstract and innovative, the two songs fantastically showcase the band's artistic risk-taking.
While The Now Now's dancing songs are audio treats, it's the slow and mid-tempo numbers that form the album's emotional core. "Kansas," for example, pairs introspective lyrics with a rhythmic melody, resulting in a forward-moving reflection on feeling downtrodden but soldiering on. Ballad "Idaho," meanwhile, is a string-infused drift through a storybook world. Its lyrics — "floated out into the woods/to hear the old elk call/touched a rainbow with my hands"—  are highly reminiscent of Sergeant Pepper's-era The Beatles. Spacey "Magic City" is also Beatles-like; a keyboard driven slow-jam full of shimmery imagery, it's a psychedelic descendent of "Lucy In The Sky." All three songs are place-themed, and they seem to observe their eponymous locations from a winsome distance. Their narrative is one of a wandering, poetic spirit, and with his knack for clever word choices and twisting phrasing, 2-D plays that part with intrigue and nuance.
Back-to-back ballads "Fire Flies and "One Percent" are the album's most openly poignant songs. "Fire Flies" is the darker of the two, its gloomy lyrics weighted heavy by booming thumps of brass. "One Percent," meanwhile, is helium-light, with an airy combination of violin, keyboard, and rocket-ship sound effects, all floating into each other like wayward balloons. Lyrically, "One Percent" finds 2-D yearning for meaning and love; he promises that "deep in a summer day/I'll be there with you," so delicate a performance it seems like it could dissolve at a glance. At just two-minutes-and-twenty-seconds long, it's a fleeting, unexpected dazzler.
Finally, closing track "Souk Eye" continues the album's conflicted affair with LA and life on the road. The song's Latin-inspired sound — complete with maracas and a toe-tapping guitar riff— accompanies a tale of faraway romance, of thinking of someone and "calling [them] back on my way through." It exudes cool, equal parts non-committal love letter and getaway jam, slipping through the listener's fingers with all the sly ease of a criminal at large
And speaking of criminals and getaways: at the Youtube-broadcast Tokyo concert where The Now Now debuted, "Souk Eye" was accompanied by a video of Murdoc speeding down a highway, making his escape from Wormwood Scrubs. There's an ironic poetry to the image; The Now Now is an album based on concrete places, but it ends by driving into the unknown. But while Murdoc's future is uncertain, for the members of Gorillaz, things are looking pretty clear. Wherever the virtual band ends up next, their funky, emotionally resonant work on The Now Now is bound to be remembered as a fantastic chapter in their story.