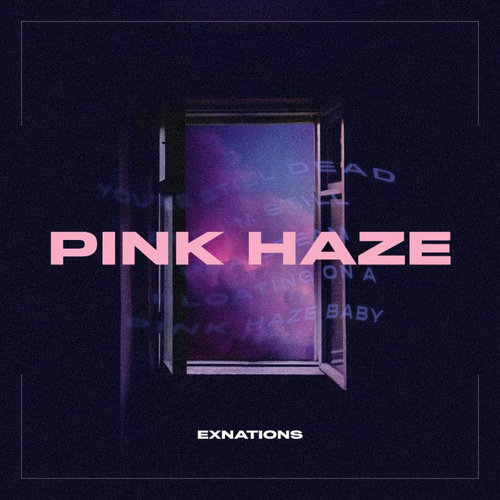 Close your eyes, and let your thoughts wander a bit. Nowhere in particular, no focus, just free thinking. The longer you sit in silence, the further your mind goes, the lighter you feel. You may think about past relationships or future concerts, or about the pure joy you felt stomping your light-up sneakers around at recess. You may start to think about the state of the world, feel some anger toward it, and remember that the future is in your hands. You can change it. You can bring back the soundtrack to your favorite 80s movie, dance away your sorrows, and choose to love and live without fear.
That sensation of having all those ideas at once, surrounded by the weightless fog of your mind is exactly how Pink Haze feels.
EXNATIONS is an indie pop band from Brooklyn, NY, and Pink Haze is the trio's sophomore EP set to release everywhere on June 28. As the title suggests, Pink Haze has undeniably ethereal energy that takes you by the hand and twirls you through an array of emotions, starting with love and ending in heartbreak. The sound leans toward a synthesized pop vibe as it combines the talents of Sal Mastrocola (vocals/guitar/synth), John O'Neill (guitar), and Taylor Hughes (percussion/synth) to create that intoxicated feeling. So, tie up your pointe shoes because we have a six-jam dance floor to pirouette across.
Pink Haze opens with "Tether," EXNATIONS' first single off this EP. It describes the rekindling of a past friendship by way of social media, a connection that wasn't available when the two first met. As Mastrocola croons through the easy-flowing lyrics, you're left wondering if the old friends ever become something more. Maybe they do because the very next song, "Floating on a Pink Haze," tells the story of budding love, as loud as 1,500 decibels, maturing into a very intense relationship that has aged without wrinkling. The two songs fit hand-in-hand as they both compare being in love to being high off the feeling the other person gives them. Effortlessly, Pink Haze deviates from the love songs for a moment and brings us the second single, "John Hughes Movie Soundtrack."
The third track on the record sounds just like a coming-of-age movie theme. It perfectly narrates teenage angst as it follows a girl through the woes of her life, falling in and out of love, losing friends, and finding sanctuary in the solitude of her bedroom with her favorite movie soundtrack. "John Hughes Movie Soundtrack" even gives a little nod to the LGBT community with the lyric: "All the pretty girls and all the pretty boys she loves." Unfortunately, with love comes heartache, and the fourth track shows that not all relationships were built to last. "Slow Erosion" illustrates the gradual falling out of love that most people experience. It starts with annoyance and ends in arguments, throwing words like knives and leaving scars on bruised egos.
"Modern Kids" lightens the mood as an ode to millennials. Nostalgia has become a fundamental emotion in our lives and the fifth track reminisces about the past and how we grew up. It paints the scenes of a schoolyard fight, teenagers smoking in the woods and making out in cars after class, and declares proudly that "we know more than you think we know."
As if calling back to "Slow Erosion," EXNATIONS' second EP comes to a melancholic finish with "Dreaming Still," a song that reflects on love lost in death and the inability to remedy the pain caused beforehand. Grief overcomes our narrator, blurring the line between his waking life and his subconscious as he mourns the death of a lover. The instrumentals create a dreamlike trance, giving us a look at the dissociative emptiness that grief can induce. While Pink Haze ends with a heartbreaking ballad, it truly fits the band's motto: "It's sad, but we're still dancing."
Follow EXNATIONS on Twitter, Instagram, and Spotify.
Upcoming Tour Dates:
July 5…..Top Cats, Cincinnati, OH
July 7…..Fubar, Saint Louis, MO
July 8…..The Record Bar, Kansas City, MO
July 9…..Cobra Lounge, Chicago, IL
July 10…..Miramar Theatre, Milwaukee, WI
July 11…..The Foundry, Lakewood, OH
July 12…..Black Forge, Pittsburgh, PA
July 13…..Gold Sounds, Brooklyn, NY