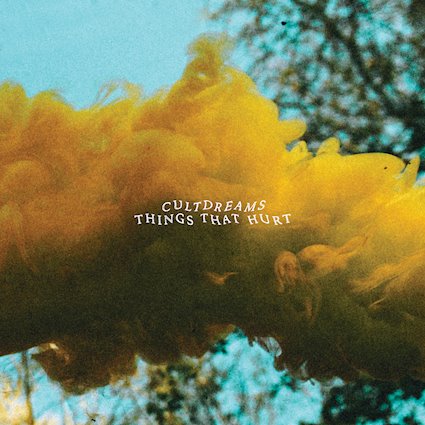 The sad lo-fi punk band formerly known as Kamikaze Girls are soon releasing a new 10-track album under the updated moniker Cultdreams. Slated for August 16 on Big Scary Monsters, Things That Hurt follows up the duo's previous work, debut EP SAD and debut album Seafoam, released in 2016 and 2017 respectively. For this year, the British two-piece have created an album filled with deep meaning, epic instrumentals, and poignant lyrics.
Vocalist/guitarist Lucinda Livingstone explained to Wall of Sound PR that Things That Hurt is about ''grief and loss, but also, we're living in a country going through absolute turmoil what with the UK's current political climate. There are so many things going on to dishearten everyone. All the time: so many minorities and different cultures affected. I don't know where my place in it is anymore- it's so hard to try and make changes or help, because it seems like we can never do enough.''
Ahead of the album's release, Cultdreams dropped single "We Never Rest" – featuring Katie Dvorak and David F. Bello – to give their fans a taste of what is to come. Paired with a colorful and mesmerising music video, "We Never Rest" features uplifting vocals and instrumentals.
Stand out track "Not My Generation" has an enticing introduction with roaring emotion as the vocals coincide with the music. The instruments overpower the song to effectively express anger. It gets more upbeat and powerful as the song goes on, with the vocals becoming more of a repetitive shout. This song reflects so much of what the entire world is feeling lately, and it's an amazing track.
Another exceptional track is "Flowers on Their Grave," reflecting a different sound profile compared to other tracks on the album. It's a lot heavier, creating a more suspenseful mood. Livingstone comes through with her chilling vocals and killer guitar riffs alongside Conor Dawson's intense drums as they create another track that will most likely be on repeat.
"Brain Daze" sounds similar to Pale Waves hit single "Noises" due to its calming introduction followed by a thrilling chorus.
"Statement" is a weaker track. It serves the lo-fi punk sound that Cultdreams are so brilliant at delivering, but it does not grip the listener right away; it doesn't have that same quirky sound as the rest of the album.
If you're looking for a new band to invest in, make it Cultdreams. A duo that serves pure realness with the ways of the world and mental health, they're not afraid to speak their minds, and that is so important – especially right now. Things That Hurt is a well thought out album filled with creativity and impressive vocal ranges and instrumentals.
Songs to Spin: "Not My Generation," "Flowers on Their Grave," "Brain Daze," "We Never Rest," "Repent Regress."