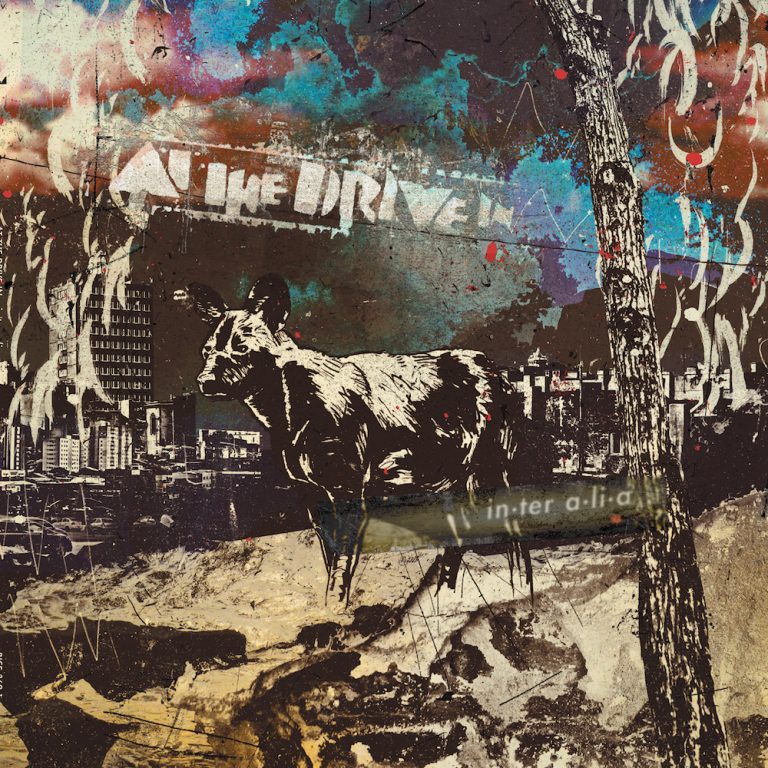 It's been 17 years since At the Drive-In released their last record, Relationship of Command, which was an album so propulsive and undeniable that (much like Refused's The Shape of Punk to Come) it instantly pushed the entire genre of post-hardcore music forward into the new millennium. It exploded into the public's awareness like a meteor landing Central Park.
In the Spring of 2000, I was working at the now-defunct Borders Books & Music in Erie, Pennsylvania, fresh out of college, and when the newest round of music magazines came in, At the Drive-In seemed like it was on every cover.  Every musician I knew was suddenly and completely hooked. Within a few months, At the Drive-In was playing the biggest festivals in the world and whipping the audiences into such a fury that they were forced to leave the stage.
And then – just like THAT – they were gone. Disbanded. They had ridden this impossible wave of momentum until it could no longer sustain itself. Again, like Refused, they reached their logical conclusion and were left with nowhere else to go.
That split birthed two bands: Singer Cedric Bixler-Zavala and guitarist Omar Rodriguez-Lopez went off to form the grandiose-bordering-on-pretentious prog rock outfit, The Mars Volta. And guitarist/singer Jim Ward, bassist Paul Hinojos, and drummer Tony Haijar debuted the more straight-ahead Sparta. Both acts had their moments (with The Mars Volta arguably being the most interesting), but neither could ever recreate the magic of that one perfect moment in time. It's the musician's blessing and its curse: you've finally solidified your place in history, and now you're stuck in it.
I know this is a lot of background before reviewing a totally different album, but I think it's important. Because the very first question I had when I found out there was a new At the Drive-In record was, "Why?" I mean, ultimately, who is this album hoping to reach?  The most obvious answer is, "me," and the rest of us "dudes-of-a-certain-age." The follow-up answer would likely be, "the younger crowd, who has always wondered what all of the hype around this band was really about."
And, I really hate to say this, but I'm afraid both groups are going to wind up disappointed.
The best way I can sum up in•ter•a•li•a is that it sounds very much like a band trying to sound like At the Drive-In. Some of the parts are there, like the jagged rhythms and unmistakable timbre of Bixler-Zavala's voice. But the songs indistinguishably blend into each other, sharing the same tempos and overall feels. Gone are the rollercoaster dynamics. Gone are the monster choruses. Gone are the experimental tones. Gone is the feeling of NEW. There's no excitement, and the band's appeal was ALWAYS that energy (it certainly wasn't the lyrics, because no one ever knew what the hell Cedric was singing about). It's like we're being shown a band who's trying to relearn what it used to do so effortlessly.
I've listened to this album about 10 times. I've walked around the city at night with it on my headphones. I've driven long distances with no other distractions. And every time I play it, my mind starts to wander. I just cannot keep engaged with this, even in settings where every other album I love ends up captivating me.
It was so disheartening that I ended up going back to Relationship of Command to see if maybe I had been wrong all along. But, no, even removed from nostalgia, it holds up – and still manages to sound fresh almost two decades later. If nothing else, it was great to be reminded of a record that held such a giant influence on me.
An important detail about in•ter•a•li•a is the absence of singer/guitarist Jim Ward. The alchemy of a band is very fragile, and you never really realize what someone's contribution was until they're not there.
What could have been if he had been involved? We'll probably never know. We old guys probably aren't going to be up for another round. And the younger generation won't see what all the fuss was for to begin with.