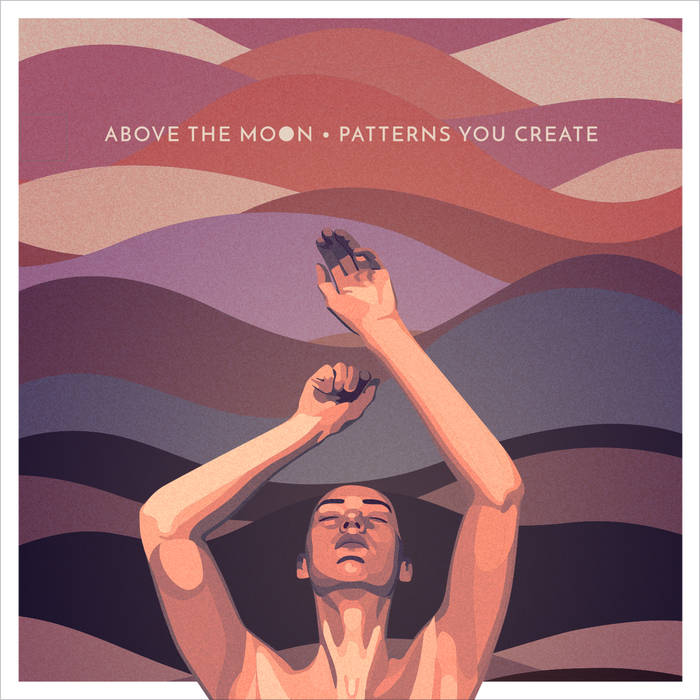 Forming just under two years ago, Above The Moon are a New Jersey alternative/indie act consisting of vocalist and rhythm guitarist Kate Griffin, lead guitarist Shawn Murphy, bass guitarist Chris Mangin and percussionist John Gramuglia. On their official website, they describe their music as having "lyrics with heart and riffs that bite," which paints a fun and intriguing image of what this band has in store for listeners.
The band goes on to describe their songs as setting a mood to both "compel you to roll the windows down and blast it" and "sit in a dark room and get lost in your own head." From listening to what they offer in their third EP, Patterns You Create, I can say confidently that their music gives a dual vibe of extroversion and introversion – going out and living life to the fullest with the people you love, or staying in and putting your headphones on to enjoy a personal gig all visualised in your head.
Blending together elements of indie and pop, Above The Moon grant us five tracks that will make you dance, mosh, sing along, and scream out in excitement.
The first track on the EP, "The Grey," is what I would expect from a band with a musical style described as indie and pop combined; but at the same time, it's not a tired, standard track. With high energy and an exciting chemistry between the lead guitar and drums throughout, "The Grey" is the ideal track to kick off the EP and introduce new listeners to these up-and-coming musicians and their passionate work. This song hooked me in, mostly due to its roots in what can be considered a "classic" punk sound – the kind of punk you would hear from acts throughout the 2000s, which many of us grew up admiring and still fall in love with time and time again – a sound that shines bright and highlights all the talent Above The Moon have to offer us. There is special interest for the vocal talents of Kate Griffin, who demonstrates a strong, powerful drive through the music, which is how you know there is heart and soul in a song.
The following track is the beautifully titled "San Junipero," and upon giving it multiple plays, I got addicted to the sound and rhythm. The title is greatly fitting, as it creates the image of a summer night in paradise where two love interests meet. It is a near obvious musical tale based around the Netflix original series Black Mirror episode of the same title (the idea further supported by the fact that San Junipero is a fictional city, created for the sake of the story in the episode). Without spoiling it for those who have the interest in viewing the show and have not gotten around to it yet, Black Mirror's "San Junipero" is a sweetly detailed love story between two young people, meeting in a heaven-like city where twists and turns ensue, and we are all left with a smile on our faces.
This track exchanges Black Mirror's 1980s aesthetics of "San Junipero" for a more modern feel fitting to the band's alternative style; it reminds me of Paramore's catalog from the late 2000s to early 2010s. I would pin it in an area between Brand New Eyes and the band's self-titled album. This aesthetic works well and even without the knowledge of the Netflix original show, the images of love, peace, and living young and carefree forever evidently flash through the mind as the song plays.
Musically, the track has many catchy and clever features throughout. The alternative inspiration comes through with every musician in the foursome shining in such a positive light. Griffin's vocals put together with some elegant yet empowering harmonising creates an idyllic background, and it gives me an urge to sneak out on a warm July night and have fun with friends and friendly strangers without worrying about the next morning. I shall give a special mention to lead guitarist Shawn Murphy for his fascinating guitar solo partway through the track – the true mark of a punk song. With greatly weighted guitars and a perfect vocal balance between soft and personal, and loud and soulful, I never want this song to end.
"San Junipero," compared to the EP introduction of "The Grey," shows off how well-rounded Above The Moon can be by hitting closer to the pop side of the spectrum, rather than the metal side.  I am more than prepared to add this track to my summer playlist for the year – and it is here just in time! If you need one song to convince you that this band are the next big thing to take over the world of music, without any hesitation, I suggest "San Junipero." It will not disappoint!
Lastly, fittingly, I shall share my thoughts on the EP's closing track, "Never Been Enough." Courtesy of drummer John Gramuglia, the rhythm guides the song alongside the lead guitar – a pairing that shows off a strong compatibility between musicians. This chemistry is what keeps a band going, both when playing and recording together, and personally, as it keeps relations intact and healthy in and outside of music.
In five energy-driven tracks, this American four-piece band are guaranteeing themselves a promising and thrilling future in the music industry. They may still be touring around playing clubs and an occasional festival, but I have a feeling it won't be long until their star begins to rise higher and higher. Above the Moon will stand out for their own take on their artistic, inspirational blend of musical styles. Their tracks are fresh and full of life, and that is a testament to what music means to these four talented people and how they are not planning to stop anytime soon – and so they shouldn't!
The only way is up for this band. As a music lover residing in the United Kingdom, discovering fresh talent from across the water gets me thrilled because I add some new tunes to my regular mixes. The anticipation begins to build, leaving me eager for when the buzz grows and an act begins to tour outside of the United States.
I promise that even if it takes months or years, I will do whatever it takes to see this band performing at their first ever London show. And I know that will happen; with talent like this, there is no doubt that Above The Moon will take over and win the world.
If you are interested in giving the band a listen, you can stream Patterns You Create and their previous releases on iTunes and Spotify now. They are also playing a short string of shows around New York and New Jersey, and you can check the dates on their official website and go give them the support they deserve.