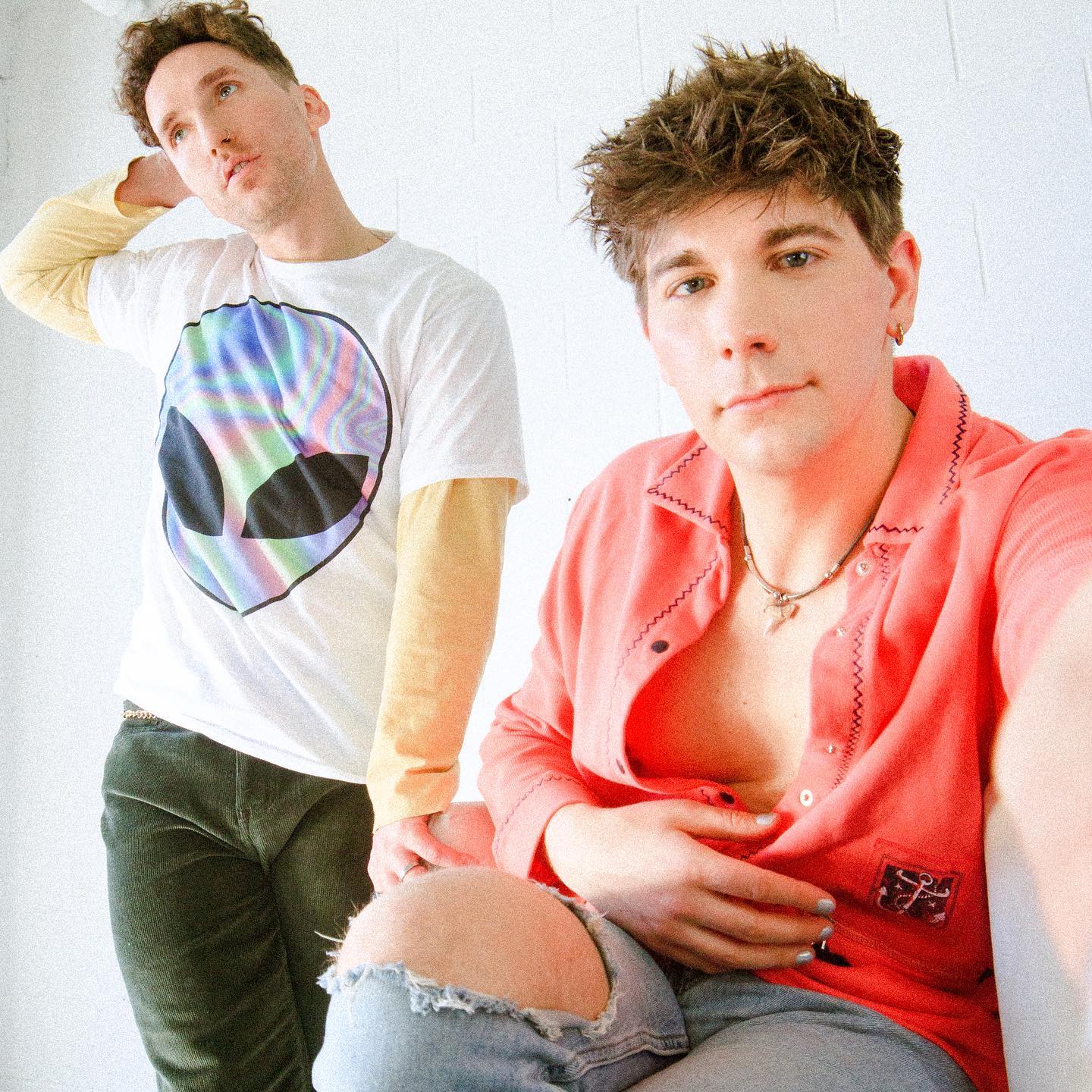 The Orphan The Poet Have Plenty of Moxie Left To Spare
For many bands right now, sustaining momentum is invaluable. Ohio-based alt-pop duo The Orphan The Poet have been on quite the roll lately thanks to the recent release of their single "The Moxie" – which has been garnering quite a bit of attention critically while continuing to catapult the band further into the mainstream. Frontman David Eselgoth and bassist and fellow songwriter Jake Floyd discuss what this single represents for them as a group, their rising fanbase, and preparing for what lies ahead.
"It's always exciting whenever you put out a new song, but this one feels different; most new songs tend to have hype and die down, but this one's going upstream a bit," Floyd says of their single's continued popularity, which has seen the group gain attention from outlets such as MTV. Echoing that sentiment, Eselgoth states how the creation of "The Moxie" felt like a significant experience. "Writing this one felt pretty different. Every artist aspires to be brave and take chances, and I think we took some chances here that I'm really proud of."
The song has been widely received by the group's enthusiastic fanbase which the duo frequently interact with and express notable gratitude for. On the subject of why their sound readily attracts so many fans, Floyd owes it to their high-energy live show – "Once you come see us play, you're part of the family, and we like to keep it that way, whether it be the opening act or anyone. If you're watching us play, you're one of us."
The goal for each The Orphan The Poet show is to leave a memorable impression on audiences and engage fans directly. "I've found that the sooner you make a two-way street, that's when people really feel like they're a part of something and go home and talk about it," Eselgoth says of why fan interaction is essential to building their audience and delivering a quality show. Another attribute to the group's rising success is the genuine nature of their brand and mission statement. "It's important for us that our brand feel natural and identifiable and an extension of our personalities – and we hope that comes across," Eselgoth says of the group's organic approach to creating content and establishing their own brand and aesthetic.
It's this type of can-do and proactive attitude that has allowed the group to thrive during these strange and unexpected circumstances we're currently living through. "This time has been a silver lining in a way in that it allows us to lock ourselves in a room and get weird. I'm not sure if without this downtime we would've been able to write this song or it would've sounded completely different," Eselgoth states of how the downtime between shows has affected their process.
Another shift in their process is how the duo write and create songs with their collaborators. "The biggest thing we've gotten used to is writing music over Zoom. Back in 2019, we would've scoffed at this, but we've gotten used to it and now do it every week," Floyd explains of the group's newfound creative freedom discovered in the midst of the pandemic. "As a band in the midwest, we were always at a disadvantage but once things moved to Zoom, it was another silver lining for us. Now, we can collaborate with our friends across the coast on a whim we could never do that before," Eselgoth states of the unexpected benefits the group faced during this time.
Through it all, it's ultimately the band's strong chemistry that has allowed them to continue striking a chord and moving forward. "Everything just feels second nature to us and I think that's a pretty good indicator of our connection as bandmates and as friends," Floyd of the innate connection he and Eselgoth share musically.
This chemistry is undeniably infectious but what truly allows The Orphan The Poet to resonate is how deeply they value their connection with their fans "The reason we do this is 100% because of our fans. Any fan is so important to us, and we want to keep that message loud and clear."
While we're still approaching the day fans can fully congregate at shows, in the meantime, The Orphan The Poet are at work on new music. Regardless of current circumstances, the band is grateful for the fact they're still able to pursue their dreams. "We're grateful for being able to work with the people we want to work with, and for the ability to shake up how the business is done," Eselgoth says of what they're most thankful for in these times. The motto of The Orphan The Poet can be summed up in Floyd's final statement – "We just wanna make cool art with our friends; that's all there is to it."
Be sure to follow The Orphan The Poet on all social media and streaming platforms and stream their latest single "The Moxie" if you haven't already!