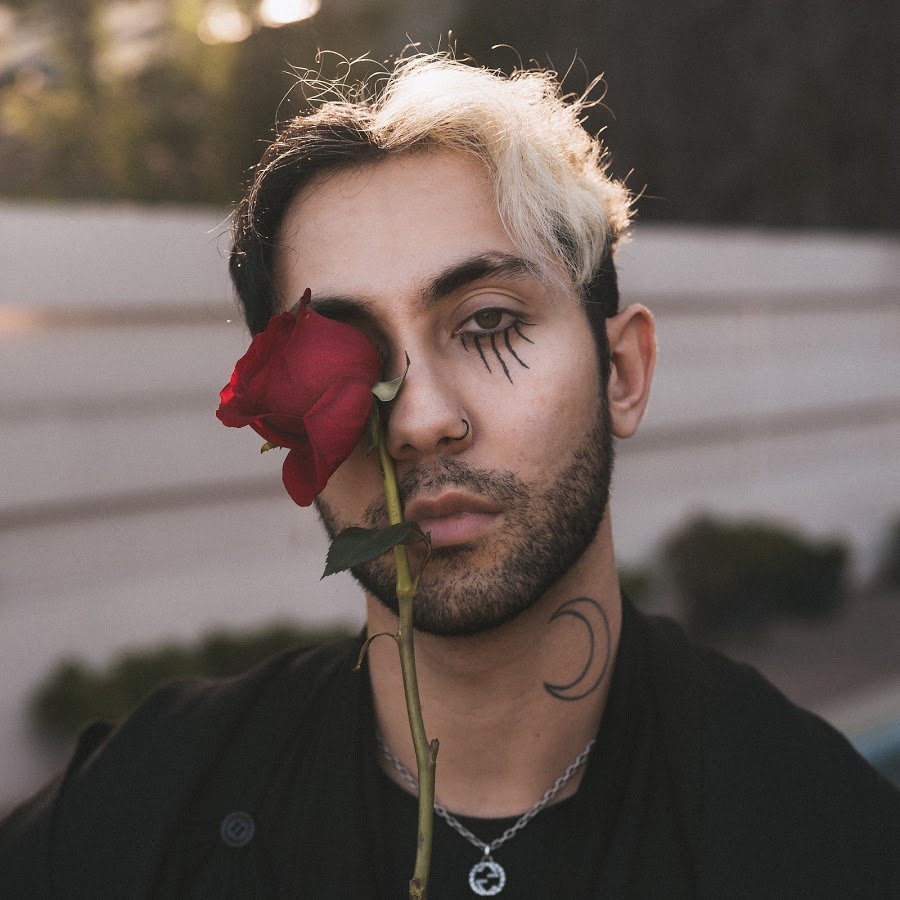 Photo: Brian Dao
Genre: Pop-punk, Emo, Rock, R&B, Rap
Location: Orange County, CA
Listen: YouTube, Spotify, Apple Music, YouTube Music, iheartradio
Can't get enough of musicians that don't fit in industry boxes? Meet Aryia.
You may recognize Aryia from YouTube. I stumbled upon him about three years ago in a Sam and Colby video, then jumped over to his channel and have been hooked on his music ever since.  "I'm so grateful to my past YouTube career; it really helped me jumpstart my music career. I've had a couple different channels get big, and I'd always funnel that audience into my songs. So, how much has it affected my career? I'd say it's 100% responsible for it," he tells Stars and Scars.
Born in Sugarland Texas, but raised in Orange County, California, Aryia Emrani knew he was destined to be a rock star. He got his first toy guitar at just 8-years-old after attending a middle school talent show. Aryia was entranced when one of the bands covered Green Day's "When September Ends." "I had never really heard any kind of modern hard rock before, so for me, it was like seeing color for the first time," he reveals.
Guitar lessons at 10-years-old didn't quite pan out for him. After a year of "Ode To Joy" and boring structured courses, young Aryia put the guitar on hold. Picking it back up a year later, he decided to teach himself how to play instead. "Funny enough, in my adult life, I became obsessed with classical music theory." These days, drums, bass, and piano have joined the repertoire. But let's not forget to count the bit of viola from fourth grade.
Aryia has proven you don't have to live and die in just one genre. With an ever-developing sound, he has mixed some of our favorite styles hitting that rap/emo/pop-punk hybrid creating relatable songs for all of our moods. "I really just make what I like. That's always been my style," Aryia admits. "My music is honest, and I believe that's what makes it special."
If you think you hear hints of My Chemical Romance, that's because they have been a huge influence on him since he was 11-years-old. "The theatrical elements mixed with energy and rock is such a killer combo." In August of 2020, he released an absolutely perfect cover of "Welcome To The Black Parade" with Nick Cates. Looking to revolutionize rock music, Aryia is trying to perfect that ideal mix of mostly rock with a touch of hip hop or EDM influence. With metal in the future, he aims for that ultimate collaboration with Bring Me The Horizon. "Our styles are similar but different enough that it would be suuuuper interesting to see what kind of sound we would make together."
Straying away from the rap style, his new album, Candyland, is sure to deliver more of a rock sound. Co-written by Nick Cates, this album will be the first project Aryia has not written or played everything completely on his own. Candyland will be making its appearance May 14, 2021. After having to cancel the last tour because of COVID-19, Aryia hopes that it will be safe enough by November to hit some major cities in the U.S. We can't wait!
Aryia filled us in on some other artists that we absolutely must check out. "Polyphia is genius and sooo slept on, and if you haven't heard of Daniel Caesar or Dominic Fike, do yourself a favor and check them out. These three artists/groups are some of the most talented musicians of our generation."
I also had to ask the most important question the world wants to know. If you could be any anime character who would you be and why?
"Shiiiit of course I'd have to be my boy Ken Kaneki. He's a strong ass ghoul and badass as fuck."
Aryia leaves us with this last powerful thought.
"I wish I could tell my younger self this, so maybe it'll resonate with someone. The things that you think will make you happy (getting a cool job, falling in love, getting a million followers, making a million dollars) will not make you happy. True happiness is found only in the present moment. It's this realization that is the reason I'm happy today. And why I don't care how famous or successful I get. As long as I get to make music that some people can relate to and enjoy, I don't really give a fuck how things turn out. I've got everything I need right here, and so do you.
Thanks for having me! :)"
I'd like to thank Aryia for having a good old chit-chat with me so I can share more of him with the world. Be sure to check him out on Spotify and YouTube. Keep an eye out for Candyland on May 14th. As always, stay strong and stay safe.