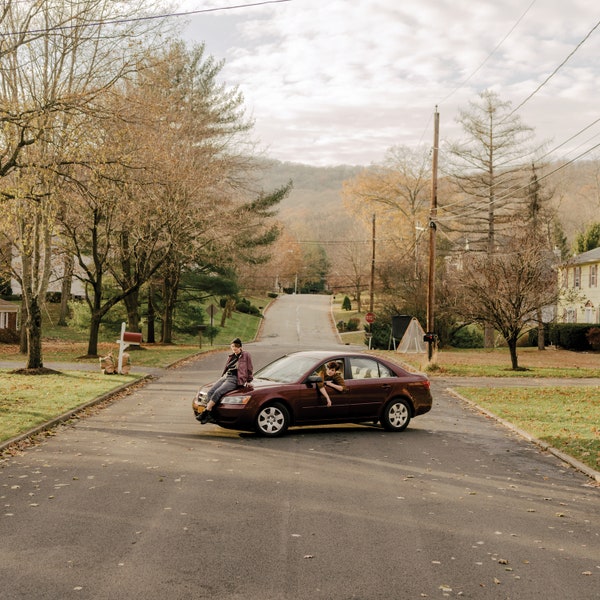 Self-discovery is a popular topic within music, most notably reflected in the singer-songwriter and indie rock realm. For indie rock outfit Adult Mom, their knack for deeply personal and bracingly honest songwriting and craftsmanship have progressed richly on their third full-length Driver, an apt title for a record that takes listeners a musical journey through some of the band's most mature, intimate, and eclectic music so far.
Much of Driver expands on the band's lyrical and musical themes of interpersonal relationships and connecting with one's true self. However, this time around, the substance and sound are much fuller, well-rounded, and at times exude vibrant energy all their own. The introspective aspect of the band's music comes alive in highlights such as opener "Passenger" and tracks like "Wisconsin" and "Breathing." These songs illustrate the versatility of genres and influences on display, ranging from folk and Americana to indie pop and alt-rock, all while showcasing Stevie Knipe's understated yet candid vocals.  The storytelling present here takes an organic approach and allows the subject matter to shine through – the apex of which is captured to sterling effect on tracks "Berlin" and "Sober," which contain some of Knipe's most nuanced and revealing writing and performing to date, leaving an impression on the listener long after.
As a listening experience, Driver benefits from its simplicity and intimacy, and its sustained mood makes for a truly cohesive and unified statement. The fluidity and sequencing between each track make each number feel concise and impactful and manage to maintain a genuine sense of momentum in the process. That fluidity extends to the chemistry between the band as well, with each member building off one another while also contributing something distinct and personal to each of the track's arrangements and proceedings.
Perhaps Driver's most defining achievement is how it extends the possibilities of Adult Mom's sound while staying true to its roots. The earnest and sincere heart of Driver can be pinpointed in key track "Regret It," which paints a heartbreaking yet tender portrait of a missed connection anchored by one of Knipe's most commanding and sincere vocal performances to date. It is here that Driver's true mission statement is revealed, which is to chronicle the human experience with vulnerability, honesty, and a real sense of relatability.
For many artists these days, creating music with a genuine resonance is usually the main objective. Adult Mom have managed to craft their most revealing and rewarding statement yet with Driver. For many musicians, much remains uncertain in current times; however, if artists can continue to create music that's as deeply felt and musically rich as Adult Mom, there's still hope to be found. Much like the best of car rides, Driver doesn't always bring you on expected turns, but the journey to its destination is just as engaging and exciting. If you understand that feeling, then this album is more than well worth the ride.
Songs to Spin: "Sober," "Berlin," "Regret It," "Dancing," "Breathing," "Passenger"