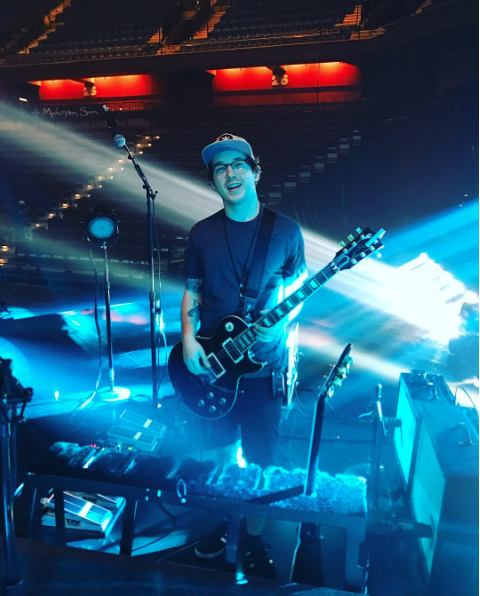 Guitar tech Kyle Kanzigg is one of the most awesome, humble dudes we've had the pleasure of interviewing! He's been on the road with some incredible bands, gaining friends and learning lessons in the process. Read on, and glean from his experiences.
S&S: Where are you from?
Kyle: I currently live in Nashville, but I'm from Reynoldsburg, Ohio. It's a small town outside of Columbus.
S&S: How and when did you become a guitar technician? Were you/are you in a band? Did you go to school for it?
Kyle: I started as a guitar tech when I was 18. I was in a local band in Columbus called The Hi-Fi Horizon. We played several shows with I See Stars. I became friends Brent and Devin. They posted a tweet saying they needed a guitar tech. I threw it out there that I wanted the job, and about a month later, I was on tour with them. I didn't go to school. I watched a lot of YouTube videos, read a lot of online resources on guitar repair, and shadowed a couple different guys who were working for bigger bands on the tours I was on my first year as a tech.
S&S: What bands have you worked with on the road?
Kyle: I'm currently working for The Weeknd's backing band, but I've worked with New Found Glory, Yellowcard, We Came As Romans, Of Mice & Men, Bless The Fall, Born of Osiris, Iwrestledabearonce, and I See Stars.
S&S: Do you travel on the band bus or have your own transportation?
Kyle: It all depends on the tour. Sometimes, I'll travel on the bands' bus, but if it's a bigger scale tour, they will have crew buses.
S&S: Take us through a typical day for you on tour.
Kyle: The day usually starts with load in, where I'll take all the gear out of the truck or trailer. Then, I'll set everything up on stage. Once everything is set up and working, I'll do a line check with the audio crew. This is where we go through each instrument individually to make sure the sound levels are where they are supposed to be and make sure the tones of the instruments sound good. The band will come up once that is done and sound check. Once sound check wraps up, I usually have four to five of hours of free time. I'll either change strings, repair anything that's broken, clean the instruments, or take a nap. Then once 9pm rolls around, it's show time. I'll usually do a line check with backline and audio crew to make sure everything is still sounding the same as it did at sound check, then the show will start. During the show, I'm on my toes making sure everything is perfect. If there are any issues with the guitar, I'll have to troubleshoot to fix it. The show must go on.
S&S: What are the best and most difficult aspects of being on tour?
Kyle: My favorite part of tour is all the travel. I grew up in a part of Ohio where not too many people had the luxury of traveling. Now that I get to travel all the time, I feel very fortunate. The difficult aspects for me are being away from home and missing moments with my family.
S&S: I'm sure being in close quarters with the same people for weeks on end can be both amazing and challenging. Have you formed any special relationships with band members or tour mates? On the flip side, how do you deal with cranky moments?
Kyle: Yeah, I have made a bunch of life-long friends from being on the road. Jeff Valentine from I See Stars is one my best friend. I didn't really know him before I started touring with them, but we got along really well right off the bat. We are both night owls, so we would usually stay up till the sun came up vibe'n out. Until this day, he is still a homie and is always there for me. Josh Moore from We Came As Romans is also someone I'm still close with. When I worked for them, he was the only guitar player in that band that I was responsible for looking after. We spent a lot of time together, and I grew a lot as a tech during my time with them. I worked for New Found Glory for a few years. I spent a lot of time with those guys, and I was always the young dude, so you could say they were like older brothers I never had. They were never afraid to put me in my place but were also always there for me when I needed someone to talk to. I'm a pretty chill and quiet dude so I just lay low and stay away from the negative vibes that would make me cranky.
S&S: How do you like to spend downtime on tour?
Kyle: Lately, I've been really into photography. I also have a little travel sized recording setup. I love making music, so if I have a day off, I'll usually spend the majority of my day in my hotel room writing and mixing music.
S&S: What are some of your favorite tour memories?
Kyle: Hmm. This is a hard one, but if I had to pick, I have two. The first would have to be Warped Tour 2013. I was on that tour as a guitar tech for both We Came As Romans and Bless The Fall, but the best part about it was Like Moths to Flames were on that tour. Eli Ford was their guitar player at that time, and he has been my best friend since we were like five years old or something crazy like that. We grew up learning guitar together, playing in different bands, and our parents took us to so many shows, so for me, that was a dream come true. I See Stars was also on that tour and whenever they are on a tour with me, their bus becomes my second home. The second would have to be the South America trip I just took with The Weeknd. The shows were massive, and I had never been there prior. We had a bunch of days off too, so I got to experience a lot of the city and culture there.
S&S: What do you do when you're not on the road? Do you have another job at home?
Kyle: I'm usually pretty worn out when I get home, so I just relax. I binge watch a lot of shows and write music. I currently don't have a job at home, but every now and then, I'll work as a server at a restaurant if there are big gaps between tours to make some extra cash.
S&S: What tours do you have coming up?
Kyle: As of right now, I'm finishing up The Weeknd's North American tour. We go home for a few days, then I go to Europe with them for festival season.
S&S: What are some life lessons you've learned on the road? What advice would you give to someone interested in becoming a guitar tech?
Kyle: I've learned to just always be prepared and organized. You need to have a plan when shit hits the fan. Advice to other young blood guitar techs would be what Josh Moore from We Came As Romans said to me when I was first starting -"It's a long fall from the pedestal." Don't get cocky but have confidence, treat everyone around you with respect even if they don't necessarily deserve it, be tactful, use your resources to make sure the rigs you are building are fail-safe, and swallow your pride when you make mistakes.
Tour Life is a new Stars and Scars featured section where we interview the "behind the scenes" rock stars on tour with bands – managers, security, instrument technicians, drivers, photographers, videographers, light and sound technicians, merchandisers, etc. Know someone who would be a great fit for Tour Life? Email elyse@starsandscars.com