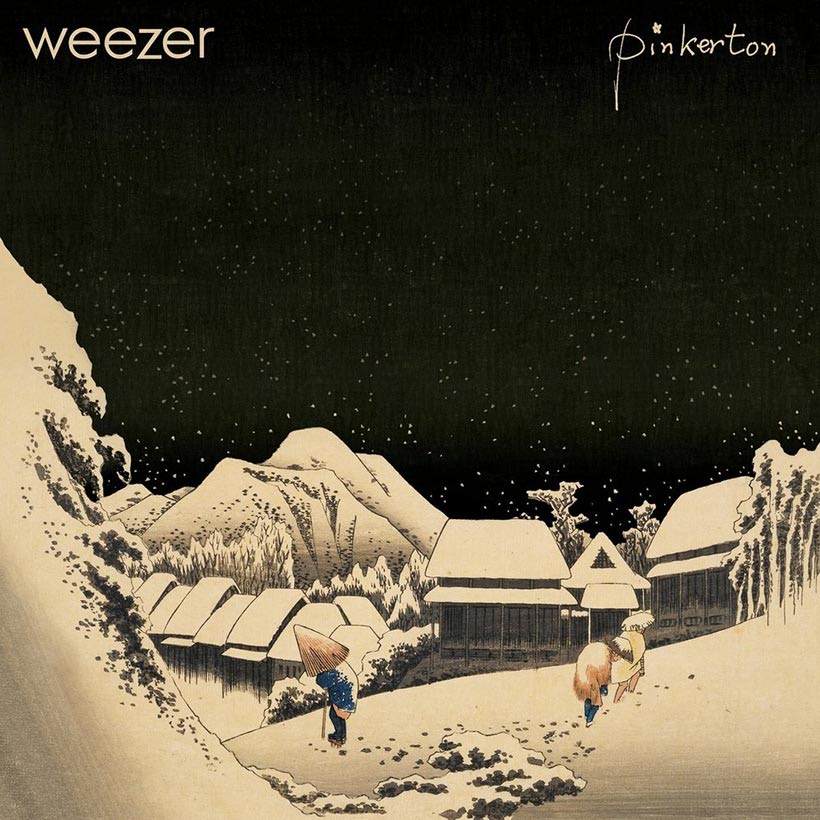 Welcome back to The Mise(ry)-en-Scene, where I'm taking a look at the history of the emo subculture and the Warped Tour scene by discussing a significant album from each year, beginning in 1994 with the first surge of pop-punk and moving towards today.
1996 – Weezer, Pinkerton
The word "emo" is short for "emotional hardcore," or "emocore" if you prefer. The term originated in the Washington D.C punk scene during the mid-1980s, where it referred to bands like Rites of Spring and Embrace who combined a hardcore punk sound with emotional, personal lyrics. These proto-emo bands by-and-large shunned the word, preferring to refer to themselves as simply "punk rock" or "hardcore." But the term stuck, and soon it spread beyond D.C. to the music world at large.
Flash forward to 1994, when record labels were rushing to sign alternative acts after Nirvana created a huge market for the genre. Among these acts was California rock band Weezer, who signed with DGC Records. Their debut album — the first of several called Weezer, known to fans as "The Blue Album" due to its primary-colored cover — was released on May 10, 1994 to high praise. Thanks in part to two music videos directed by future Hollywood star Spike Jonze, The Blue Album was a big hit. It went platinum in both the US and Canada and won four MTV Music Awards
The Blue Album skyrocketed Weezer to stardom. But frontman Rivers Cuomo was not a typical rockstar. A self-conscious nerd who wore hipster glasses and wrote lyrics about Dungeons and Dragons, Cuomo was more "Brian the Brain" than "Bender the Criminal" or "Andrew the Athlete." He was uneasy with his newfound fame (and in serious pain from a major leg surgery), so in 1995, he decided to escape the Hollywood scene by enrolling in a classical music program at Harvard University.
And that brings us to Pinkerton. Weezer's 1996 sophomore album, Pinkerton was composed largely during Cuomo's time at Harvard. The album began as a sci-fi rock opera based loosely on Puccini's Madame Butterfly, and though the idea would eventually be abandoned, the name "Pinkerton" remains as a nod to the opera's villainous male lead.
With its pop-like melodies and references to Buddy Holly, The Blue Album leaned into the band's charming dork image. But Pinkerton was a different animal. In a fan-club letter released on July 10, 1996, Cuomo warned listeners that this would not be a nice or happy album. "There are some lyrics on the album that you might think are mean or sexist," he wrote. "I will feel genuinely bad if anyone feels hurt by my lyrics but I really wanted these songs to be an exploration of my 'dark side' – all the parts of myself that I was either afraid or embarrassed to think about before. So there's some pretty nasty stuff on the there."
He is quite correct. Throughout Pinkerton's ten tracks, Cuomo complains about shallow hook-ups ("Tired of Sex"), pines inappropriately for an 18-year-old fan in Japan ("Across the Sea"), and snipes at a lesbian who won't make an exception and sleep with him ("Pink Triangle"). Largely self-recorded, the album is a bit gritty and unpolished in sound, with narratives that are callous, entitled, and a bit icky. It's also highly self-deprecating and mired in 90s Gen-X irony. I'm most struck by a line in "El Scorcho," in which Cuomo invites a girl to a Green Day concert and is delighted to discover that she's never heard of this very popular band. He's a loser, who knows that he's a loser, and he's obsessed with the idea that the object of his affections might be cooler than him.
It was a high-concept experiment and not a successful one. The album flopped with both critics and listeners, failing to chart and receiving largely negative reviews. Rolling Stone called it "off-key" and "juvenile," the LA Times "sloppy and awkward." It wasn't long before Cuomo hated it too; he would famously refer to it as "a hideous record" and "a hugely painful mistake" in a 2001 interview with Entertainment Weekly. The fallout took its toll, and soon after finishing Pinkerton's tour cycle, Weezer took a hiatus. They would return in 2001 with Weezer the second (aka "The Green Album"), which saw them go back to The Blue Album's more upbeat sound and cheeky persona.
But a couple of things happened in those interim four years. First, the internet took off, changing the way music could be shared and talked about. And second, "emo" started to happen. The list of emo-associated bands that released debut or breakout albums between 1997 and 2000 is a long one: The Promise Ring, Dashboard Confessional, Jimmy Eat World, New Found Glory, The Starting Line, Motion City Soundtrack, Thursday, American Football. Though still somewhat underground, "emo" was shifting from a punk-rock derogatory to a legitimate genre.
And thanks to the internet, that genre came with a movement. The internet gave fans an easy way to congregate, and it meant a band didn't need to be played on the radio or MTV to attract listeners. So when up-and-coming emo acts mentioned their own musical inspirations, fans would go and seek those albums out.
And what album was emo bands citing? Pinkerton. Numerous musicians have discussed the album as an influence. Chris Carrabba of Dashboard Confessional contributed two songs to a 2002 Weezer tribute mixtape.  Justin Pierre of Motion City Soundtrack called it "one of [his] favorite albums of all time". Fans went back and listened, and soon Pinkerton developed a serious cult following. Most tellingly, while the album had been voted the year's third-worst in a 1996 Rolling Stone readers' poll, in 2002, the same publication named it the 16th greatest album of all time.
And the reasons why Pinkerton was initially disliked were now the reasons why both fans and musicians loved it. Pinkerton was dark, raw, and unapologetically real. Listeners responded to Cuomo's confessional, ripped-from-the-diary-style songwriting and the fact that he was willing to lay out all his ugly, honest thoughts. After all, if "emo" meant "emotional," wasn't it best that those emotions felt sincere?
It helped, too, that Pinkerton wasn't immediately successful. As Taking Back Sunday's John Nolan would later tell The Observer: "That lack of mainstream coverage also gave you the feeling that you were in on a secret. That you had discovered something no one else knew about." Like many rock music movements, emo thrived on being counter-cultural, which allowed it to become an identity marker just as much as a musical one. Suddenly, listening to Pinkerton and to emo in general meant being a part of a specific group of cool-kid outcasts.
The word "emo" was still going through some growing pains, and the exact sound and image associated with the label would shift over time. But for a moment in the late 90s and early 2000s, the image of "emo" looked a lot like Rivers Cuomo. Just take a look at Seventeen Magazine's infamous 2002 "Am I Emo?" guide. Far from the black-clad, goth-inspired styling of the mid-2000s and beyond, the 2002 emo is a geek-chic, sweater-wearing hipster. Check out the caption on those glasses.
In many ways, Pinkerton has not aged well. It is casually sexist, fetishizes Asian women and lesbians, and makes light of some questionable sexual ethics. It's a product of its time and of an immature band, and 25 years later, it makes for an uncomfortable listen.
But despite these flaws, Pinkerton is a seminal piece of 90s alt-rock, and it was essential in establishing the themes and aesthetic of the emo genre. So if you're ride-or-die for Weezer like Matt Damon, then you're riding with one of the greats.
——
Also in 1996…
-In Gainesville, Florida, a University of Florida freshman named Jon Janick befriended Less Than Jake drummer-lyricist Vinnie Fiorello. Together they started the record label Fueled By Ramen, which would eventually become one of the most important labels in punk-rock.
-Meanwhile Agoura Hills, California, a teenage Mike Shinoda set up a studio in his bedroom and started self-recording with his high school band. They called themselves "Xero," but today we know them better as Linkin Park.
-Jimmy Eat World released their own second album, Static Prevails. Though it didn't reach the same height that Clarity would in 1999, it's still a minor classic in its own right and helped establish the group as a major name.
-Sepultura's Roots and Korn's Life is Peachy helped establish the growing genre of nu-metal. Life is Peachy also gave the genre some mainstream clout – it peaked at #3 on the Billboard 200 charts and ended the year at #127.
-After the tour's first run in 1995, Warped Tour founder Kevin Lyman struggled to find the money to keep the event going. Then he got a call from the skateboard shoe brand Vans, who were looking to start an amateur skateboarding contest. They decided to combine the two events, and so in 1996, the "Vans Warped Tour" was born.