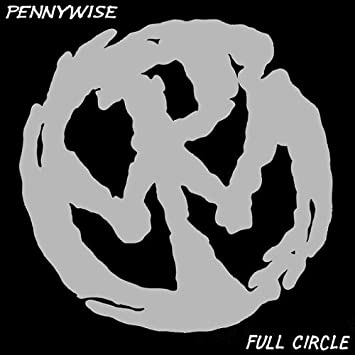 Welcome back to The Mise(ry)-en-Scene, where I'm taking a look at the history of the emo subculture and the Warped Tour scene by discussing a significant album from each year, beginning in 1994 with the first surge of pop-punk and moving towards today.
1997 – Pennywise, Full Circle
"Bro Hymn," Skate Punk, and How The Warped Tour Was Won
Emo was born in Washington D.C., but California was also a major player in the 90s punk rock world. After the London and New York City scenes of the 1970s, punk bands began emerging in a number of cities across the United States including Los Angeles and San Francisco. Like their British and East Coast predecessors, early California punk bands were brash, limit-pushing, and outspoken, with a taste for noise and some occasional anarchy.
But in and around LA, California punk soon developed a style of its own. While the punks of London were heavily political and New York-based bands leaned towards artsy, glam-rock theatrics, Southern California bands were more scrappy and wild. Far from the mean-streeted cityscapes of London or New York, LA is sprawling and interwoven with suburbs, and so SoCal punk became tied to America's suburban lifestyle and to Los Angeles's bourgeoning skateboard scene. A post-war phenomenon that promised picture-perfect family values, by the 1990s the suburban ideal was showing its cracks. For young Los Angelenos bored or disillusioned with the shiny false-promises of suburbia and California dreaming, punk rock and extreme sports were the perfect outlets.
By the mid-90s, LA was home to a thriving "skate punk" scene. Bands like Bad Religion, NOFX, and The Offspring were hugely popular throughout the Southern California region. And although the genre was starting to gain mainstream hype after the success of Green Day, the scene was still somewhat underground and adolescent. Many bands played small local venues, skate parks, or even backyards.
This is the landscape in which Kevin Lyman created Warped Tour. A former Lollapalooza stage manager with a passion for skateboarding, Lyman started organizing Los Angeles-based events that combined sports and music. When these events became popular, he realized he had a winning formula on his hands and set out to create a cross-country tour based around both alternative music and skateboard culture.
Lyman named his tour Warped Tour and launched its first run on June 1, 1995 in Boise, Idaho. The line-up that first year was small and eclectic, a hodge-podge of grunge, punk, ska, and more. The combination didn't quite land with audiences and the tour didn't make enough money, so when 1996 rolled around, Lyman knew the second Warped Tour would need two things: a corporate sponsorship and a more musically cohesive lineup.
The corporate sponsorship came from shoe brand Vans. Already popular with SoCal skaters, the brand was interested in branching further into the sports world by hosting amateur skateboarding competitions. VP of Promotion Steve Van Doren pitched the idea to Lyman, who he knew of from previous extreme sports events. Lyman suggested combining Van Doren's competition with his cross-country music tour, and the Vans Warped Tour was officially born.
As for musical direction, The Vans Warped Tour found its defining voice in Pennywise. Formed in 1988, the Los Angeles punk rock band had been kicking around the SoCal scene for years, so they already had a fanbase when they signed on to the 1996 Warped Tour. More importantly, they had clout. 80's-style gritty and unpolished — guitarist Fletcher Dragge once told IGN that they were "not a pro band"— Pennywise had built themselves from scratch, playing in garages and at friends' parties before graduating to Hollywood nightclubs. Their DIY attitude made them respectable to even the most old-school punk rockers, and fresh off a country-wide tour supporting The Offspring, they had recently gained national attention. Although the band wasn't signed to a major label, their fourth album (1995's About Time) still charted with Billboard. Established leaders of skate-punk in California and beyond, Pennywise was a star to hitch your wagon to.
And they were skaters. Both Dragge and lead singer Jim Lindberg had a background in the sport, so they understood the audience that Vans and Lyman were hoping to appeal to. As Lindberg told Vancouver's Drop-D magazine shortly before the 1996 Warped Tour began: "This year I had a chance to help pick and suggest some of the bands for the tour, so I recommended a whole bunch of bands that I know skaters listen to." Suddenly, Warped Tour had a clear identity: it was by skate-punks, for skate-punks. (Fun fact: one of the bands Lindberg and Dragge suggested was Blink-182.)
This plan to revitalize Warped Tour worked. As Kevin Lyman would tell Alternative Press in 2019: "having Pennywise and NOFX with us step up and say, 'This is something that we want to be a part of' — because trust me, their agents weren't very cooperative when I tried to book them — ultimately legitimized us. We started to be getting known as punk-rock summer camp." Or as Drop-D put it: "Awesome music and skateboarding to match!"
Pennywise would go on to play 10 Warped Tours, but their influence extends far beyond the event. Which brings us to Full Circle, our 1997 Album of the Year. Released on April 22, 1997, the band's fourth full-length album is classic punk — noisy, rambunctious, and high-octane. It's 45 minutes of pure headbanging frenzy, widely considered one of the best skate punk albums of all time.
But the album's subject matter is a dark one. While recording Full Circle, Pennywise parted ways with bassist Jason Thrisk, who was struggling with alcoholism and depression. On July 29, 1996, Thrisk tragically committed suicide. His passing devastated the band, and they revised their upcoming album to address it, writing lyrics about death and mourning. They also re-recorded "Bro Hymn," a song Thrisk had written for their first album, replacing a few key lyrics to honor Thrisk and calling it "Bro Hymn Tribute."
"Bro Hymn" is everything that punk rock stands for: loud, raw, powerful, anthemic. Built around a sing-along hook meant for audience participation, the song packs a wallop and is instantly memorable. It's such a crowd-pleaser that at least 20 sports teams worldwide have co-opted it.
Energized as it is, the song's power is also in its poignancy. As it memorializes a fallen friend, "Bro Hymn" celebrates life and camaraderie. It resonates by touching on grief as well as through another staple tenet of punk-rock: community. Loss, after all, is universal, and "Bro Hymn" is a song that urges people to connect during hard times. In this mosh pit, everyone is your bro.
It's this sense of community that has made "Bro Hymn" Pennywise's signature song, and perhaps the signature song of Vans Warped Tour itself. (It's Sebastian Lefevre, Keith Buckley, and Kevin Lyman's pick, at least.) "Bro Hymn" was there from the tour's origins until the very end — literally, it was the very last song played at Warped Tour's last ever show. Talk about going "full circle".
——
Also in 1997…
-1997 was a pretty big year for the Midwest emo scene — Vice even dubbed it "The Year Emo Broke." While California and the East Coast were busy with skate punk and hardcore, Chicago, Minneapolis, and their surrounding states had become the epicenter for emo's softer, more indie-nerd-core branch. Notable albums released include: Nothing Feels Good by The Promise Ring, Four Minute Mile by The Get Up Kids, A Portable Model of… by Joan of Arc, and Such Blinding Stars For Starving Eyes by Cursive.
-Still at the height of their popularity, Green Day released Nimrod — aka the one with "Good Riddance (Time of Your Life)." It went double platinum and charted with Billboard at number 10.
-After successful turns on both the 1996 and 1997 Warped Tours and shows in the UK, Australia, and more, Blink-182 was skyrocketing. Though their 1997 album Dude Ranch flew under the radar at the time of its June release, by the end of the year it would give the band their first hit. "Dammit" peaked at number 11 on Billboard's Hot Modern Rock Tracks and at number 61 on the Hot 100, firmly establishing Blink-182 as The Next Big Thing.