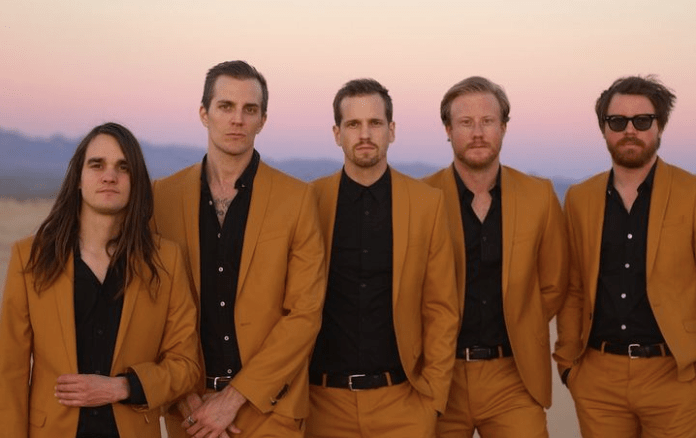 The Maine
November 3, 2019
Starland Ballroom
Sayreville, NJ
I'm a little ashamed to admit that it has been two years since I saw The Maine in concert. As a pretty frequent live music-goer, that's basically sacrilege. The Maine easily make my Top 10 list of favorite bands, and their shows are a guaranteed good time. This last one was no different.
Nick Santino (previous lead singer of A Rocket to the Moon and Beach Weather) was a special guest at this New Jersey show. He opened the concert with a few of his own songs, put a new spin on "Goddess" (Beach Weather) and of course played some A Rocket to the Moon classics. I actually saw him live back in 2017 when Beach Weather opened for The Maine on their Lovely, Little, Lonely tour at The Stone Pony. (Been there, reviewed that.) I remember him being good then, but his solo act this time around was even more phenomenal. Because it was just him on stage, he only used one instrument per song which allowed his vocals to be the main component. And let me tell you, that boy can sing. He hit some notes that could have easily made the room silent. My favorite song he performed was, of course, "Like We Used To." That's such an iconic A Rocket to the Moon track that I never thought I'd hear after the band broke up. I'm more than happy I can check that off my music bucket list.
Twin XL were the designated special guests on this leg of The Mirror Tour. I had never heard of them before, but they put on SUCH an energetic show. Every song was fast-paced, catchy, and made me want to download all of their music to my Spotify library. Cameron Walker, the lead singer, danced his way across all parts of the stage as he belted lyrics. His voice actually reminds me a bit of Alec Benjamin's, which should be enough to solidify that he's the real deal. They performed their newest song "Messy," which was just released two days before the show. Loved that. "Melt" was easily my favorite track of theirs, and I hope they put the official recording on Spotify soon because it's a must-listen for me. I'd highly recommend checking out all of their music though because they definitely exceeded my opening band expectations.
It's hard to put into words how good The Maine is when I really just want to drag anybody that reads this to their concert with me. One of my favorite aspects of their live experience (yes, experience) is that you never know what's going to come out of John O'Callaghan's mouth. I'd like to think it's half concert, half comedy routine. One minute, I'd gawk at how skilled every band member is and the next, I'd be belly laughing at the fact that John asked, "Do you guys know my mom?" Four concerts later, and I can admit it's the same hijinx each and every time.
The last time I saw The Maine was on their Modern Nostalgia Tour where they performed both American Candy and Lovely, Little, Lonely in full. Of course, that was ridiculously cool, but it limited their setlist. This time, they played such a good mix of old and new songs. I was actually surprised at how well their older tracks resonated live. The crowd was just as into "I Must Be Dreaming" as they were anything off of You Are OK. The Maine hardly ever play anything from Forever Halloween besides "Ice Cave," which to be honest, isn't my favorite. That's why I was so ecstatic when they decided to perform "Fucked Up Kids" on this tour. This was easily one of the best from the concert.
Although The Maine didn't play every song from You Are OK, they definitely performed all of the songs I'd want to hear live. "Slip the Noose" opened their set, and it was just as good starting a concert as it is kicking off the beginning of their latest album. All of the singles sounded just like the actual recordings, specifically Jared's sick guitar playing. He really gives it all on stage which I greatly appreciate. I was pleasantly surprised they decided to add "Heaven, We're Already Here" and "Tears Won't Cry (Shinju)" to the setlist. For some reason, I doubted The Maine would play them, but I stand corrected. Those are two of my favorites off the record, so I really enjoyed singing along to them.
They closed out the show with "Flowers on the Grave" which may very well be one of the most theatrical songs The Maine have written in a while. This nine-minute and 23 second track has so many different components to it, but that made it even better live. While I would have loved to hear the violin performed on stage, I knew that was impossible since they're all foreign to it. Despite that, they still played the song in its entirety which was crucial. You need the full almost nine and a half minutes to appreciate the journey. And it was indeed the perfect way to end the concert.
Seeing The Maine live is always a joyous experience. Between the talent, great music, and endless laughs, it's impossible not to leave with a smile on your face. I promise it will not take me another two years before I see them again.