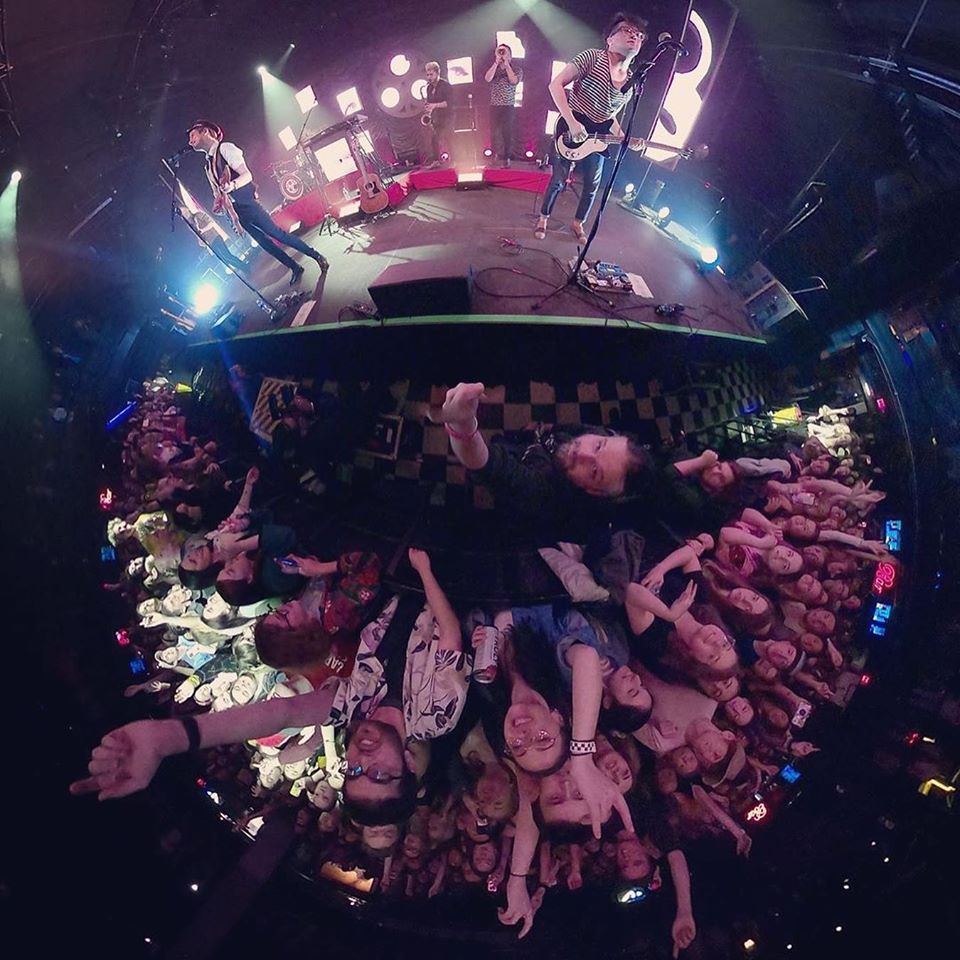 Saint Motel
February 13, 2020
Webster Hall
New York City, NY
It's been a few days, and I'm still trying to come down from the concert high that Saint Motel injected into my bloodstream. My friends probably hate me for not shutting up about it and forcing them to watch all the videos I took in an attempt to recreate that magical feeling of the show. And I genuinely mean magical. From start to finish, Saint Motel kept the energy up, crowd involved, and talent flowing.
However, it really started off with the opener, KOLARS. They had to be the most unique opening band I've ever seen, period. The married duo are an exciting whirlwind of surprises. Rob Kolar crushes it on guitar and vocals, while Lauren Brown kills it on the drums, as she tap dances and keeps the beat of the songs with her mouth. Yeah, you read that right. If you don't have the opportunity to see them live, at least check out a live video of them, because it is quite the experience. Their obvious talent is also shown in their songwriting. Up until this show, I had never heard of them before, but it was so easy to rock out to their fast-paced, grunge music. They have such an interesting sound that feels very modern, yet nostalgic at the same time. Truly the perfect band to tour with Saint Motel.
Speaking of those hooligans, they just casually put on one of the best shows I've ever been to. No big deal. Saint Motel have a fun, quirky sound and that's honestly the best way I can describe their concert. I don't think there was a moment I stopped smiling the entire night. From "Cold Cold Man" to "Born Again," I was a happy, sappy mess that couldn't stop dancing to every song they played.
They killed it when it came to the setlist, and that's high praise coming from me. There are always a few songs I want to swap out when it comes to concerts, but Saint Motel couldn't have done it better. A lot of their music is fast-paced and upbeat, making it perfect for crowds to get into, even if someone has never heard them before. However, they managed to incorporate some of their slower songs at the perfect moments. Let me be the first to tell you that "Old Soul" and "Save Me" were both transcendental experiences live. I don't know who thought of playing them back to back, but my heart thanks you.
Most of the music they played was their newer stuff, including plenty from Saintmotelevision and all five songs off their latest project, The Original Motion Picture Soundtrack (The full album isn't out yet – instead, it's being released in three separate sections). However, they did manage to play some of their older stuff including "Dear Dictator" and "Puzzle Pieces." When I first looked up the setlist at the beginning of their tour (yes, I am that person) somebody said they played "To My Enemies," which is one of my favorites off their very first EP, ForPlay. To my surprise, they ended up playing "Butch" (another song off the same EP), and I almost lost my mind. That's my absolute favorite song when it comes to their earliest recordings, so needless to say, I completely jammed out.
I had a pretty good feeling that Saint Motel would bring positive energy to the stage, but I underestimated just how much it would be. The only thing I really knew about their live performance was how Tyler Joseph (Twenty One Pilots) said they make so much noise just getting hyped to go on stage. True legends. I'm not sure if I've seen a band that genuinely looked like they were having more fun than them. That happiness really does translate to the audience though. In turn, I'm not sure if I've ever seen a crowd enjoy themselves more than this group of concertgoers. I know I personally haven't outright danced at any other show than this one. I mean, you can see the camera shake in my videos because it was physically impossible to stand still the entire time.
And then there's the fact that this concert had subtle movie influences thanks to the theme of their latest album. The show started with the famous Jurassic Park song and little bits and pieces of other classic movie soundtracks transitioned the concert from one part to the next. Plus, lead singer A.J. Jackson had multiple outfit changes, more outrageous and hysterical each time. I should probably mention while he was dressed in a spacesuit, he casually crowd-surfed on a blow-up spaceship which was remarkably iconic. They really thought of everything.
Finally, I just need to talk about the band's unbelievable talent. Besides keeping the crowd engaged, they didn't miss a beat. Their performance was truly flawless and took my breath away multiple times. From Jackson's unreal live vocals to the way Sharp, Erwin, and Lerdamornpong play their respective instruments with such passion, it's enchanting and inspiring to watch. Also, huge shout out to the trumpet and saxophone player that tour with them, because they were beyond phenomenal as well.
If you have the chance to see Saint Motel live, it's a no brainer. I can honestly say this has definitely made it into the top five best concerts I've ever seen. Also, I can officially cross "screaming the lyrics to 'For Elise' at a Saint Motel concert" off my bucket list.