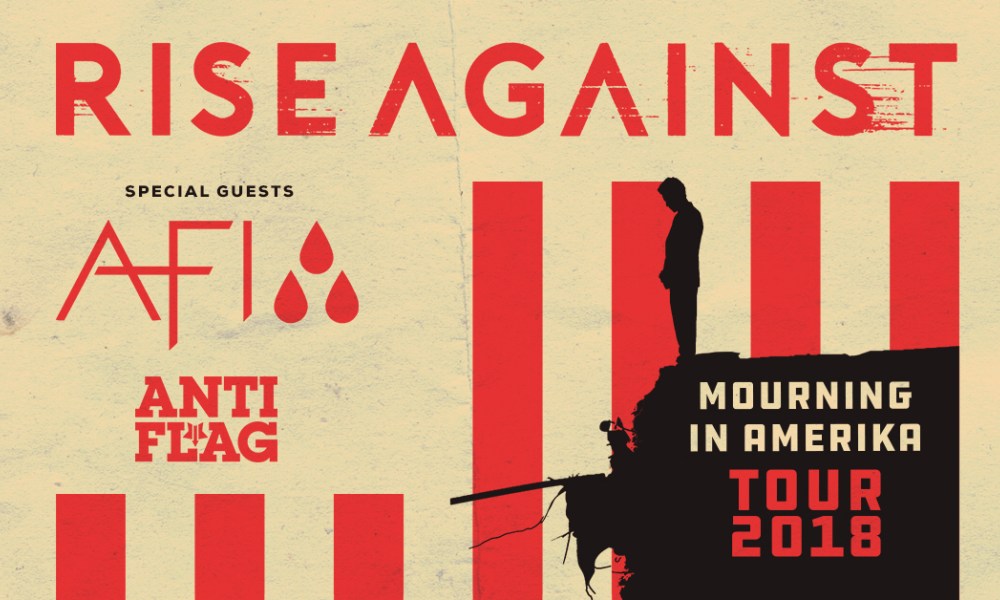 Rise Against
AFI
Anti-Flag
August 5, 2018
The Stone Pony Summer Stage
Asbury Park, NJ
The Summer Stage at The Stone Pony in Asbury Park never disappoints, always bringing a versatile and well-known lineup of shows to celebrate the season. This year, the Pony gave us a glorious gift: Anti-Flag, AFI, and Rise Against. On one stage. The same night. Remember when you were a kid, and you were anxious from the excitement of opening presents on Christmas because you knew your parents got you that one, huge, amazing gift you wanted? Thanks for the best present ever, Stone Pony.
Unfortunately, I made it there right after Anti-Flag's set had ended, however, they were at their merch table doling out autographs, pictures, and conversation to the eagerly lined up fans. They're solid, pleasant gentlemen if you ever get the pleasure of meeting them. The venue was packed, and everyone in attendance took eating their vegetables in childhood to grow big and strong to heart. Hot damn, this crowd was unusually tall. I'm a relatively tall lady at 5'9" and am usually able to see without a problem at concerts, but even I felt short.
AFI kicked off their set at 7pm. If you have never seen a show at sunset before, I highly recommend you do. The only thing better than being serenaded by Davey Havok is being serenaded by Davey Havok with a beautiful Asbury sunset behind him. Aside from the sunset, the second most amazing aspect of AFI's performance was Mr. Havok sporting long sleeves. In 85+ degree weather. Without having a heat stroke. Must be those vegan superpowers.
Since they weren't headlining, they only had a ten-song set and were confined to 45 minutes on stage. Despite the time crunch and shortlist, it was well-diversified to suit the taste of every fan. They played "Carcinogen Crush," which was released on iTunes in 2007. They originally recorded it for Sing the Sorrow, but it didn't make the cut. Being the fantastic song it is, it eventually got its recognition and became a playable track on Guitar Hero III: Legends of Rock. They don't typically play this one live, so it was quite a treat. We got taken back to 1996 with "He Who Laughs Last" off of Very Proud of Ya, and fast-forwarded to 2003 with "Girl's Not Grey" and "Paper Airplanes" off of Sing the Sorrow. They played some new stuff too, like "I Hope You Suffer" off of Burials, and "Aurelia" and "Snow Cats" from The Blood Album. Fan favorite "Love Like Winter" was in there, and they closed with December Underground's hit single, "Miss Murder." Aside from feeling robbed by AFI having so little stage time, they were absolutely fantastic.
Rise Against came on shortly after nightfall, so rather than a beautiful sunset, they performed under stage lights. If Tim were an animal, he'd be a Siberian Husky. His performances are playful, engaging, energetic, and like many huskies, his eyes are heterochromatic. Or if you're a fan of anthropomorphic animals, perhaps the Energizer Bunny. Wolves' first single "The Violence" kicked off Rise Against's diverse set list.
All the bands that played this evening had plenty of material to choose from and kept their sets diverse in old material and new. Though nothing was played from The Unraveling, we were taken back to 2003 with "Blood-Red, White, and Blue" and "Like the Angel" off RPM 10. This evening was also the last stop of the Warped Tour, so Tim called Pennywise's vocalist Jim, allowing us to hear Pennywise close up the last Warped Tour. To be fair, we couldn't hear much. Tim pulled out a megaphone to sing "Megaphone" because obviously, a microphone isn't a sufficient tool.
The Ghost Note Symphonies version of "Voices Off Camera" kicked off Tim's acoustic set. He then played "People Live Here," "Hero of War," and "Swing Life Away" before they kicked the speed back up with "Make It Stop." During this song, a girl wearing a hoodie passed out from heat exhaustion. I didn't see her fall, so I checked her for head trauma to make sure she didn't hit it and may have missed a song. Seriously guys, wear whatever you feel comfortable in; this is a judgment-free zone, but at least ensure you're dressing for the environment. This young lady was lucky it was just heat exhaustion and not a heat stroke.
This brings me to one of my favorite things about rock shows though: when someone sees another in trouble, numerous people drop what they're doing and help. While I checked her for head trauma, another gentleman handed me ice to put on her, checked her pulse, and began talking to her when she came to. A nurse in the crowd helped her sit up. A friend gave me her bottle of water so the girl could start getting herself hydrated. Before security and EMS could get to her, the crowd banded together to help someone in need. Totally makes up for the belligerent drunks. After playing for almost an hour and a half, Rise Against ended the evening with fan favorite "Prayer of the Refugee." If it wasn't for those darn noise ordinances, they quite possibly would have played longer. Come on, Asbury – 10pm is too early to end a party.
AFI Setlist:
Girl's Not Grey
Carcinogen Crush
Love Like Winter
Summer Shudder
Aurelia
He Who Laughs Last
Snow Cats
Paper Airplanes
I Hope You Suffer
Miss Murder
Rise Against Setlist:
The Violence
Satellite
Survive
I Don't Want To Be Here Anymore
House on Fire
Ready to Fall
Help is on the Way
Megaphone
Give it All
Blood-Red, White, & Blue
Re-Education Through Labor
Savior
Voices Off Camera (Ghost Note)
People Live Here
Hero of War
Swing Life Away
Make It Stop
(I may have missed one here)
Like the Angel
Prayer of the Refugee