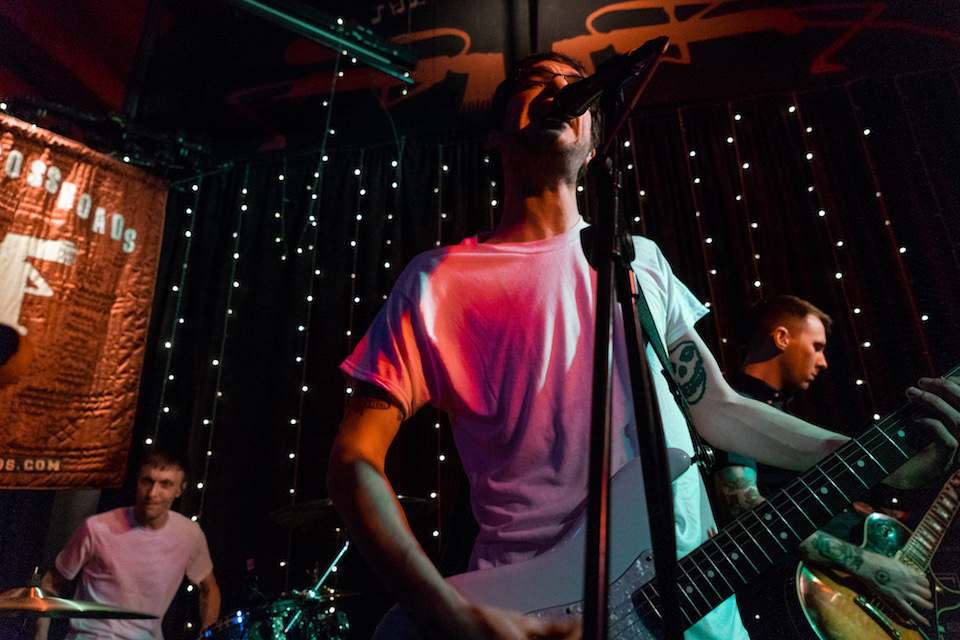 Man Overboard
November 28, 2018
Crossroads
Garwood, NJ
Show review and photos by Jacq Kozak
Three years ago, the music community took a huge hit when pop-punk heavy-hitters Man Overboard went on hiatus. Listeners across the world were shocked and absolutely distraught. As time went on, our collective wound healed and we learned how to defend pop punk without them. Then, in the year of our Lord 2018, Man Overboard popped up once again on our social media feeds to announce a string of four east coast 10-year anniversary shows this winter supported by Seahaven. Just like that, we were all spinning The Human Highlight Reel and feeling things again.
The tickets to these four shows sold out alarmingly quickly. Close to the start of tour, Man Overboard announced one more show – a tiny, intimate set in a bar in the middle of New Jersey. Instead of Seahaven, the support for this 21+ show was up-and-coming east coast band Keep Flying. Keep Flying is self-professed "positive music for people who like fun." They're the perfect little lovechild of pop punk and ska.
Watching Keep Flying live is unparalleled – they're so high energy that it's physically impossible to be bored watching them. Saxophonist John James Ryan is a bundle of endless energy. Fresh off of a supporting role on a short State Champs tour and just starting a run of their own holiday shows, Keep Flying is steadily garnering a huge following, and if anyone deserves your attention in 2019, it's them.
Crossroads is a small bar-turned-venue in Garwood, New Jersey. We're talking the-stage-is-a-foot-off-the-ground small, with a capacity of just around 200 people. It mainly functions as a bar, but there's an open area with a corner stage (no barricade) and some speakers, and every once in a while, they get someone big on the bill. In such an intimate venue, the show felt more like a basement gig or a house party with all of your friends than the opening night of a 10-year reunion tour.
Everyone went wild as Man Overboard took the stage for the first time in three years, a fact which did not go unmentioned. Throughout the night, the boys joked about how they had to relearn certain songs, or that some things had changed since the last time they had graced us with their presence. "We're back, guys. Justin has tattoos now! He got married! And Nik is bald!" joked lead singer Zac Eisenstein after launching into their first few songs. In between songs while checking the setlist, they admitted that they had to relearn some of these songs for the tour.
The one that did not require relearning, however, was a crowd favorite. When the set was almost over, Zac remarked that their next song was so easy to play that they couldn't mess it up even after a hiatus. With that, they launched into "Love Your Friends, Die Laughing" and the entire room went wild. Crowd surfers flew over the crowd and turned into stage divers, the entire front row became human trampolines, and my camera received an ill-placed foot to the lens not once but twice. The "encore" (in which they did not exit the stage because "the only place to go is into the kitchen, but we could get some pizza. How pop punk would that be!?") was definitely something to see – "Love Your Friends, Die Laughing," "Decemberism," "Disconnect," and "Rare" in immediate succession. I doubt I'll ever be a part of something so special again.
All in all, Man Overboard played for a truly wild two hours and rocked their way through an astonishing twenty-four song setlist of their biggest hits and fan favorites. We laughed, we cried, we crowd surfed, we bought the reunion tour merch, we screamed our lungs out. The intimacy of this show made it the perfect place for them to dust off the cobwebs and pick up where they left off. On a parting note, they assured everyone that even when they say they're "taking a break," they won't be gone forever, so if you missed this limited run of shows or live on the other end of the world, don't worry. Man Overboard lives to defend another day.