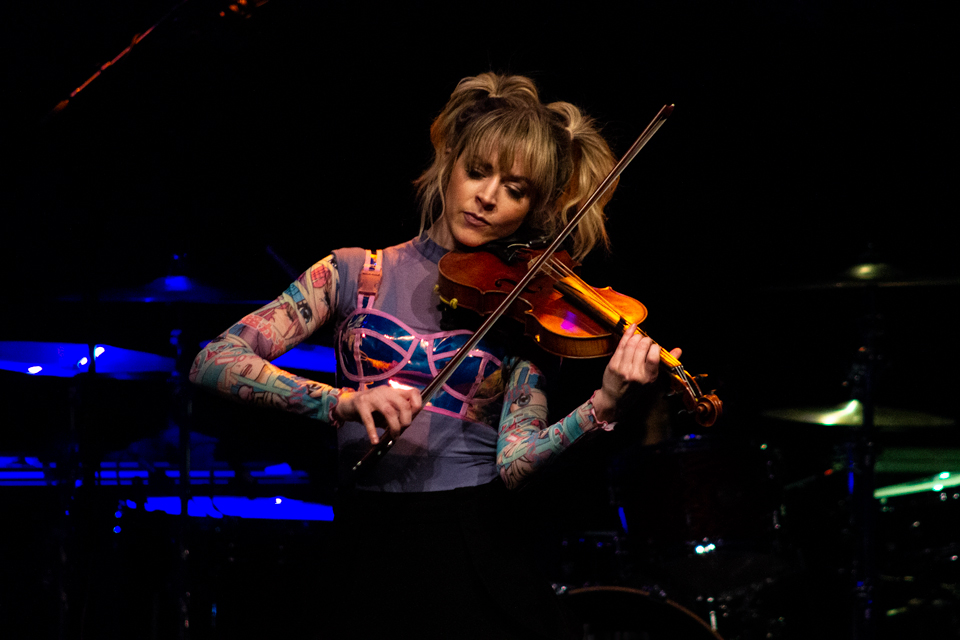 Lindsey Stirling
September 5, 2019
Gramercy Theatre
New York City, NY
Review and photos by Blair Levinger
If you're a fan of Lindsey Stirling, you've probably come to expect a level of spectacle from her live shows. The violinist is well-known for pairing her unique brand of classical-infused electronica with flashy sets, costumes changes, backup dancers, and more. But at her September 5 show at New York City's Gramercy Theatre, she decided to give herself a new challenge: pare down, to create a more intimate concert experience.
"I was feeling nervous, actually, to do this show. I feel so exposed," Stirling said. "It was a test, [making] myself go back to the drawing board and reminding myself that without all the bells and whistles, all of us are enough."
Taking place just hours before the September 6 release of Stirling's fifth album Artemis, the show was primarily an album-release event — a "baby shower," Stirling joked — and featured a mix of old and new songs throughout a nearly two-hour set. Accompanied by just a drummer, guitarist, and some electronic backing tracks, the spotlight was entirely on Stirling, her impeccable musicianship, and her effervescent energy. Pixie-like in her Harley Quinn pigtails, anime-print top, and sequined sneakers, she was cheerful, chatty, and giggly. She danced ballerina-like through her entire set, played "Happy Birthday" for a dedicated fan after his mother shouted out a request, and smiled even when her earpiece failed and she needed to pause the music to seek help from the crew.
Between numbers, Stirling took time to talk to the audience, at one point even stopping for an eight-minute Q&A. She shared stories of her musical influences, album-making process, and the journey of her life and career. The resounding themes of Stirling's talks: inspiration, overcoming hardship, and hope. Discussing the album title Artemis, chosen for the Greek goddess of the moon, Stirling spoke about the 2015 deaths of both her father and her best friend, keyboardist Jason Gavioti. "There was about two years where I was in a depression," she said. "And I had come to accept that, I think loss changes you, and I don't think I'll ever be the same again."
"Then, right about the time that I started writing this album, I felt myself come back," she continued. "I realized that I was never really gone, I was just covered in shadow. And the thing I love about the moon … sometimes the moon is glorious and bright and it lights up the entire sky. And other times it gets covered in shadow. [And] just like the moon, we go through seasons. And sometimes we may feel like we're not ourselves anymore. But just because you're covered in shadow doesn't mean you're not still there, and it doesn't mean that you're not powerful and strong and beautiful… It just means that you have to fight for your light again."
"This album is called Artemis because it's about all of us [bringing] light into even the dark times of our lives [and] knowing that that light is always there."
And there was light at this show, without a doubt. Two moments stood out to me in particular: during a rendition of "Hallelujah," the audience sang along in a delicate hum. And during "Guardian" — a song Stirling described as being about angels — Stirling glanced up, glowing under rainbow-tinted stage lights. In her search for moonlight, she seemed to have found magic.