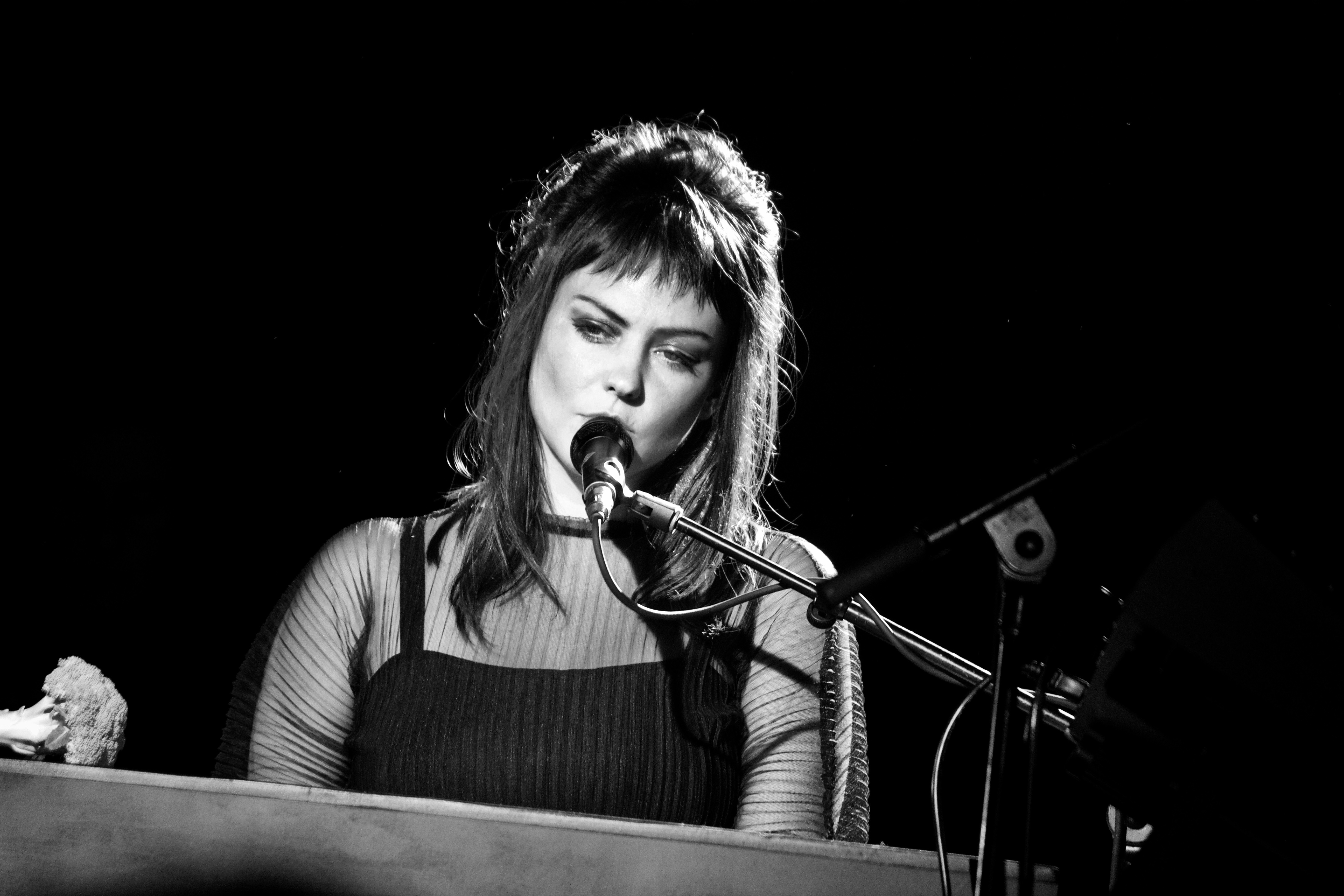 Angel Olsen
October 30, 2019
Asbury Lanes
Asbury Park, NJ
Review and photos by Kenny Bieber
The art of performance is truly a fascinating thing to witness, and for some artists, their overall evolution makes it even more so. Indie and alternative rock singer-songwriter Angel Olsen has experimented and incorporated various styles throughout her career from folk, country, alt-rock, and with her latest body of work, All Mirrors, the realm of art and synth-pop. The biggest question I had walking to her show at Asbury Lanes was how her new material would be brought to life on stage alongside the rest of her catalog. Thankfully, Ms. Olsen was more than up to the task and delivered an immersive and accomplished stage experience that was sure to engage her already loyal audience and attract some new followers as well. Her stage show contained a grand level of production design and sophistication, but its true resonance was her passionate, raw and honest performance and her impeccable connection with her audience.
The scope and scale of Olsen's live shows have progressed over the years, and this was her most layered and cinematic yet. Accompanied by a full band, which contained a cello and violin player, the material from All Mirrors sprung to life and felt fully dimensional and truly majestic and emotional. Olsen's vocal performances achieved a new level of pure intensity and command, and her connection with her band had a fluidity that allowed each song to seamlessly take shape on stage. The orchestral elements heightened the drama and atmosphere of the All Mirrors material, and Olsen's sense of musicality and intimacy enhanced and deepened their impact, fully immersing the audience. Despite the gothic and ambient nature of her most recent work, Olsen as a performer managed to anchor her set with the right amount of humility, warmth, and humor, keeping the proceedings from feeling overwrought.
While the selections from All Mirrors were truly something to behold live, especially that of "Lark" and "New Love Cassette," what was just as compelling was seeing Olsen stripped down for good duration of her set. For several songs, it was just Olsen with her guitar and main band, and her incorporation of older material was surprisingly well-balanced. The rawness and vitality demonstrated during these songs offered a strong counterpoint to the lush tones of her newer work, and credit goes to Olsen for her commitment and vulnerability as a performer. The musical range displayed was another testament to Olsen's versatility as a songwriter and performer and resulted in some of the night's most pleasant surprises. Later on in the evening, Olsen took to the stage alone and dove into some acoustic numbers that, while understated, still contained the same level of weight as some of the more grander ones. Her interactions with the crowd that night were direct and honest and added a level of transparency that was highly refreshing and welcome.
Credit must also go to Olsen's backing band who brought nuance to their respective individual performances, and their contributions helped to showcase the ambition and depth of each song. While it was an eventful and dynamic evening of music, what may have very well been the most memorable aspect of Ms. Olsen's night at the Lanes was its simplicity. While some modern shows take on a bombastic approach, Angel Olsen's set benefitted from its intimacy, restraint, and emphasis on connection. As the night drew to a close, Olsen serenaded the viewers with a jazzy cabaret number that cast a transfixing and hypnotic beauty, holding the entire room captive. When the lights finally went up, I came to a realization that Angel Olsen is creating some of the most resonant, artful, and captivating music today, and her live experience more than proves that's she capable of just about anything.