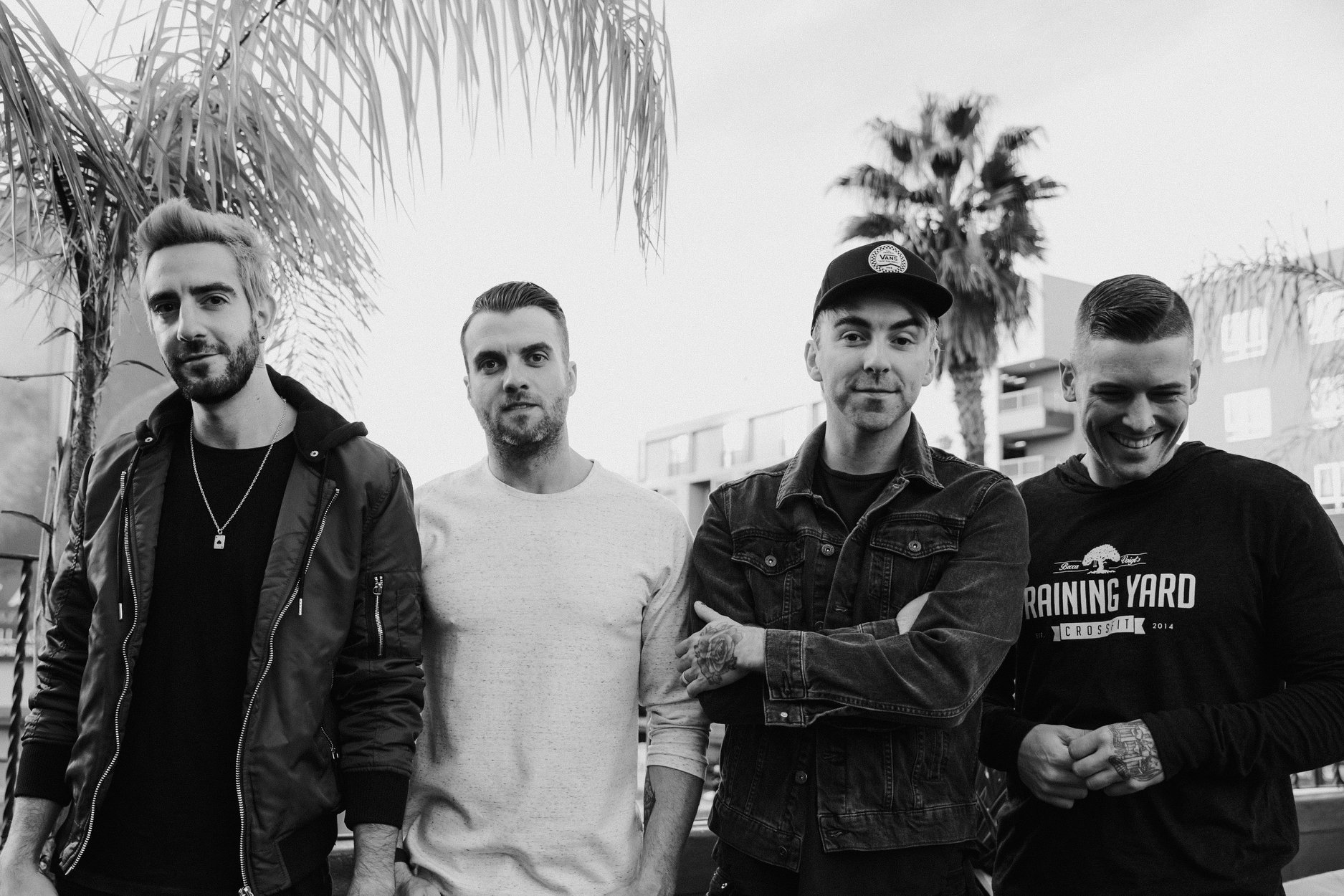 All Time Low
Nothing Personal Ten Year Tribute
December 17, 2019
The Fonda Theater
Los Angeles, CA
It's December in Los Angeles. The low on Tuesday night hit 45°, and while that might not sound like winter weather to many, it was certainly a little too cold for the line of fans waiting out on the streets of Hollywood in front of The Fonda Theater.
"What are you in line for?" 
"All Time Low!" 
"They put out a new album?" 
"Nope!"
This simple conversation that took place on the street between a passerby and a fan reminded me of the loyal fanbase All Time Low has magically (and deservedly) accumulated throughout the band's career.
In 2009, All Time Low released their third studio album, Nothing Personal. What came from that record for the band was high praise, international recognition – better than they had ever received before – and songs that have become staples that they always play live. What came from that album for the fans? The soundtrack of a decade.
In celebration of Nothing Personal turning TEN years old this year, All Time Low put together a small string of shows from the West to East Coast this month, playing the entirety of the album in full. Fans from Boston had flown out to LA just to be there. Fans who had bought the album when it first came out, now ten years older, were sitting in the cold just to witness the show – and All Time Low themselves showed up to play songs that reminded them of where they came from and how timeless their music has become for so many people.
Like Rian Dawson said, "We're here because we're old as shit."
The lights go down, and the crowd screams. It's a room full of the most die-hard All Time Low fans, their old Warped Tour merchandise and vintage ATL tees proving their loyalty. The band opening the show with "Weightless" seemed like the most perfect way the show could have ever started.
With side projects and a few breaks in between now and the last time they actually toured, Alex Gaskarth tells the crowd, "God, I missed you guys!" The audience cheers at him in response, and it becomes absolutely evident that All Time Low is a band who plays live because they love to play live. Despite having not performed in a while, every member of the band looked as alive as alive could look. Zack Merrick was kick-jumping and spinning, bass guitar in hand. Rian Dawson on drums barely took a breather between songs, embodying every reason why the entire theater was shaking that night. Jack Barakat hyped up the audience, nailing every guitar solo and poking fun at Gaskarth (who's voice has truly never sounded better) the entire show – proof their camaraderie never disappeared.
And the audience felt just as grateful that All Time Low was finally playing again. The band launched into the first few bars of "Damned If I Do Ya, Damned If I Don't," and Gaskarth backed away from the mic, knowing full well the crowd could carry the entirety of the first verse on their own – and they did, and seeing that trust between artist to audience so prominent, even ten years after the song's release, was pretty amazing.
"Stella" rocked the house. "Sick Little Games" earned Los Angeles a shoutout from Gaskarth for being his writing inspiration to begin with. "Hello Brooklyn," was just as loud, ecstatic, and exciting as "Party Song," but perhaps the most moving moment of the night was just before Gaskarth performed the last song off the album.
Alone on stage, he was strapped with his electric guitar, but before playing, he shared with the crowd what the Nothing Personal era meant for him. After achieving major fame from their first big single, "Dear Maria, Count Me In," to touring with Fall Out Boy to headlining Warped Tour, Gaskarth says the time after Nothing Personal was released was when he "started recognizing people's faces that were coming to shows. And it wasn't just the second or third row back. It was fifth, sixth, seventh, eight rows back of familiar faces."
It's this anecdote alone that highlights how amazing it can be for bands to acknowledge the anniversary or birthdays of songs and music they've previously released. With a ten-year time span in between these songs, the band, their connection to their fans, and a show dedicated to everything surrounding one single album becomes a celebration – and what was once was a song about pain and heartache suddenly turns into a moment that proves that even when we're feeling our worst feelings, we aren't alone.
"This song is called Therapy," says Gaskarth, as he begins to play one of All Time Low's most heartfelt tracks to a room full of people who have supported the band for years singing every word right back to him.
The band exits the stage for a moment, but there isn't a single silent voice from the crowd. Everyone screams, demanding they come back. Demanding "Dear Maria." Demanding a few more moments of incredible live music bliss…
All Time Low return, except it's not just to play their biggest hit song. It's a full encore set. Treating the crowd to tracks like, "Kids in the Dark," "Something's Gotta Give," "Dirty Laundry," and "Six Feet Under the Stars," they played for another half hour.
The first few notes of "Dear Maria, Count Me In," were sung and crowd surfing ensued from every direction. There wasn't a person in the audience who didn't know every word. I looked at the stage and watched the way the spotlight covered every member of the band while they did what they loved. I looked around me and took in the way the audience was so dedicated and grateful for their band to be back again, celebrating a decade's worth of songs that have probably changed all their lives. The next time I looked back up, Jack Barakat was standing on the steps of the barricade, touching fans' hands, looking them in the eye and saying, "Thank you," endlessly.
The end of the song arrived, and the crowd erupted in screams and applause. The band took a bow on stage. The last thing Alex Gaskarth said before walking off was, "Thank you. Be kind to each other," and it reminds me how powerful music is…
Because it's been a whole decade, and we were all still there, singing the same old songs.
The Nothing Personal Tour is only for a limited time! All Time Low will be touring the East Coast up until December 29, 2019. Don't wait to get your tickets. You're not going to want to miss this special experience.