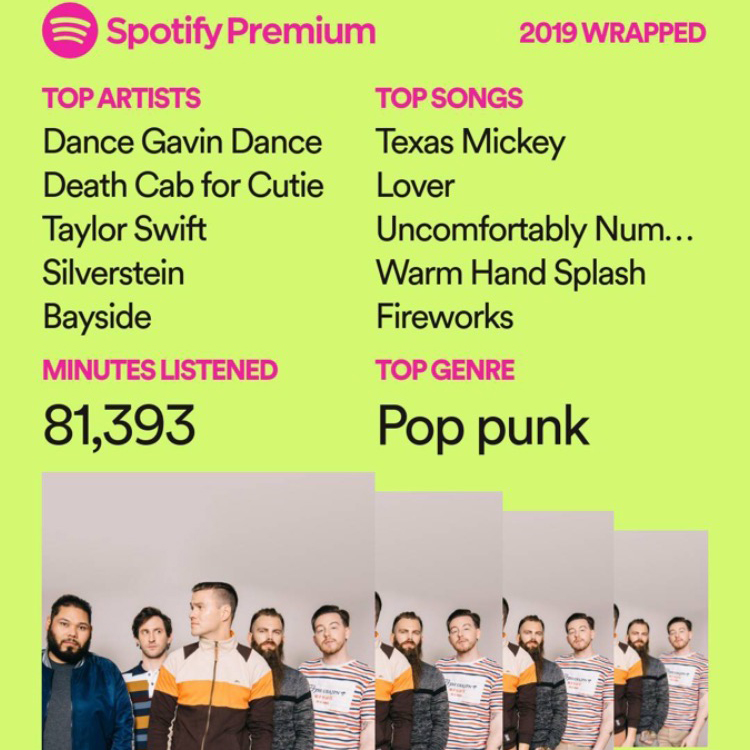 In celebration of the New Year, it's time to talk about everyone's favorite day of the year: Spotify Wrapped day. As another year comes and goes, I'm sure you're all on the edge of your seat to hear about my year in music after my very in-depth analysis last year. Aside from the relative controversy of the tracking timeline (I'll get into that later), Spotify truly outdid itself this year. The unveiling of everyone's last year in music was beautifully presented in a 16-slide graphic detailing everything from your usual top five songs and artists to the podcasts you spent the most time with. On top of all that, this new year brings something even more special – a completely new decade. To wrap up the 2010s, Spotify included an Artist of the Decade slide and a roundup of your most-listened-to artist from each year of the past 10 years. It's a really wonderful visual representation of the way your music tastes have changed – or haven't changed if you're me – throughout the years. 
A personal goal of mine in 2019 was to raise my overall listening minutes from the paltry 54,576 minutes I listened in 2018. According to my Wrapped data, I've bumped that number up to a more respectable 81,393 minutes (don't get me wrong – I'm still not satisfied. I'd like to break six figures for next year). Of those approximately 1,357 hours, I spent 47 of them listening to Dance Gavin Dance. I definitely can't complain about that, I'm pretty sure I listened to "Story of My Bros" about a hundred times simply for the lyrics at 1:37. According to my data, my number one song was "Flash," but that doesn't crop up at all in my round-up playlist, so I'm not totally sure I believe it. 
Rounding out the rest of my top five artists for 2019 are Taylor Swift, Silverstein, Bayside, and Death Cab for Cutie. Silverstein and Bayside are perfectly on-brand for me. I often announce to no one in particular that I don't talk about how much I love Bayside enough, which probably means that I'm talking about it too much, but I digress. As for Taylor Swift, I'm not sure that I know anyone that didn't stream Lover over and over again for the six weeks after it was released. No? Just me? Okay. Last but certainly not least, a pretty huge moment for me this year was shooting Death Cab for Cutie for the first time. In the leadup to the show, I must have listened to them for days. 
My top songs for the year were incredibly predictable, in that I probably could have listed them all out for you before I ever saw this wrap-up. Most notably at number one is Silverstein's "Texas Mickey" which I listened to non-stop on repeat for approximately nine days. In second place was the title track "Lover," which was immediately added to my playlist of possible wedding songs (as well as literally everyone else's, I'm sure). The bottom three songs are ones that also had a pretty heavy rotation earlier in the year: "Uncomfortably Numb" off of American Football's LP3, which I reviewed for Stars & Scars a few months ago, "Warm Hand Splash" by Tiny Moving Parts, which fascinated me from a storyline point of view, and Sleep On It's "Fireworks," which is one of the catchiest songs I've ever heard. My top genre was pop-punk – are you surprised? I'm not. Consistency is key.
According to my decade data, I am absolutely nothing if not consistent. My top five artists for the 2010s (or, more accurately, between 2014 when I started using Spotify and now) are, to absolutely no one's surprise ever, Taking Back Sunday in the number one spot as my Artist of the Decade followed by Death Cab for Cutie, Trophy Eyes, Neck Deep, and Silverstein. My top five songs for the decade, however, were a mixed bag. Apparently, my heavy rotation for the past several years has been Lorde's "The Louvre" and "Hard Feelings/Loveless," Walter Mitty and his Makeshift Orchestra's "Caterpillars," Movements' "Daylily," and Bearings' "North Hansen". Not a single Taking Back Sunday song in the whole bunch. That's called growth.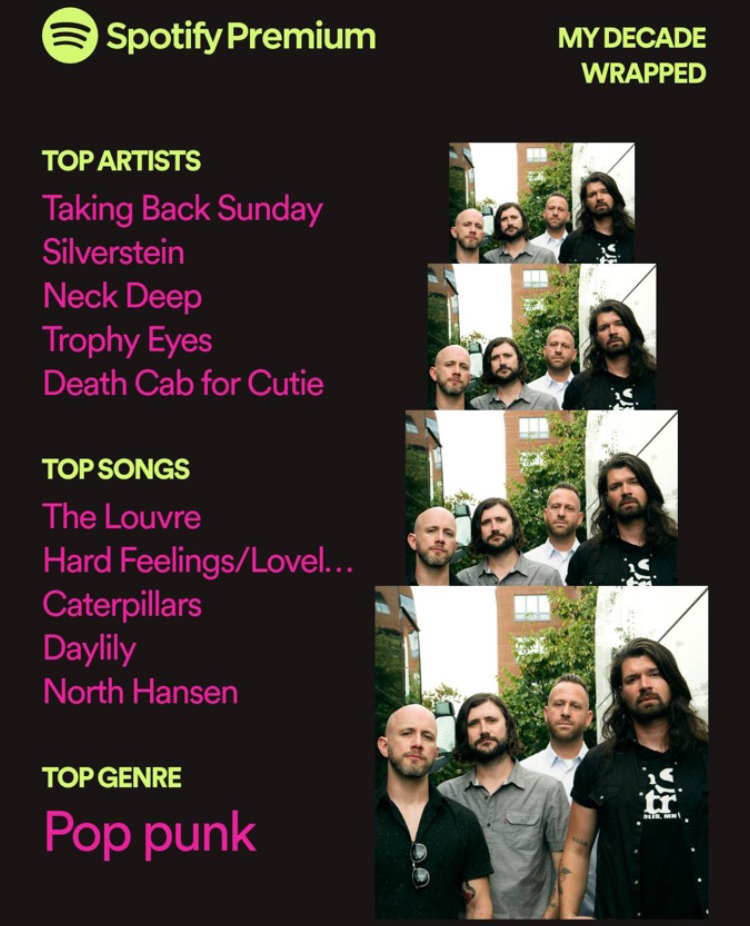 Spotify also offered a slide or two of niche data. One slide reflected the listener's habits from a global point of view, with data about how many different countries you "visited" on Spotify last year. From my data, I listened to artists from 27 different countries, and I'm sure we can thank Lorde (New Zealand) and The Cranberries (Ireland) for that. One of my favorites slides, however, was the one that detailed how many new artists a listener discovered. Throughout the year, Spotify tracked how many times your account listened to a song by an artist you hadn't previously played. In 2018, I listened to a whopping 497 new artists. Of those 497, I spent the most time (660 minutes) with Locket, formerly known as Safe to Say. Considering they released their first and only full-length track this past May, it's safe to say (I'm so sorry for that pun) that Locket will continue to feature heavily in my Spotify activity.
2019 was also the year that I tried (and failed) to get into podcasts. As my Spotify kindly reminded me, only a meager 58 minutes of my listening history was reserved for podcasts, which doesn't make a lot of sense because that's not even a whole episode? I want to be a podcast person; I really do, but I can't get past the fact that it's time I could just be… listening to music instead. For 58 minutes, I listened to the Sherri DuPree-Bemis episode of Shane Told's Lead Singer Syndrome, and then I guess I decided I could just listen to Eisley and Silverstein instead and achieve the same effect. Maybe next year, podcasts. 
"But Jacquelyn," you say, "what was that you said about tracking controversy?!" Okay, so maybe it's not a controversy per se, but I was pretty outraged. Spotify Wrapped data is released in early December, which leads one to question what happens to the rest of the month's data. I did some digging and it turns out that Spotify only tracks your listening activity between January 1st and October 31st – yes, you heard that right. November and December are completely ignored. 
Logically speaking, this is most likely due to the sheer mass of Spotify users and the data they're already tracking. Spotify needs time to do the programming and slide design and all that fun back end stuff that we don't see or talk about, I'm sure, but my biggest gripe here is that this absolutely skews the data. In those forgotten two months, do you know how many minutes of music I can listen to? I spend approximately five hours a day commuting; I can easily listen to around 10,000 more minutes in that time. In addition to skewed minutes, the tracking discrepancy also means that my Keep Flying kick at the beginning of November won't feature at all in my Wrapped data (If you're not listening to Keep Flying, you're not living to the fullest. They're so much fun live, wonderful guys, very good friends of mine, and my face is featured in the video I just linked!). A lot can change in a month, especially when you listen to the sheer volume of music that I do. 
Looking at all of this data, it seems that my predictions from last year's Wrapped article were a little off base. Not a single artist that I predicted (Bearings, Nominee, Rarity, Movements, Kayleigh Goldsworthy) popped up in my top five, although Bearings and Movements snuck into my top songs for the decade, and Texas-based band Nominee clinched the number eight song on my list for 2019 with "Lock and Key." As for my resolution to listen to a new album in full every week… it didn't last long. Maybe I'll try again this year. I did start a habit of listening to albums all the way through without shuffle though, so maybe it stuck a little? 
As my 2019 predictions were so off, I'm hesitant to make predictions for next year's Wrapped at all. That being said, there are some things that won't change: I will still be pop-punk trash. I'll still listen primarily to what Spotify likes to call "Anthem Emo." Yes, Taking Back Sunday is my artist of the last decade, this decade, every decade and that won't be changing. My top five songs will be a mixed bag of indie-pop songs that soothe me (Landon Elliot's "Hometown Hero," perhaps?) and whatever heavy-hitting song Nominee decides to release this year. My top artists will still be just as predictable. My Chemical Romance will release new music, and I will listen to nothing but that for maybe weeks and refuse to shut up about it. We'll see how it goes. 
2019 brought me a lot of wonderful things music-wise: I shot several dream shows and got to see some bucket-list bands in concert (The Barenaked Ladies!! Can you believe!?). I did a deep dive into some artists I already loved and found some bands for the first time that I would grow to love dearly. I got paid to shoot music for the very first time at the 25th Annual Warped Tour beach weekend, of all places. I spent a lot of time at a lot of shows in the crowd with my friends. That's what it's all about – how it makes you feel and the people that you share it with. Go buy that concert ticket you've been dreaming about. Your friends (old or new) will find you in the mosh pits. Happy 2020, Happy Wrapped, Happy Music New Year. Go forth and listen.