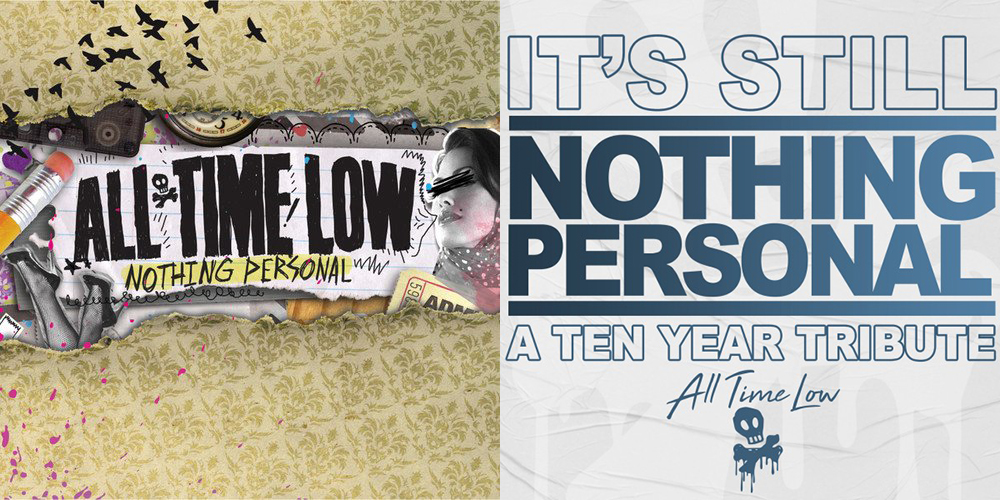 As All Time Low begin their short tour celebrating the 10-year anniversary of their album Nothing Personal, I thought it would be a good time to look back and analyze it. We're all doing those 10-year challenges on social media, so doing the same with both versions of Nothing Personal seemed pretty appropriate.
The band recently released a re-recording of the album called It's Still Nothing Personal. If you haven't listened to it yet, I highly recommend doing so. To me, it's a brilliant revitalization of what came 10 years ago.
So, I decided to pit each song against itself, version for version. Which is better – the original or the re-recording? Let's find out!
"Weightless"
This one's a classic, so it's definitely a tough call.
The opening of the re-release does kind of lean on the fact that you know and loved the original, but the difference in singer Alex Gasgarth's voice is stark. It's a little less whiny, a little more confident, and technically better. He's absolutely leveled up through the years, and he shines on "Weightless."
The new mix also highlights the backing vocals and Rian Dawson's drums, which makes the whole song sound fuller and less bubblegum. Overall, this version shows a lot of growth in the band, so I think the re-recording has a slight edge over the original.
Winner: It's Still Nothing Personal
"Break Your Little Heart"
There is not a huge difference between the original and the re-release in this case. I think that there are fewer filters in the new mix, and I prefer that, but that pretty much applies to every song here across the board.
Because there's nothing particularly noteworthy in the new version that helps it to top the original, I'm giving the edge to the OG Nothing Personal in this case.
Winner: Nothing Personal
"Damned If I Do Ya (Damned If I Don't)"
Ah, the first instance where the re-recorded version is vastly superior. We have a clear winner, friends.
This new mix starts with distorted guitar tones instead of muffled filters, so it instantly has more bite. That tone carries throughout. The final breakdown hits harder in the new version. Gaskarth takes more vocal risks 10 years later, and every single one pays off and shows how his range has improved.
This new one is an exclamation mark on an already great song, and there's not much else to say about it.
Winner: "It's Still Nothing Personal
"Lost in Stereo"
Full disclosure, this is not my favorite song on either album, but I find the re-release infinitely more interesting.
Again, we have fewer effects in this new version, so it feels more authentic. While I'm still not convinced bassist Zack Merrick's half-screaming of the title throughout the song really works, it's preferable to the original filtered vocals it replaced.
This one definitely proves that less is more for All Time Low.
Winner: It's Still Nothing Personal
"Stella"
I'm going to start by saying that this song has a lot of problematic language in it, but that goes for both versions so there's really no point in diving into that here. Suffice to say that sleeping with someone when they are "falling to the bathroom floor" drunk is not okay, friends.
Okay, moving on. The new version seems to be tuned down or in a lower key, or something along those lines. I'm bad with the technical terms, but it's definitely lower. Is that a good or bad thing, I'm not sure, but it feels a little more serious. It's not quite the happy tone the original version had.
Whether this is intentional or not, I'm not sure. However, considering the subject matter, a darker tone is preferable.
Also, the original has a fade-out ending. Nah. End your song.
Winner: It's Still Nothing Personal
"Sick Little Games"
Because the new versions are a bit more stripped-down than the originals, they can sometimes feel smaller. This is not always the case, but "Sick Little Games" is a prime example of the phenomenon.
The new version just isn't quite as dramatic as the original. The effects made it feel like more of a spectacle, so without them, the sound shrinks a little.
Winner: Nothing Personal
"Hello, Brooklyn"
I'll be completely honest. I loathe this song. I think it's lazy writing, and All Time Low are better than this. But here we go anyway.
I think the original version is more honest about what this song is. The lighter tones and filters make it much more pop than the new version, which is just dissonant in its earnestness. Both versions are trying to be fun, but the original is solely concerned with having fun. Elevating this one doesn't really work.
At least this song is highly danceable, and I will definitely enjoy it live.
Winner: Nothing Personal
"Walls"
Oh hello, electronic instruments.
On the flip side of "Hello, Brooklyn," this song deserves a bit of weight and gets that treatment on the re-recording. The bare bones of "Walls" are so impactful and beautiful, and I just feel like the original tried to dress it up a bit too much.
The new version is really refreshing and honestly beautiful and emotional.
Winner: It's Still Nothing Personal
"Too Much"
What I said about "Walls" all over again. Same thing, but with violins.
Winner: It's Still Nothing Personal
"Keep the Change, You Filthy Animal"
I feel the opposite way about this song as I did with "Stella." I feel like the higher register and lighter feel is more appropriate for "Keep the Change…"
A harder tone comes across a bit more aggressively, which is cool and kinda works, but it just makes it a taaaad more intimidating with this subject matter.
So, the edge goes to the original since not much else is different here.
Winner: Nothing Personal
"A Party Song (The Walk of Shame)"
Unlike "Hello, Brooklyn," this is my favorite song on the album. I love it, I've always loved it, I always will love it. So, this is a difficult one for me to pick apart.
I gotta tell ya, actually pronouncing the lyric, "casual fuck," gives the new version points for me. I also like the treatment of the gang vocals in the re-recording because I think they have more edge and bite when they feel authentic and not manufactured.
Gaskarth also lets his voice fly in this version. He really shows off with some slight flourishes, and they pay dividends.
It's another close one, but the re-release pulls ahead by a nose.
Winner: It's Still Nothing Personal
"Therapy"
I'm still not sure what this song is saying about therapy, but mental health is important and everyone can benefit from therapy. It's definitely "a friend to me."
I think the re-release takes this song a little slower, and that really works with a dramatic song like this. Strip it down, make me cry, do all that. I feel like this new version really takes its time and is a bit more earnest.  The message comes through a little clearer as a result.
Winner: It's Still Nothing Personal
Ultimate Winner: It's Still Nothing Personal
Obviously, all of this is subjective. If you disagree, that's great! I love a friendly debate.
However, today I think that It's Still Nothing Personal blows the original out of the water in eight out of 12 songs. (Personally, I prefer It's Still Nothing Personal in every instance, but I tried to be objective here, so that changed things a little.)
The re-release shows a ton of growth in all four members of All Time Low, and it's cool to see how that's happened over 10 years. I've grown up along with this band, and I love to see how they've matured and advanced in their craft. I absolutely cannot wait to see this anniversary show at Starland Ballroom with a whole new respect for these songs.
So, whether you prefer the original or the re-recording, the album is an undeniable winner either way.